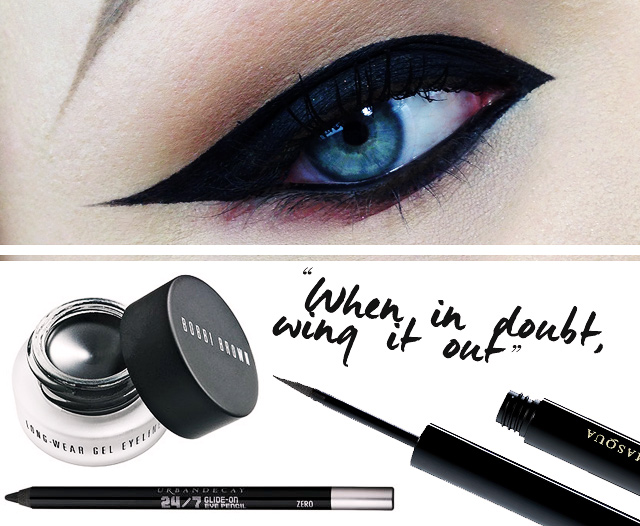 Check out the tutorial for this look here.
I want to know what team you are on when it comes to eyeliner! Some like to create their feline flicks using a liquid, others go for gel. And then there's that group that ditches the word "wing" in its entirety and go for that smudged in pencil-y look (no worries, I get you!).
I love using eyeliners. To me they all fit different purposes: Pencils work great as a base and for sketching out a daring cut crease. Liquids can really give you that perfect winged line and with gels the possibilities are simply endless. No really, you can use it for so many things.
But which team are you on, girl? I think when it comes down to it, I'm #TeamLiquid.
Buuut, that doesn't mean I don't love using my pencils and gels though. In fact, here are my top five favorite liners right now…
Catrice Liquid Liner "Dating Joe Black" (liquid) — One of the deepest black liners you'll ever run into. Heavenly matte and has an awesome staying power, too. Best thing about it is, is that's super duper affordable!
Sigma Gel Eye Liner "Wicked" (gel) — Sigma only recently came out with this gem. But let me tell you, it truly is, like the name implies, wicked. Intensely pigmented and very easy to use! Plus, they come in a bunch of other fun colors too!
Essence Long-Lasting Eye Pencil "Black Fever" (pencil) — For the price, these are dominating my pencil eyeliner world. Their color payoff and staying power are something rarely seen for long-lasting pencils at their price point!
Smashbox Always Sharp Waterproof Kôhl Liner "Raven" (pencil) — I see this as Essence's Long-Lasting Pencil's older, more experienced brother. It is more intense and smooth than the Essence one, and I lope the always sharp concept. But because this has a heftier retail price, it lands just a spot below Essence's Black Fever.
Illamasqua Precision Ink "Abyss" (liquid) — Before Catrice's Dating Joe Black came in my life, this was my liquid liner staple for months! It stays on like a champ and has a pretty glossy finish to it.
How about you? Are you #TeamPencil, #TeamLiquid or #TeamGel? What are your favorite eyeliners to use?  Share in the comments below!
❥ Nikkie
@nikkietutorials