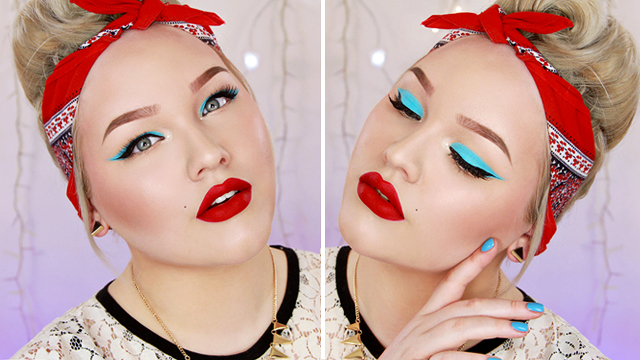 Check out the tutorial for this look here.
Any viewer of my YouTube channel sees in just seconds that extreme makeup looks are something I can't get enough of doing. From a Colorful Skull to a Glowing Princess, Lady Gaga Look. When it comes to my videos, I rather challenge myself by experimenting with bold colors, unique textures and unusual color combinations, than go for the usual pretty shimmery taupe shade.
But do I have the balls to wear it outside the house?
It's simple. I do. Usually recording, editing and finishing up one complete video takes up an entire day. You wake up with it and you go to bed with it, I always say. But on some days when I actually do have time to go out, I go out in full extreme makeup glory. And loving it.
Now, this doesn't mean my everyday-face is extreme, colorful and crazy. In fact, on a day-to-day basis I either don't wear any makeup at all, or I go for my soft daytime smokey eyes.
How about you? Are you brave enough to wear bold makeup looks outside the house? What is the boldest you would go? Where is the limit? Share in the comments below!
❥ Nikkie
@nikkietutorials