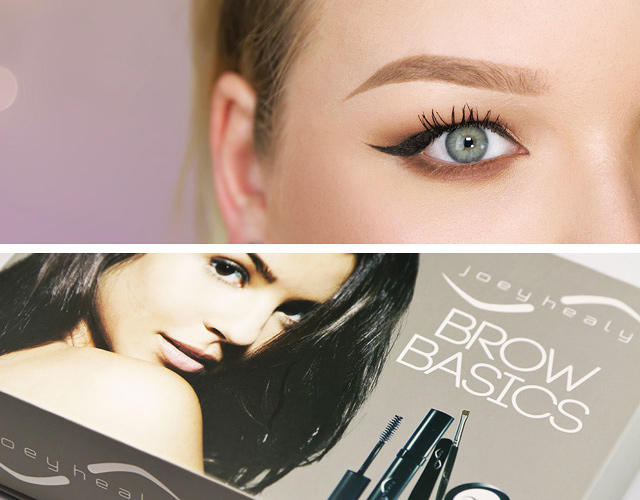 Who else takes their brow game more than serious? — I sure do! I want my brow game to be strong, all day, every day. Carve 'em out with pencil, fill in with powder, set with gel and clean up with concealer — I'm all about that, baby!
Good thing I recently got introduced to Joey Healy's Brow Basics Set to make sure I won't be having any more poor brow game days…
I got the set in Blonde – Corduroy ($75.00/€80,00), which seems to be the perfect match for my non-existent looking brows and light blonde hair color. The set includes…
Luxe Brow Powder "Corduroy" — The Luxe Brow Powder promises to effortlessly sculpt brows by subtly emphasizing key points of the shape, while flawlessly mimicking the look of natural eyebrows. It's supposed to be waterproof and ensure that brows stay beautifully refined throughout the day.


---

Brow Structure Clear Set — This water resistant, transparent gel provides natural definition and sets brows for a nicely defined finish, that'll last from morning till night.


---

Duo Brow Brush — A two in one, this brush allows for effortless grooming. The angled portion provides a stiffer applicator for working in the Luxe Brow Powder with the utmost control. The eyebrow spoolie brush on the opposite side ensures even coverage of the powder and will sweep brows into place for a perfected finish.


---

Elite Sculpting Tweezer —These stainless steel tweezers ensure complete accuracy and control.


---
Luxe Brow Powder – Corduroy
I want to start off with the Luxe Brow Powder in Corduroy as this peaks my interest the most. The luxe brow powder comes in a sleek, eyeshadow-case-like packaging and clear lid. I love how Corduroy has a lovely ashy tint. I hate it when brands make a light/blonde brow powder, and it's either way too light or warm toned… or both. This actually has a beautiful depth to it and will definitely suit a wide range of hair colors. It's very pigmented and easy to work with, too. I likey!
Brow Structure Clear Set
The Brow Structure Clear Set comes in a sleek, glossy black tube and silver detailing. The spoolie on this one is pretty nice as it's not too big nor too small. The gel has a medium hold, which keeps the hairs very manageable. You can still run a brush through your brows if you want to. I personally like a more firm and strong hold, as I want my brow hairs to stay in the direction I want them to go all day long. This Joey Healy one is definitely geared towards a more natural feel.
Duo Brow Brush
Before I start, I think it's good to know that I'm super picky when it comes to brow brushes. First of all, I like how the Duo Brow Brush has both the actual brush and the spoolie on it. The spoolie is really nice. It does what it's supposed to do! Now the angled portion however is where I run into some problems. I like how it's stiff, but for me it's is a lil' too stiff. It pokes and drags on the skin a little. I also find it to be too thick and wide to do super precise lines with. For filling in the brows and not caring about the outline, this is great. But if you're searching for that one brush that will fill in and perfectly outline… this unfortunately is not it.
Elite Sculpting Tweezer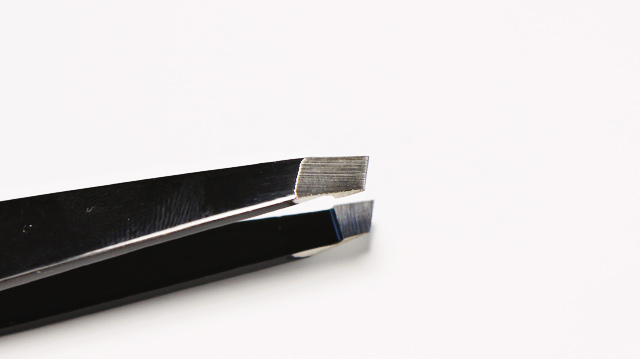 The Elite Sculpting Tweezers are fantastic! Some stainless steel goodness we have over here! It's a little shorter of a design (steel wise) which makes precise tweezing so much easier. It easily grabs onto the hairs, and takes them out clean and quick. And that's what I look for in a good pair of tweezers! Ain't nobody got time trying to catch that one stray hair over and over, and finally just giving up!
Below I'm wearing the Brow Basics Set on my brows. I first took out any stray hairs. Then filled the brows in with the Luxe Brow Powder. Set them with some of the Brow Structure Clear Set. Cleaned up the lines with a lil' bit of concealer, and BOOM! Eyebrow game is strong, so strong…
THE VERDICT
I think this Joey Healy Basic Brows Set is very nice. I'm pleasantly surprised at how much I like the Luxe Brow Powder. It's pigmented, goes on smoothly, has a great color and depth to it, and just looks amazing on. Definitely will be using that a lot more in the future. The brow gel is a lil' too soft for my liking. Buuut, I like my hairs to stay in place like cement, and I'm sure most of you aren't waiting for that and are more than fine with this manageable-medium hold. The tweezers I'm also a big fan of! They are precise and do the job. Now, the only product I wasn't too keen on is the Duo Brow Brush. It's just too thick and stiff for my liking. Others may absolutely adore what it does for their brows, for me it's a nuh-uh.

Joey Healy Brows Basics Set: Available at Sanare.eu
What do you think of this Joey Healy Brows Basics Set? What is your favorite way of filling in your brows? Tell me your routines!
❥ Nikkie
@nikkietutorials