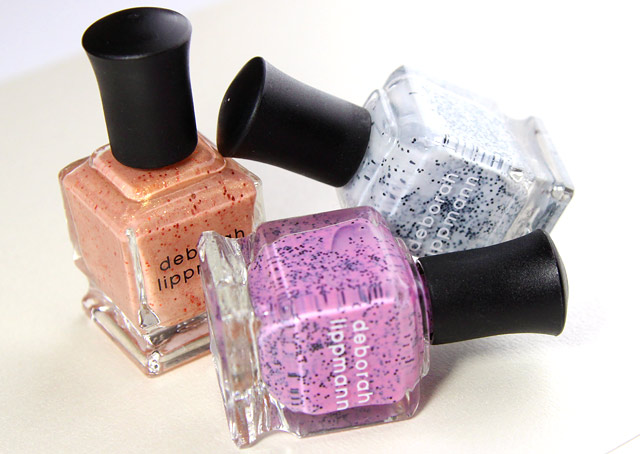 In my most recent Antwerp Haul I showed you guys three new Deborah Lippmann nail polishes. I've always been amazed by Lippmann's polishes, as they were often spotted on world known stars as: Lady Gaga, Liv Tyler & Sarah Jessica Parker.
Deborah Lippmann polishes ooze class, style and fame. Something about wearing these just makes you feel like an A-List celebrity. Today I'm bringing you a review on my three newest Luscious-Lippmanns..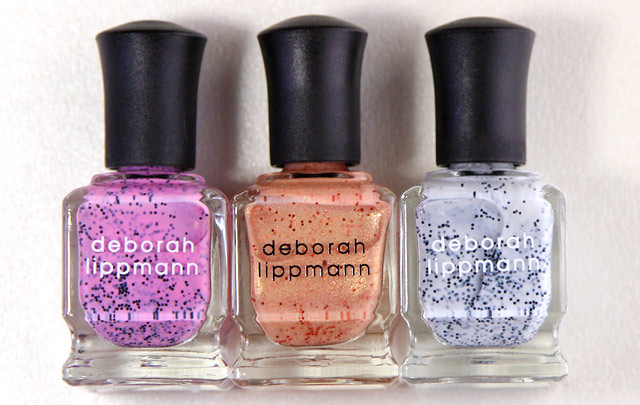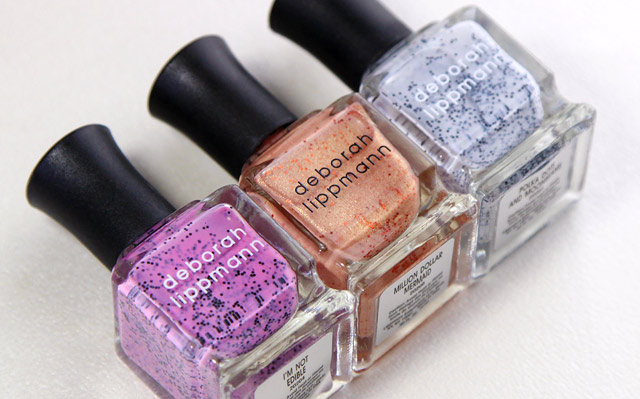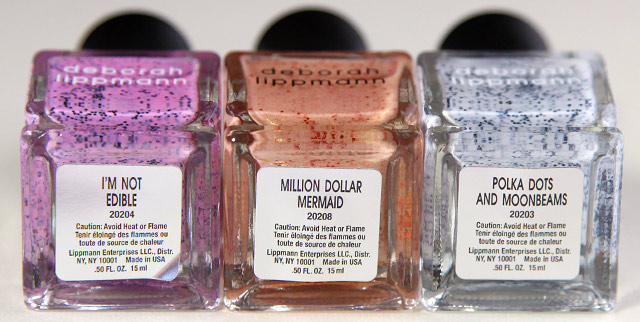 Deborah Lippmann polishes come in a square see-through, glass bottle with elegantly shaped matte black top. I think these bottles scream elegance and simplicity in its purest, most elegant form. That might sound a little much, but I really think Lippmann polishes have one of the best packaged polishes out there.
And the Photoshop-Geek in me loves the font that was used for the polish name on the bottom. No seriously, if someone knows which one it is, let me know!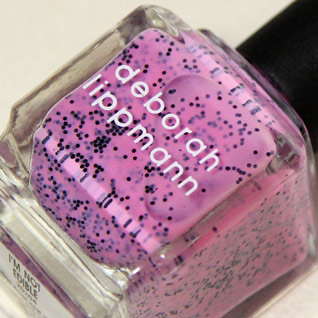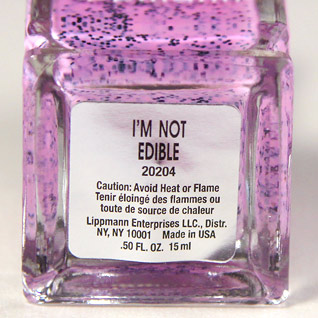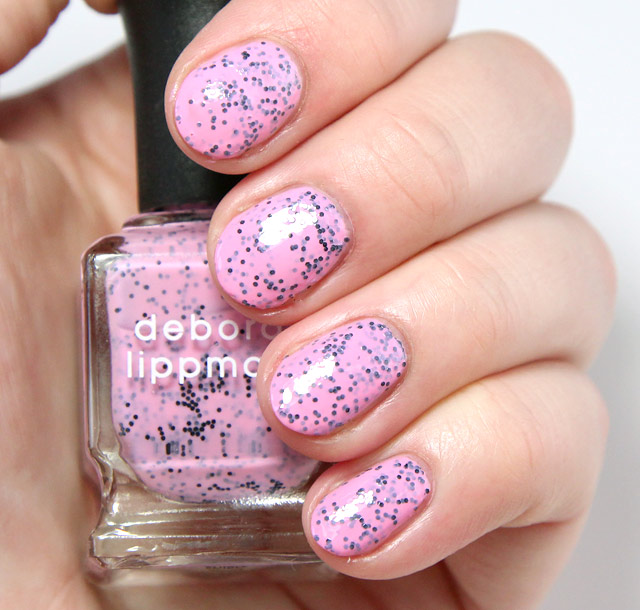 Deborah Lippmann: "I'm Not Edible" – (€20,95 EUR /$19.00 USD) –
These Deborah Lippmann Staccato collection polishes remind me a lot of the bird-egg polishes Illamasqua recently came out with. It has the same quirky, fun and cute effect. I'd describe "I'm Not Edible" as a vibrant Baby Pink creme base infused with tiny Black glitters, making it so much more fun than your "normal" Baby Pink creme. I used two royal coats for my swatch.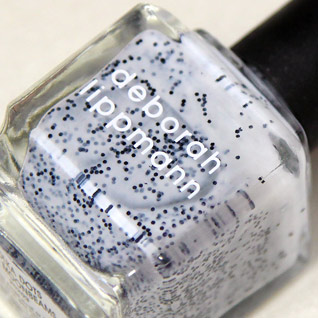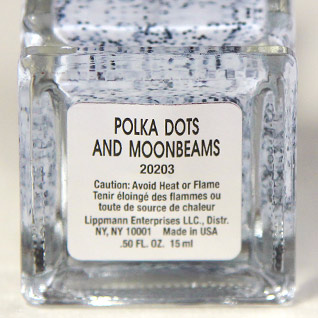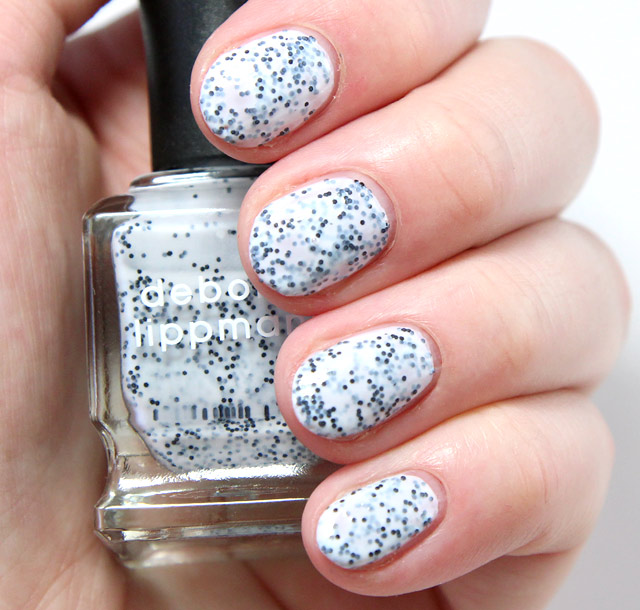 Deborah Lippmann: "Polka Dots and Moonbeams" – (€20,95 EUR /$19.00 USD) –
Another polish of the Staccato collection. I just love the contrast between the creamy White base and tiny Black glitters. It's such a good statement polish, as it's simple, yet new and something different. I used two somewhat thicker coats for my swatch.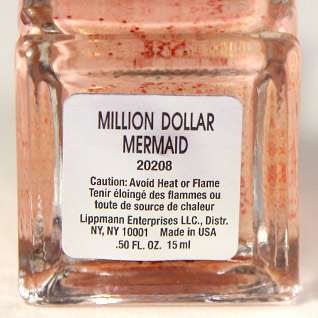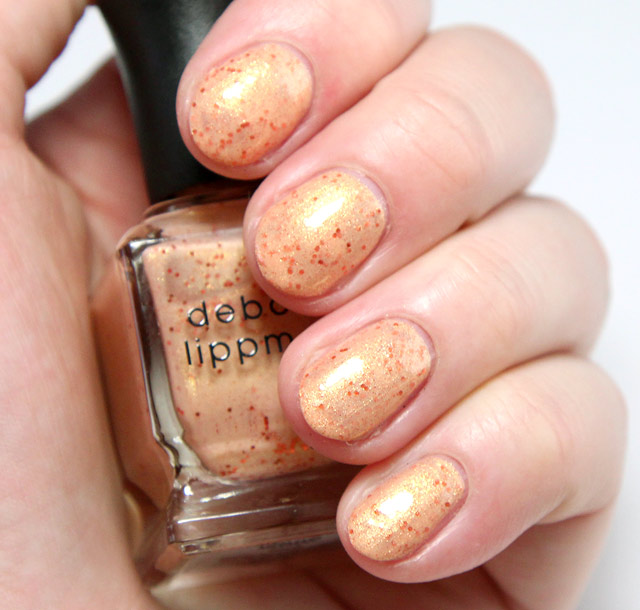 Deborah Lippmann: "Million Dollar Mermaid" – (€20,95 EUR /$19.00 USD) –
Can we say: "WEYHO?!" This polish is in a league of its own. This sheer, shimmering Champagne/Tangerine base infused with bright Orange and Copper glitters is just wauw, wauw, wauwing. I just wish it was a little bit more opaque as I'm not the biggest fan of sheer polishes. But, in all honesty, I don't even want to complain about this beauty. I used three thinner coats for my swatch.
So far these polishes sound like a shimmering, glitter dream come true, right?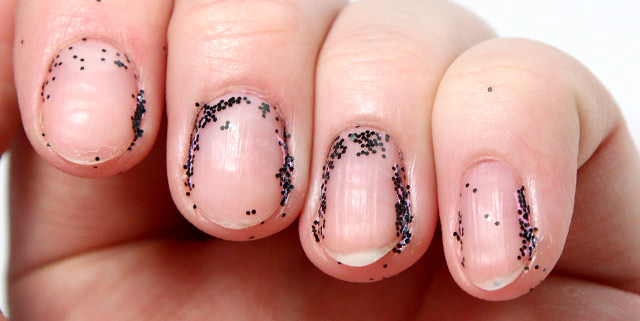 With a dream, unfortunately, comes a nightmare. These Lippmann polishes are an absolute hell to take off. Your nails will look like a glitter Wasteland in no time. I know a lot of you are gonna give me the: "Use the aluminum foil trick!" but quite frankly, I hate using that technique, so no. ← insert Grumpy Cat face.
So, What's the verdict?
These polishes are a shimmering, glitter addict's dream come true. They're good quality, beautifully packaged and easy to use. However with that comes that when taking these off, you'll end up having a glitter Wasteland on your nails. Although taking these polishes off is a struggle, I'm more than okay with that. I mean, just look at them polishes, YOU GUYS! These are orgasmicly pretty, and recommend these to all glitter, shimmer and glimmer lovers.

Deborah Lippmann Nail Polishes are available at Deborah Lippmann & De Bijenkorf.