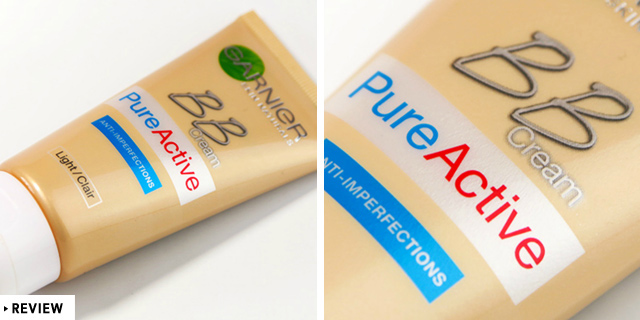 There used to be a dark time in my life where I did not want to acknowledge the existence of BB Creams. I even went so far as to say that I would never like one.—the horror!—They just all looked like sheer, tinted moisturizers to me. Until recently, I got introduced to the Kings and Queens of BB Land. The best of the best. The BB Royalty. And I fell in love. A BB that helped me fall in love with the entire trend? The Garnier Pure Active BB Cream…
The Garnier Pure Active BB Cream (€9,99 for 1.69 oz/50 ml) is part of their well-known, and much-loved Pure Active line. A line that focuses mostly on clearing up troubled skin. In the Pure Active line are a bunch of amazing products that are geared towards teenage girls (and boys) with normal to oily, acne-prone skin. This BB Cream fits perfectly in a Pure Active regimen, and helps clear the skin of spots and black heads even more. The BB Cream also hydrates and evens out the skin, while giving it a flawless matte look all day long. Basically, while wearing the BB, you're still taking good care of your complexion.
What I really like about the Pure Active BB is that it smells heavenly. It has that iconic Pure Active scent to it. But the best thing about it is that this baby has coverage like no other! The first time I tried it, I was shocked at how opaque it actually was. I love that, 'cause let's face it: If you've got a little bit more of a troubled skin, you use makeup to make yourself look as flawless as possible. With most European BB creams, all you get is a little tint. With this, you can actually cover up the imperfections, while still taking care of your skin. I love that!
Above, I applied the BB to my complexion and buffed it in with a Sigma F80 brush, which is a great brush to get the most coverage out of a foundation/BB Cream. I love how the BB looks on my face. It looks natural, yet still flawless. It felt very hydrating and fresh on the skin. I got around 6-7 hours of wear out of it, before needing my first powder-touch-up.
Want to see this BB Cream in action? Watch the video below…

THE VERDICT
I absolutely love this BB Cream. It covers spots like a dream, looks natural on the skin, and is super affordable. It's perfect for those who are on a budget! I can officially say I'm a huge BB Cream fan, and this one is definitely one to check out.

Garnier Pure Active BB Cream: Available at the drugstore and here.
What do you think of this BB Cream? Have you tried BB Creams before? Which one did you like best? Tell me down in the comments!
❥ Nikkie
@nikkietutorials