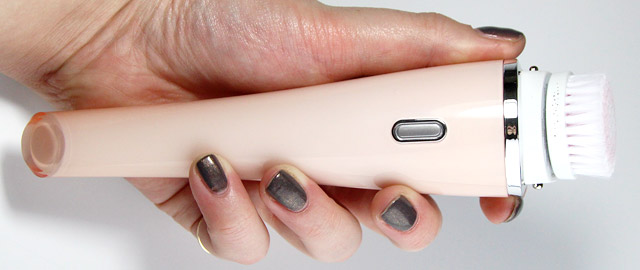 As a makeup artist I know how important good skin care can be. You can put anything you want on a face, but a clean, even base is key to getting that perfect finish. Of course, foundations and concealers can work wonders but to really get to perfection, it all begins by taking good care of your skin.
After seeing unending raves on electronic facial cleansing brushes in mostly America, I decided to finally put one of those electronic wonders to the test. I chose the Philips VisaPure, a facial cleansing brush that cleans your face in just a minute..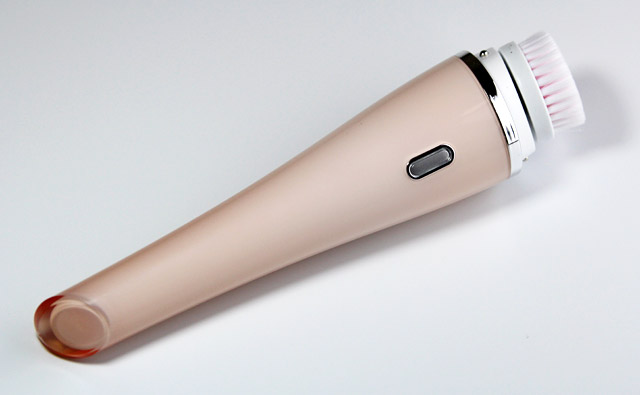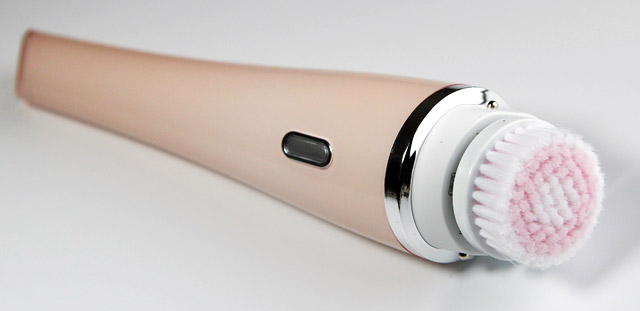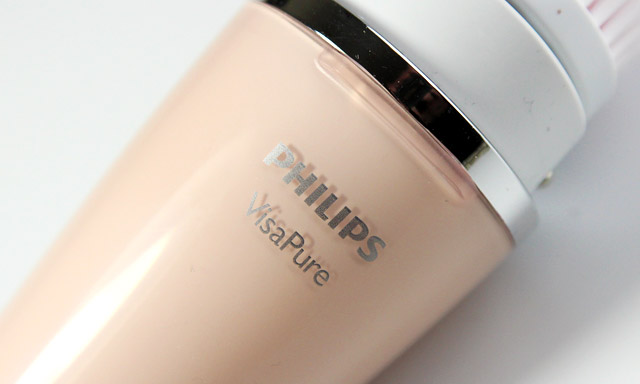 The VisaPure is available in two editions: a Blue one with one speed level. And this gorgeous soft Peach one. The Peach edition has two speed levels and interchangeable brush heads for Normal skin and Sensitive skin. Let me start off by saying that I absolutely love the packaging of the VisaPure. I find this much more classy, modern and chic than let's say the Clarisonic brushes. It's a true pleasure to look at, and wouldn't look out of place in your bathroom at all.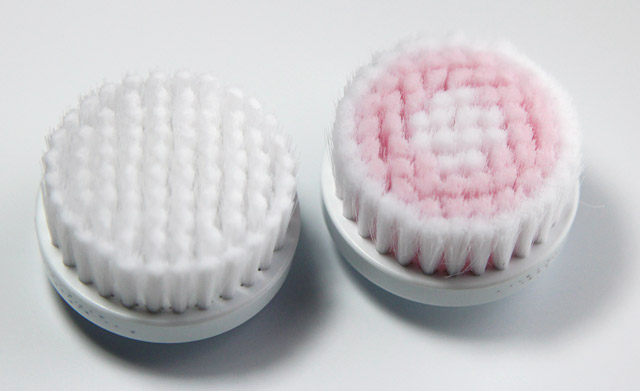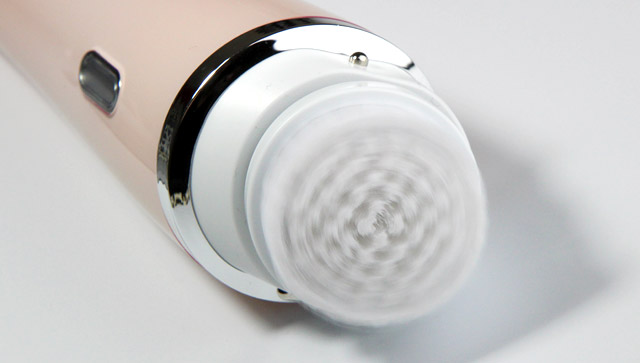 As said before, the Peach VisaPure comes with two interchangeable brush heads. One for Normal skin -the White one- and one for Sensitive Skin -the Pink circle one-. You can also buy three other brush heads: One for Extra Sensitive Skin, the Deep Pore brush and an Exfoliation one. I have quite normal skin so I decided to use the normal brush on one side of my face first. What immediately stood out was how extremely soft this "normal" brush is. I've tried electronic cleansing brushes before, and quickly threw those out because even the sensitive skin brush felt like cleansing your face with a cactus.
For the other side of my face I tried the sensitive brush head. Wow, this one is even softer! I'm very surprised at how soft and delicate these brushes are. They're definitely taking my fear of ripping my skin off away.
Before I show you some utter baby face pictures of myself, I'd also like to point out that the VisaPure is waterproof and wireless. You have to charge it for 6 hours and it then can be used for 30 minutes. So, if you stick to the routine of using the VisaPure for 1 minute only, one charge will last you for about 2 weeks. The VisaPure also comes with what I like to call a Silver to-go blanket. No really, it looks like a cute blanket for the VisaPure to sleep in.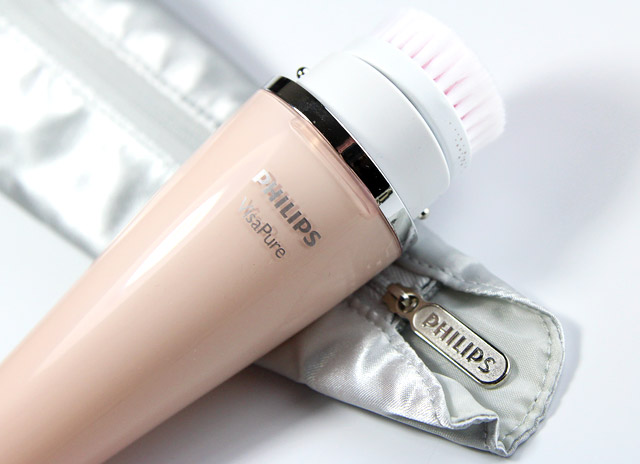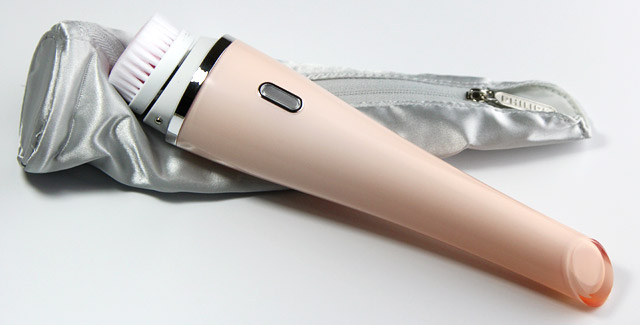 Enough about it's looks and extras, What do I think of the actual routine?
To turn your VisaPure on, you have to press the fancy Silver button once. This way you activate the first speed level. It's a nice vibrating/circulating motion. Not too fast, not too slow -I'm fully aware of how bad this sounds-. If you have very senstive skin, or you just like to take things slowly, keep it on this setting. I personally like to go for the highest speed. Just press the button once more and the brush head will vibrate and circulate even faster.
The VisaPure has an internal timer. Once you press the start button it'll do its work for 20 seconds. After those 20 seconds it'll have a 1 second break. During this 1 second break you quickly have to place the brush somewhere else on your face. At first I found this very amusing, as I imagined myself in a race around my face, haha. The brush does this 2 times. After that it automatically stops.
I like to start on my forehead, then move to my chin, followed by my left cheek and finish by holding it on my right cheek. Of course you move around to clean your entire face, but these are my main focus points.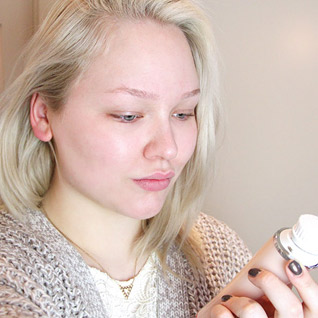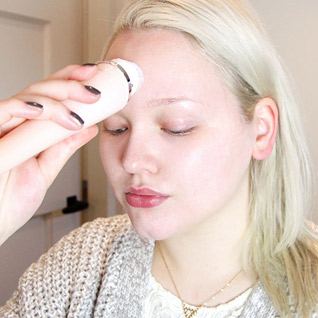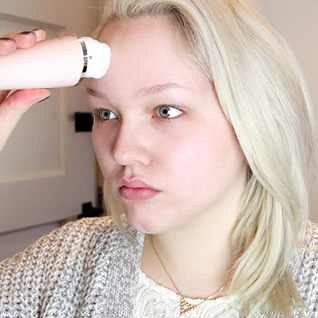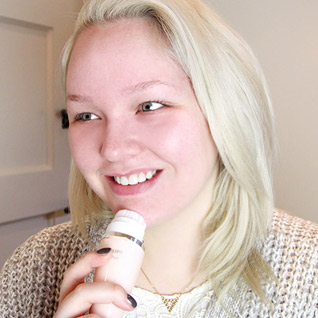 After that I like to splash some water on my face, and finish my routine by putting my moisturizers and serums on.
So, What's the verdict?
I was pleasantly surprised by this elegant looking device. After going through multiple horror stories with other electronic cleansing brushes, this was an absolute joy to use. The brushes are very soft and delicate. But here comes my fear: Those brush heads clean your face, meaning at one point dirt will stay in there. So, make sure you get new brush heads every now and then. Philips advices to replace the brush heads every 3 months.



The Philips VisaPure retails for €159,99 and is available at several selling points and Philips.nl