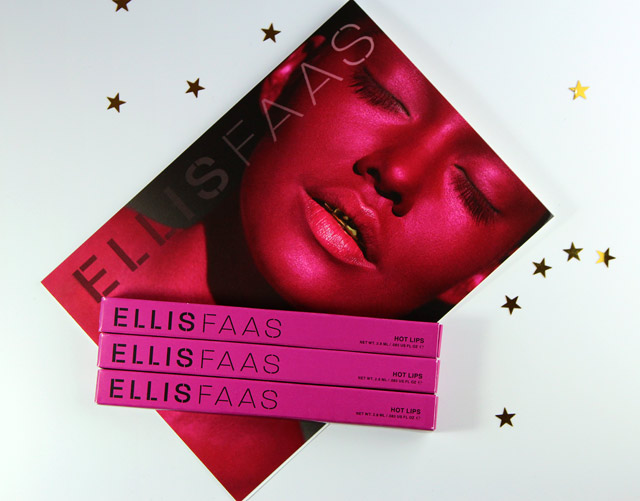 Up and coming makeup brand Ellis Faas recently launched a new line of lipsticks called "Hot Lips". An exciting new line filled with 9 stunning, richly pigmented liquid lipsticks. I've tried Ellis Faas products before and tried to understand the hype, but wasn't feeling it. But will the "Hot Lips" succeed to change my opinion? Spoiler Alert: If you've seen my October Hits and Oh God NO's you already know *insert evil laugh*…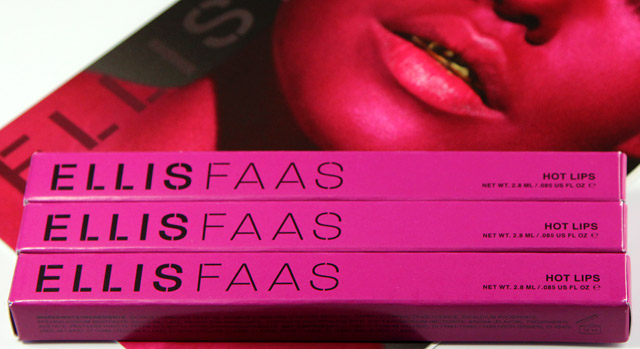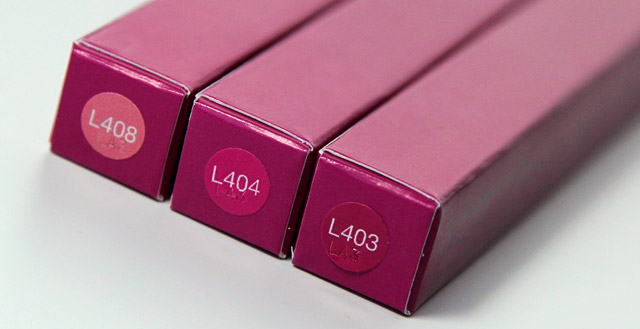 Before we look at the packaging of the product itself, I'd like to point out that all Ellis Faas products come in a colored paper box. For the "Hot Lips" line they decided to go for a Hot Fuchsia color. I love it when companies do this, it makes the entire purchase feel that much more complete. It's as if your product has a little, paper home. That -like the sadistic people that we are- take away from 'em, and then throw out. Poor little products, haha.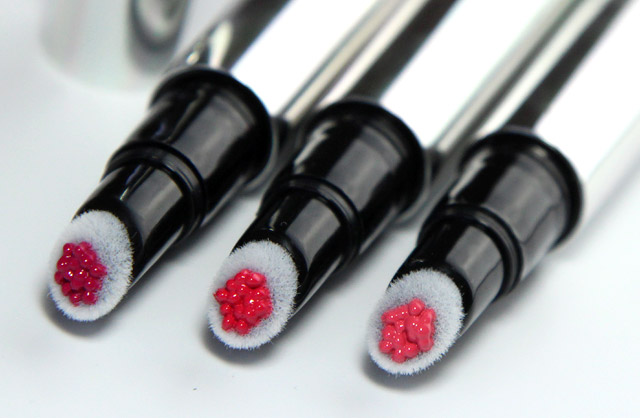 Here's what the actual "Hot Lips" look like. All Ellis Faas products come in a Silver Chrome pen-like packaging. The "Hot Lips" come with a sponge applicator with holes in it. At the base of the pen is a twisting device. By twisting this base clockwise, product will come through the holes. When it's the first time using the product, twisting until product comes out can take quite a while. I always get a little scared twisting the base, as I'm worried a bomb of product comes bursting out after a while. So be careful with that.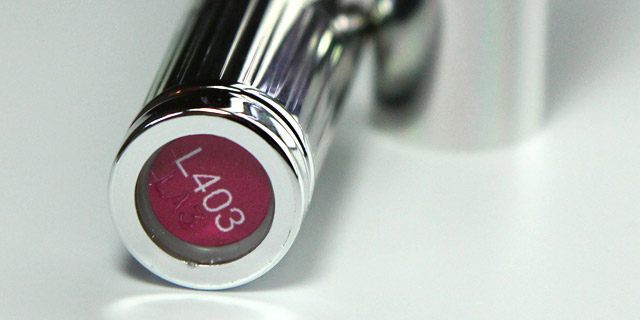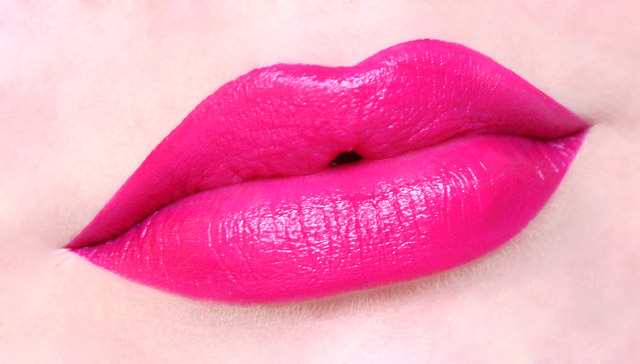 Ellis Faas Cosmetics "Hot Lips": L403 Bright Fuchsia – (€25,00 EUR /$35.00 USD) –
Let's start off with "Bright Fuchsia": A color I'd describe exactly like its name: Bright, almost neon, Fuchsia. Isn't it gorgeous? The amount of pigmentation these bad boys have is out of this world. I've tried Ellis Faas products before and wasn't all that excited, so when swatching these my jaw literally dropped. So much pigmentation, it's insane.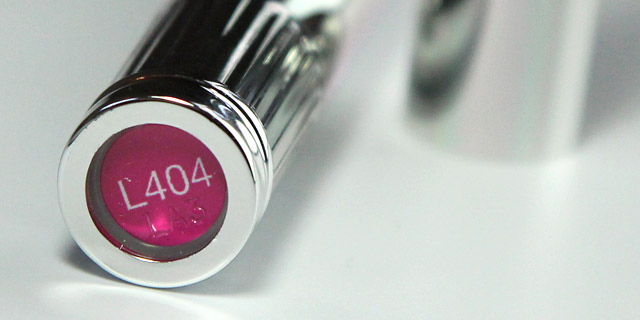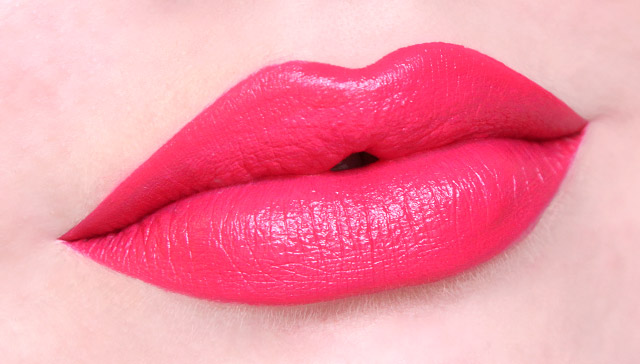 Ellis Faas Cosmetics "Hot Lips": L404 Fluo Pink – (€25,00 EUR /$35.00 USD) –
I need a second. Holy cow, look at it! "Fluo Pink" is best described as a very bright and fresh Yellow based Pink. It's Pink but very warm, in some light it even leans towards a Coral. This is such a fresh and happy color, perfect for those Spring/Summer days. But no one will judge you when rocking this on the coldest Winter days. It's that pretty. Again, pigmentation was a wet dream with this.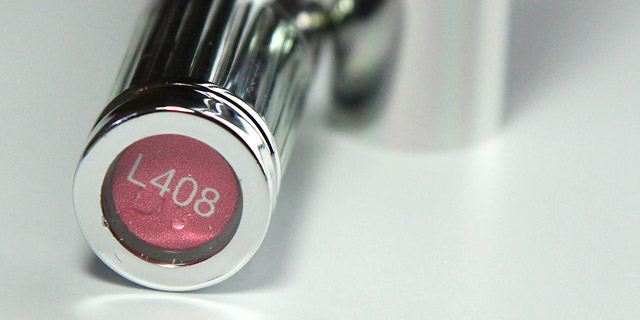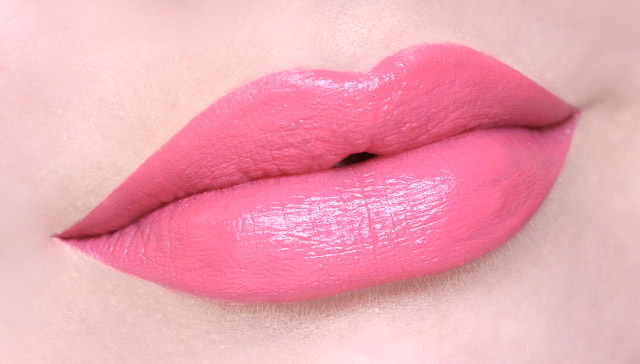 Ellis Faas Cosmetics "Hot Lips": L408 Baby Pink – (€25,00 EUR /$35.00 USD) –
"Baby Pink" is the lightest and most nude color of the entire launch. And isn't it a cutie? "Baby Pink" is best described as "Fluo Pink" but added with a ton of White and a tad bit more Yellow to it. Out of the 3 this is the only one which needed a tad bit more work with getting opaque. And with a tad bit I mean just the slightest bit. Nothing drastic.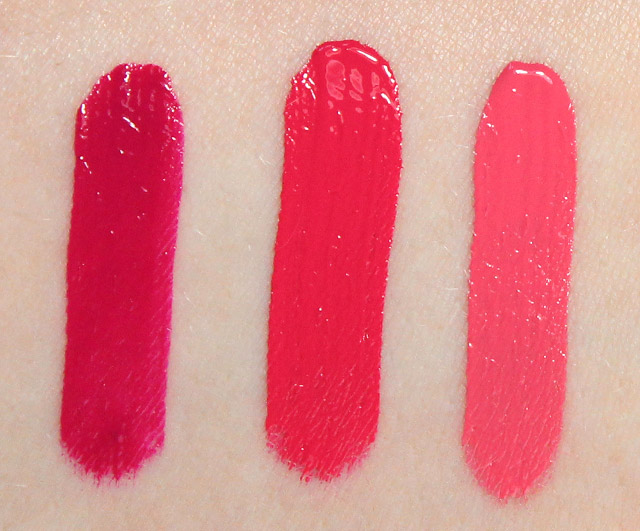 → Move with cursor to see product names!
So, What's the verdict?
I'm in love. These are fan-freakin-tastic. These guys deserve an award. The pigmentation on these are out of this world, they stay on a like a dream, have a nice creamy finish, feel good on the lips and smell good. I do not suggest using the sponge applicator to apply the product with though, I like to twist the base and then take product off with my favorite lip brush. Other than that, these are a makeup junkie's dream. I do wish they'll launch some more light nude shades in the future. The line mainly focuses on bright colors and darker nudes now. I'd love to see more. Give me more. We need more!

Ellis Faas Cosmetics is available at ELLISFAAS.com and Ellis Faas counters near you.