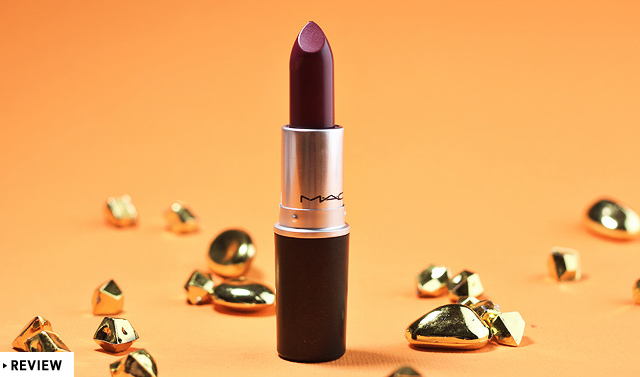 Ever since uploading my November Hits and Oh God NO's people have been bombarding me with questions about the lipstick I was wearing. And although I'm recording a tutorial on that same look later today, I still wanted to give you a closer look at the show stopper…
MAC Fashion Revival Lipstick ($16.00 for 0.10 oz.) is described as a "deep raspberry." It's a dark, slightly muted raspberry with semi-matte finish. It was part of the MAC The Matte Lip Collection, I've heard that some counters/stores still carry this mini-collection, so you better run over there real quick, haha.
The coverage on this one is outstanding. I only needed two layers to get an opaque coverage and even color application. The consistency is soft and creamy, yet still very controllable, it's a very easy lipstick to work with. In total, the lipstick lasted for almost 6-7 hours on me, and left a pretty stain as it started wearing down. It was neither drying nor hydrating.
THE VERDICT
Why must MAC always make the good ones limited edition? Whisper of Gilt Extra Dimension Skin Finish and Superb Extra Dimension Skin Finish are just to name a few. Fashion Revival is one to add to that list. I am in love with this lipstick. It's a creamy, opaque, easy to work with, and just damn gorgeous raspberry dream. It's a show-stopper, and I wish I would've gotten at least 5 back-ups.
Pros
---

⋆ Soft and creamy consistency

---

⋆ Opaque coverage

---

⋆ Very easy to use

---
Cons

Available at MAC Cosmetics stores and counters near you. To find out where, click here.

What do you think of this color?  Tell me down in the comments!
❥ Nikkie
@nikkietutorials