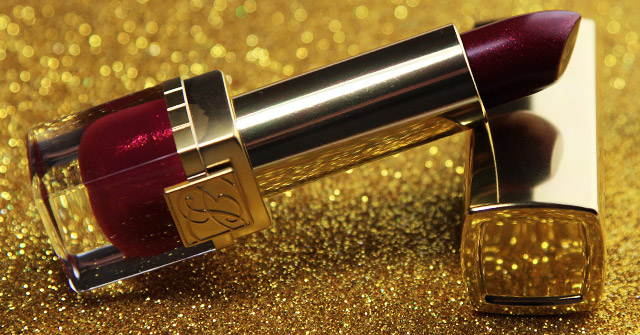 Estée Lauder: A brand that always looked very intriguing, but never really got me.
The brand that I would completely ignore in makeup stores. The brand that always looked –dare I say it– old to me..
Last week when I went shopping with my mother and brother (the haul for that is here),
I bumped into some of Estée Lauder's lipsticks and my interest in this brand shot into my heart like a lightning bolt.

The Estée Lauder Pure Color Lipsticks are well known for their mini particles of glitter and high shine finish. Something I usually stay away from since I'm not a huge fan of sheer-ish lipsticks. But for "Rebel Raspberry" I loved making an exception.
The packaging of the Pure Color lipsticks is simply beautiful. It's elegant, luxurious, gold (which is always a good thing) and easy to use. On the bottom you can see which color is hidden in the cap of the lipstick. I wonder if this part actually contains real lipstick like the N.Y.X lipsticks used to have.
As for "Rebel Raspberry" itself, it's just so pretty to look at. The mini particles of glitter are just wonderful and amazing to Instagram at least 100 pictures of ;)
Application-wise this one is a little tricky. It comes out quite sheer. Since I always use a lip-brush to apply lipsticks I had to apply most of this directly from the bullet onto the lips to get ultimate coverage. Not a huge downer, but just something I'm putting out there.
What was a big downer for me was Rebel Raspberry's smell. It just screams "odd"..
It's almost impossible to explain but "Chemicals infused with Honey and Green Tea" would be the closest thing that comes to mind. Now, this might sound delicious to some..
Trust me, It was not for me.
So, What's the verdict?
Overall, I like this lipstick a lot. The packaging and amazing finish make me swoon.
But that smell makes me wanna cringe and hide in a corner. Once I can finally get over this smell I can't wait to buy more colors of the Pure Color range.
Estée Lauder is available at Sephora and Dutch Department Stores.
The Pure Color lipsticks retail for €26,00