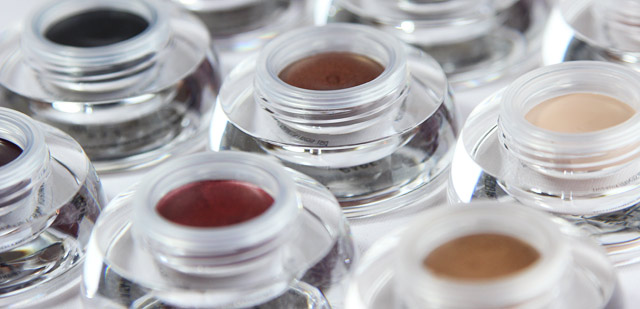 Sigma: The brand that started off their business with brushes. People loved the brushes.
The brand that after that, started releasing makeup palettes. People loved the palettes.
And now Sigma decided to make life even more fun with their new "Eye Shadow Bases".
..my guess is that people, again, will love these.
9 yummy, deliciously good-looking shades with colors ranging from lovely nudes, to daring darks and something that matches glamours ;)

The eyeshadow bases are available in kits of three or you can purchase them individually.
From the three kits "Flare" was the kit I received.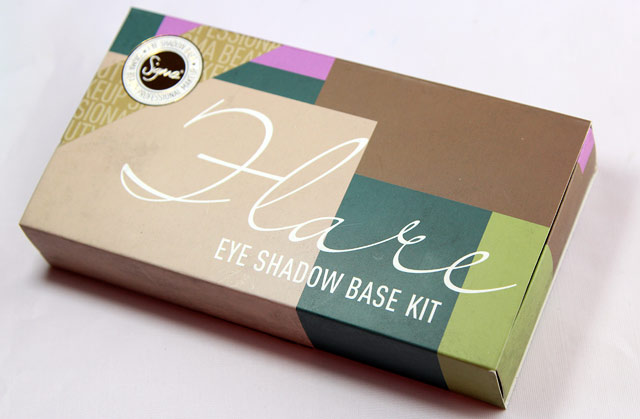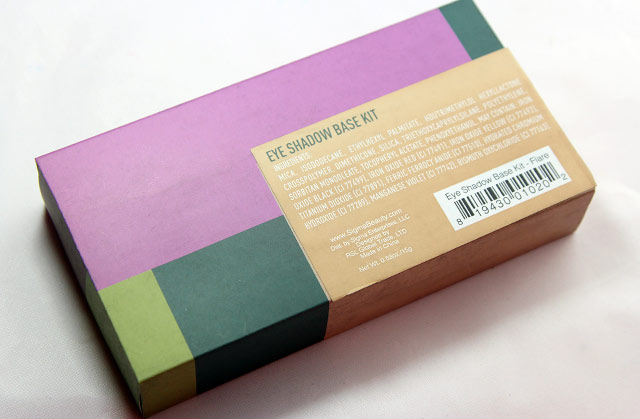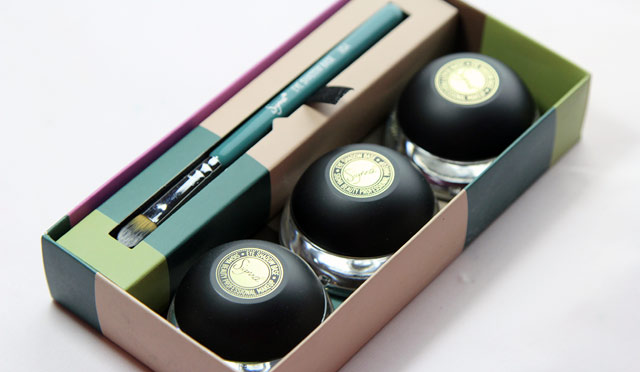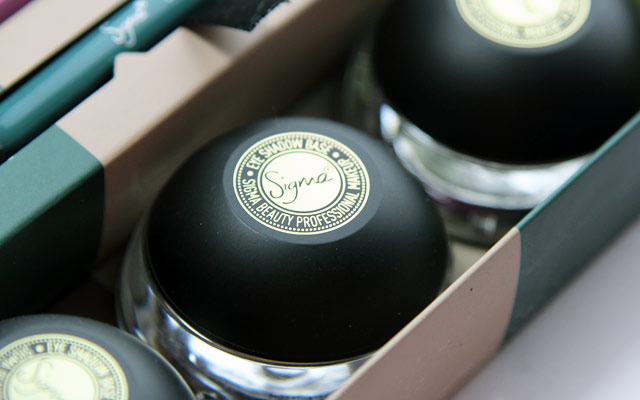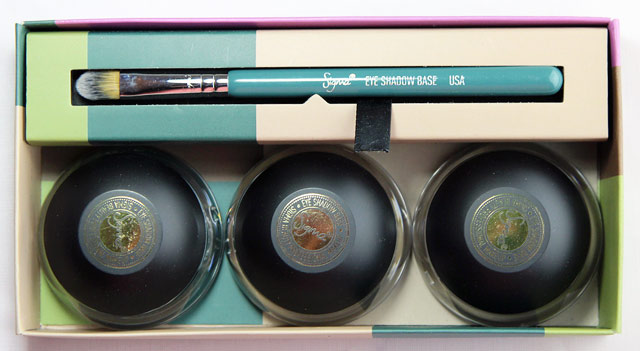 I absolutely love the packaging of the kits. They're cute, compact and you kinda feel like a glamorous plumber going to work. – (yes, I went there, haha)
Let's take a look at what's inside of "Flare":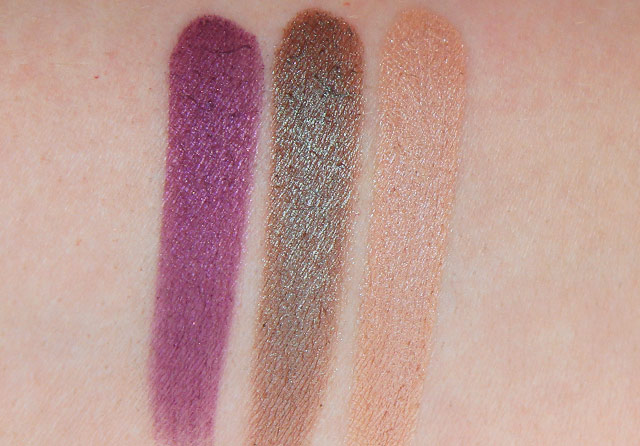 Sigma Eye Shadow Base Kit: "Flare" – ($36.00 USD / €26,58 EUR) –
Left to Right: "Pursue" Shimmery Purple – "Spy" Duo-Chrome Green/Maroon – "Provoke" Matte Nude/Peach
I really like the mix of colors "Flare" has. The purple called "Pursue" has to be my favorite of the three. It's truly stunning and such an eye-catcher. "Spy" is a 100% dupe for MAC's "Club" eyeshadow, but ofcourse "Spy" is creamy and long-lasting. "Provoke" is just a really pretty nude color, great for evening out the eyelid.
The other colors I got came packaged individually, so I can't show you the packaging of their kit-version. Here's how the individual eyebases come packaged: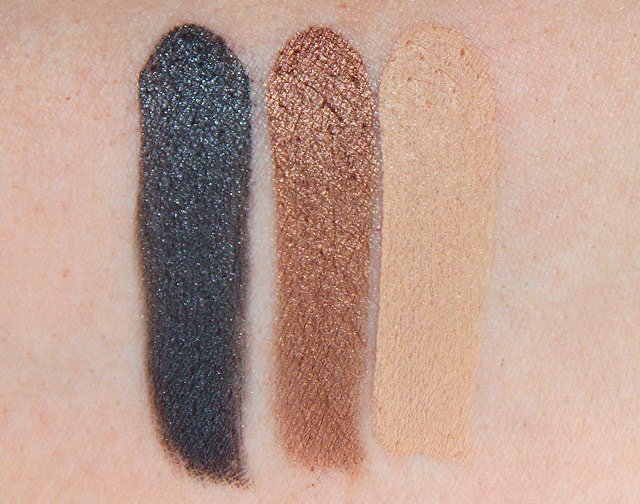 Sigma Eye Shadow Base Kit: "Bare" – ($36.00 USD / €26,58 EUR) –
Left to Right: "Sculpt" Shimmery Charcoal – "Pose" Shimmery Brown – "Persuade" Matte Nude
Just like the eyeshadow palette of "Bare" the eyebase kit is geared more towards neutral looks. My favorite definitely is "Pose" but that's because I'm a shimmery brown obsessed freak. "Sculpt" is perfect for cool-toned smokey eyes and again "Persuade" is one of those great natural colors, great for evening out the eyelids.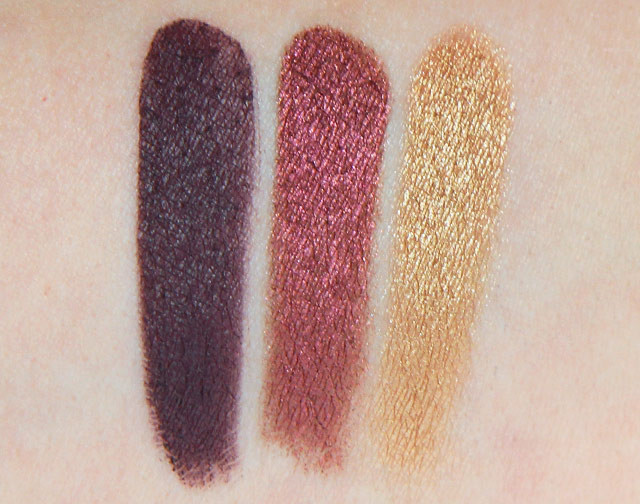 Sigma Eye Shadow Base Kit: "Dare" – ($36.00 USD / €26,58 EUR) –
Left to Right: "Dash" Matte Plum – "Strike" Shimmery Burgundy – "Unveil" Shimmery Gold
Ah, aren't these the prettiest colors together ever?
I just love coppers and gold mixed with a little sexy burgundy. Choosing a favorite out of these three is a tough job. I think I'd have to go for "Dash" it will be stunning for a smoldery purple/burgundy eye. This defnitely is the ultimate party-look kit. The copper screams glamour!
I think what I love most about these is their amazing texture. They are all super smooth, creamy and pigmented. Easy to blend but once set, they're set!
Fun Note: Sigma's attention to detail is spectacular, even their lids have a cute leaf print: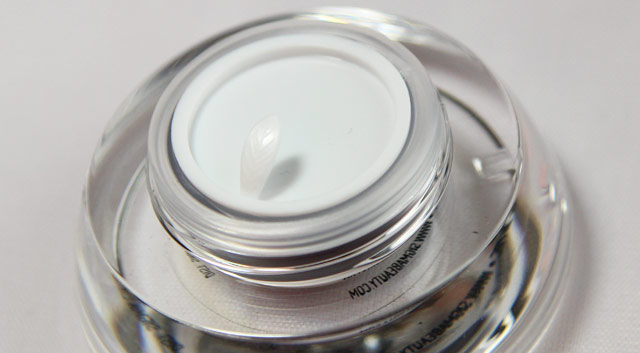 So, What's the verdict?
I'm actually kinda blown away by Sigma's new Eye Shadow Bases. What got me the most was their amazing texture and pigmentation. Another huge plus is that these aren't outrageously expensive as you pay $36.00 USD / €26,58 EUR for a kit of three,
and $13.00 USD / €9,60 EUR for one single eye shadow base. – I'M A FAN! :)
Sigma is available at Sigmabeauty.com