-I want you all to meet my long lost twin sister- Let me introduce you to new curvy girl in town, Melissa Koole. Once a promising new face in the "normal" model industry, but after having trouble maintaining the fashion sample sizes, Melissa decided to take a break for a while and come back as a curvy goddess. And none other than myself got the opportunity to do Melissa's hair and makeup for her first photoshoot as a curvy girl..

It wasn't a first for Melissa only, it also was one for me. This was the first photoshoot I did after a little break. My first photoshoot after finishing 10 lessons at WE R Agency. So not only was Melissa super excited, so was I. Finally I could put all my newly learned techniques to use and have some fun!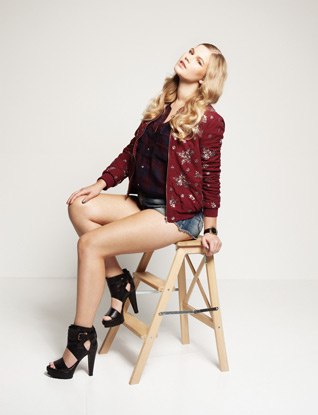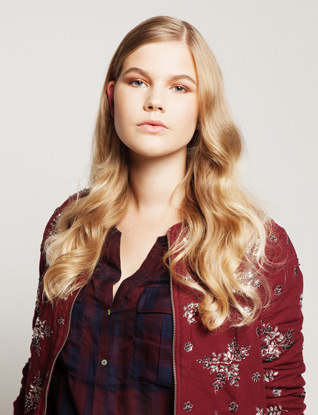 We decided to start off with a very natural, just plain ol' good looking set. I started by prepping -that means preparing the hair. Giving the hair texture, hold and grip- Melissa's hair with Bumble and Bumble "Prep", Bumble and Bumble "Thickening Spray" & Bumble and Bumble "Styling Lotion". Melissa's hair was quite thin and didn't have a lot of hold, so I had to prep it to the fullest, which I actually liked because it was a fun challenge for me! I finished Melissa's hair by giving it a frizzy curl using my Babyliss PRO curling iron in 25mm.
For Melissa's makeup I kept everything really pretty and confident. I applied a bit of M.A.C Face and Body Foundation topped with some Estée Lauder Double Wear Maximum Cover to perfect her skin. Just a little bit of definition brought to the eyes with my favorite Viseart Eyeshadow palette in #01, some Nude lipstick patted on her lips and Melissa was good to go.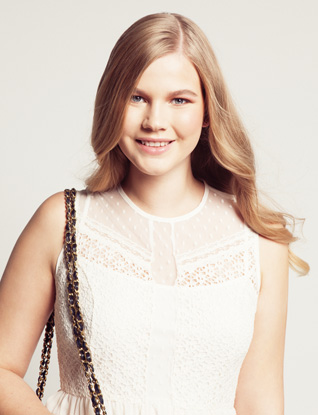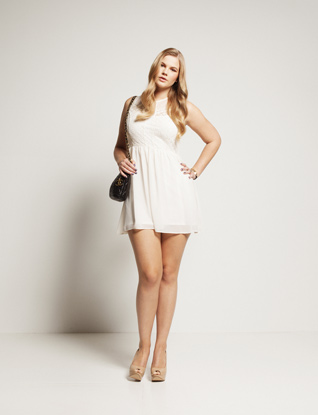 For the second set we thought it was time for some commercial goodness. Get those teeth out, blow some wind in that hair and shine like you've never shined before. Believe it or not, the only thing I really did for this change was brush Melissa's hair with my Mason Pearson brush and just make the curls a little bit more smooth. I did not change anything makeup wise.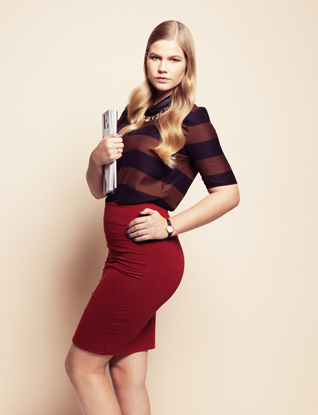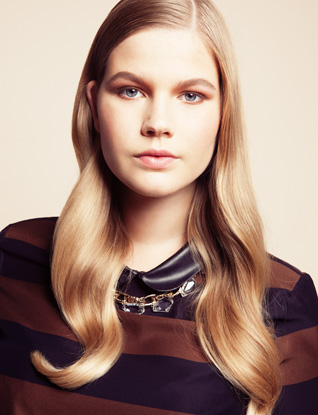 Can I get a va va voom? I absolutely love how Melissa is working her curves in that sleek Crimson Red pencil skirt. For this set I once again took my Mason Pearson brush, and smoothed down those curls even more, making them almost look like soft waves. The things a brush can do with hair, huh?
I also decided to spice Melissa's eyes up a bit by darkening her upper lashline and just giving the overall eye-look a bit more action. I used my Bobbi Brown Long-Wear Cream Shadow Stick in "Bittersweet" for this. An absolutely amazing product which I highly recommend for getting perfectly smokey upper lashlines.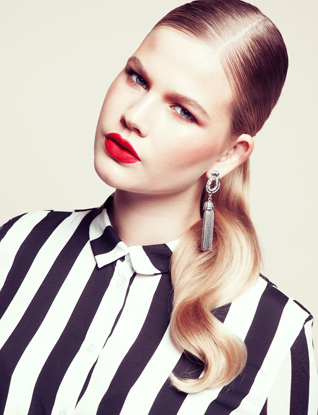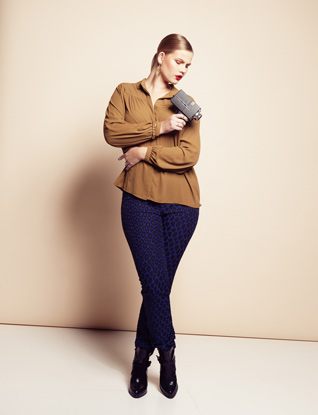 And here, ladies and gentleman, I present you my most favorite set of the entire test shoot. Just look at those perfect Red lips. Ah, I think I might be a little in love. Hair-wise I simply pulled all hair back in a super-slick, low ponytail and gave the "free" hair a nice shape.
For makeup all I did was apply my favorite Red lip combo: M.A.C Lip Mix in "Crimson" & M.A.C Pigment in "Basic Red" to Melissa's luscious lips and finished off my adding some Elizabeth Arden Eight Hour Cream to her eyelids for a cool fashion touch.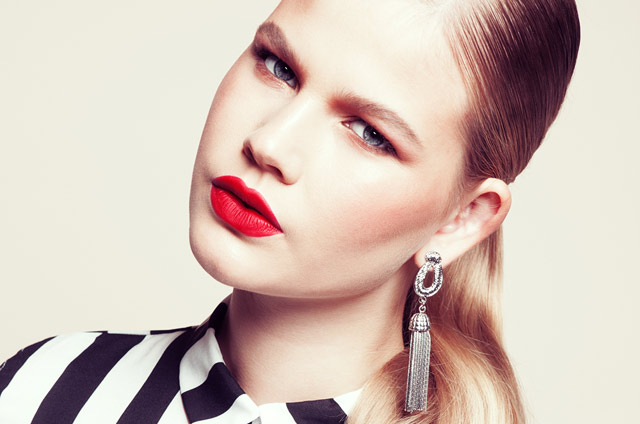 For an exclusive interview with Melissa & Fashionmilk.com click here!
Model: Melissa Koole @ Linda Models
Photography: Bianca Toeps / Toeps.nl
Styling: Suze Kuit / Fashion Treasures
Makeup & Hair: Nikkie de Jager → Portfolio
Backstage Video: Djana Djordjevic