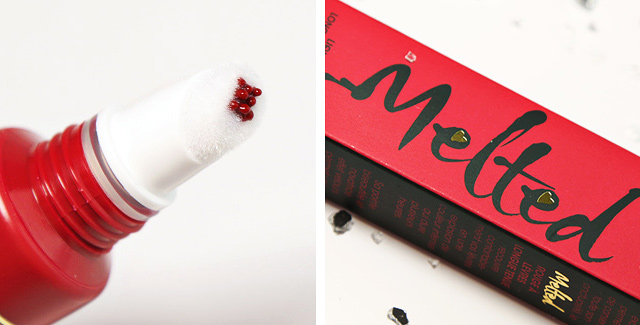 I was watching Charlie St. Cloud the other day, and as I was totally melting over Zac Efron.. and his body — don't judge — I remembered: "Wait, wasn't there a lipstick line that had something to do with melting?". The Too Faced Melted Liquified Long Wear Lipsticks promise to be just as good as Zac… and his body…
I love how Too Faced designed these. From the fonts used to the gold detailing. How they gave the packaging on the outside, matching colors to what's on the inside. I absolutely love it! This baby contains 0.40 fl. oz. and I'm just going to go ahead and drop a spoiler here: A little bit goes a very long way, so this will last you for a long, looong time.
Now, I'm all for pretty packaging, but the product has to work properly, too. If you take a quick look at the box this comes in, you'll find "No brush needed!" written in bold. Now, isn't that a little too confident, Too Faced?
Here's what the "Innovative, angled velvet tip which allows for precise application" looks like. It's fuzzy and product comes out by squeezing the tube portion. I'm going to talk about Melted Ruby's consistency more later on, but the whole no brush needed claim, I find, is a little too overenthusiastic. The liquid lipstick is very intensely pigmented, so the slightest touch of one of those fuzzy hairs on your skin will create an almost 'bleeding' lip-line effect. So I say, use a brush for the shape/outline, and fill the remaining part of the lips in straight from the tube.
Melted Ruby ($21.00/€16,65); a vibrant and saturated medium-dark, cool-toned red with pink undertones and a shiny-satin finish. It has an amazingly intense, rich pigmentation and a little bit goes very far. The consistency is opaque and creamy, but it is a little on the thinner side. This lipstick provides about 6-7 hours of wear on me and is neither hydrating nor drying. It does leave a soft stain behind. It lost it's shine after around 3-4 hours of the wear-time.
THE VERDICT
I unfortunately only got Melted Ruby from the Too Faced Melted line, and boy, do I wish I ordered some more — which I will, don't worry! — Melted Ruby is out of this world amazing. It's so, sooo intense and rich. It feels wonderful on the lips, and it stays there! The only con I have about it is that the fuzzy tip, definitely, does not replace a lip brush. It's great for filling in, but no way it'll ever get the outline as precise as a lip brush.

Too Faced Liquified Long Wear Lipsticks: Available at Sephora and sephora.com
What do you think of the Too Faced Liquified Long Wear Lipsticks? What makes your heart melt? Share in the comments below!
❥ Nikkie
@nikkietutorials