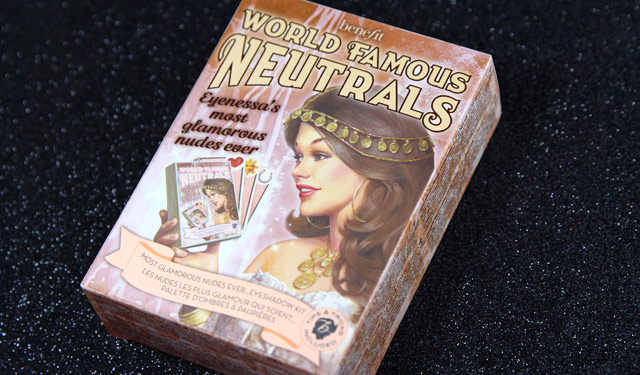 As I've stated before, Benefit always used to be one of those brands that was never "tickle-my makeup belly-worthy". Their products just didn't really make me melt on the inside. Yeah, let's just dump that statement in the trash real fast!
The way Benefit has me swooning over their products lately is kind of becoming a problem. It's like everything I try from them, I end up loving. I've already talked about obsessing over their "The Porefessional" and the "They're Real!" mascara in this haul, and showed my love for their Creaseless Cream Shadow in "My Two Cents" here.
Today there's a new addition to the Benefit family: The World Famous Neutrals Palette..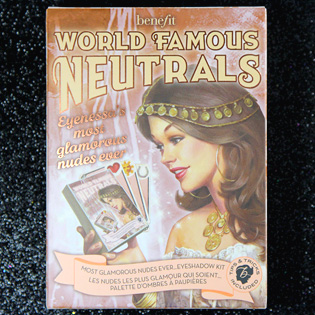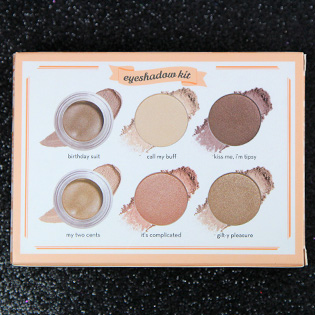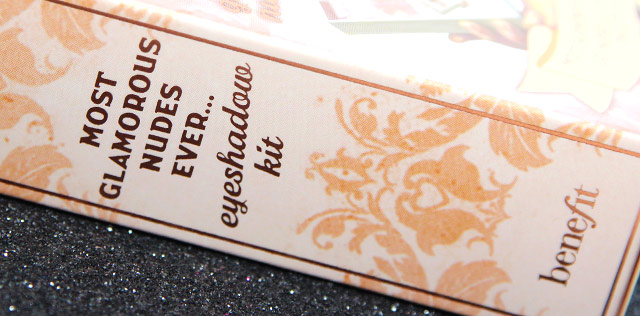 As always, Benefit's packaging level: Brilliant. I hereby want to applaud Benefit's design team, because their packaging always is on point. On the front of this palette we see a girl named Eyenessa looking at her Most Glamorous Nudes Ever Palette. On the back a summary of all products included in this eyeshadow kit. The side provides the palette name and a beautiful, vintage-y print.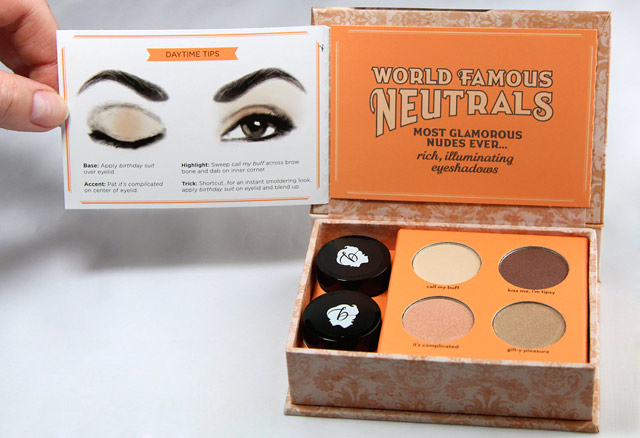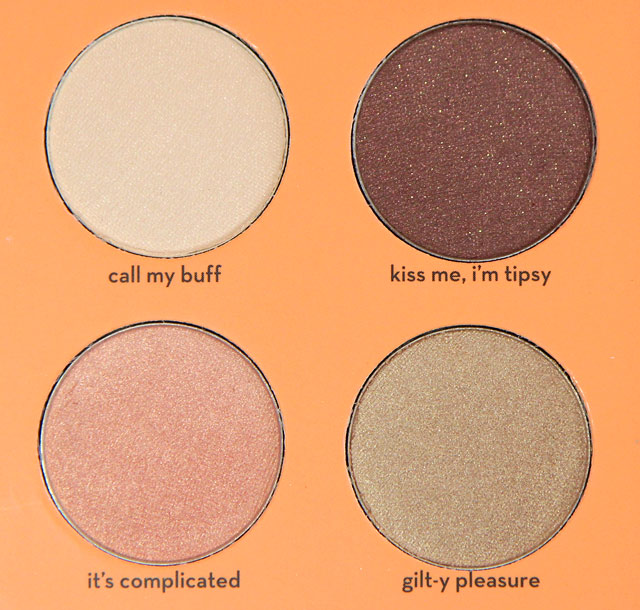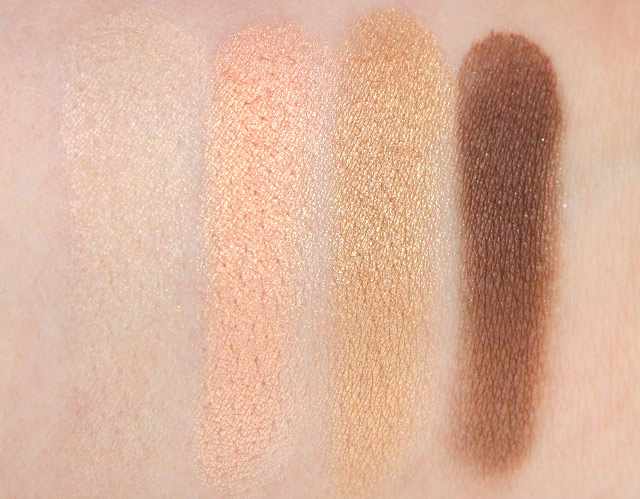 Benefit World Famous Neutrals Eyeshadow Kit: "Most Glamorous Nudes Ever" –
– (€32,95 EUR /$30.00 USD) –
I love the overall feel of glamour and luxury these eyeshadow colors give. You have your basic satin-finish highlighter, glamorous soft-Pink with Gold shine for on the lid, a Gold/Champane color also perfect for on the lids, and your quintessential satin-finish Dark Chocolate Brown.
These eyeshadows' formula are great. They're pigmented, apply like butter and aren't too loose and powdery. Although I would've liked to see "Call my Buff" being a little more opaque. True stars of this palette definitely are: "It's Complicated" & "Kiss Me, I'm Tipsy".
To sort of give you a feel of what these look like on my actual head, I wore "It's Complicated" on my eyelids & "Kiss Me, I'm Tipsy" was dusted through my crease and lower lashline in my latest Haul video: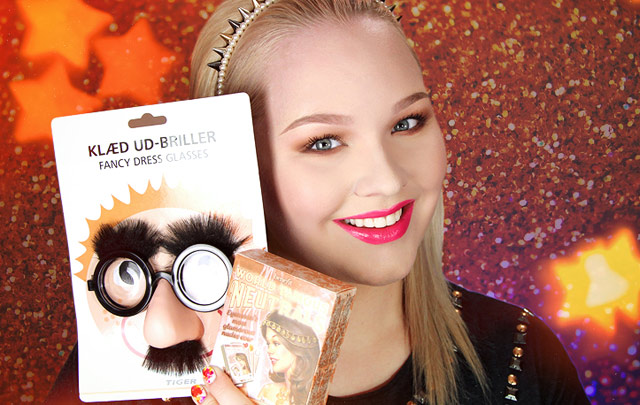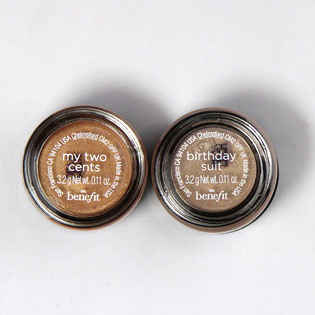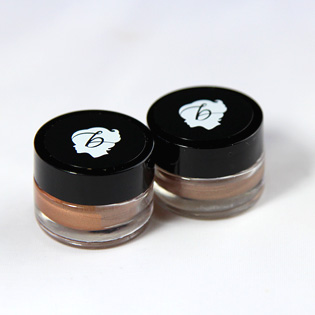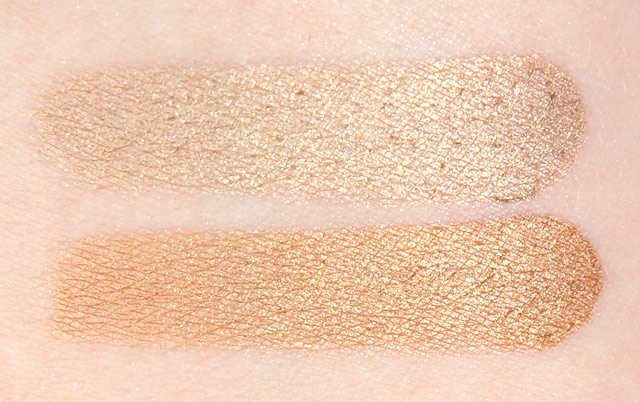 Benefit: Creaseless Cream Shadows: "My Two Cents"(bottom) & "Birthday Suit"(top):
Benefit also included two Creaseless Cream Shadows in this kit. I'm a big fan of these as I told you guys in a full review on "My Two Cents" here. I really like that Benefit put these in, as this is the perfect way to try out these cream shadows, without immediately splurging for the full size ones. For a full review on Benefit's Creaseless Cream Shadows, please click here.
So, What's the verdict?
I really, really like this eyeshadow kit/palette. It's indeed glamorous, nice for daily wear and affordable. The formula of both the shadows and Creaseless Cream Shadows are great, and don't even get me started on that too cute for words packaging.
So, if you're in need of something cute, and handy for when you want to keep your eyes basic, definitely look into this one!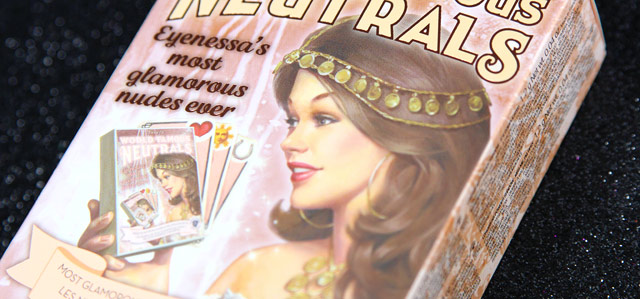 Benefit World Famous Neutrals Eyeshadow Kit: "Most Glamorous Nudes Ever" is available at Sephora and Benefitcosmetics.com