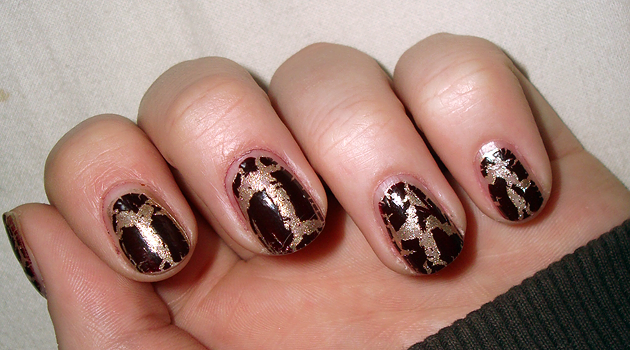 The other day I went on a quick shopping spree with mom, and I decided to take a look at the drugstores.
I saw some amazing cheap makeup, and when I walked a little further, I saw the new PUPA Crack Nail Polish Sets!

A couple of weeks ago I already ordered the Crack Topcoat from Barry M,
But because our mail delivery people are striking, I won't get mail for another week!
When I saw these PUPA Sets, I went nutts and bought 2 of the 3.
I bought the Silver/Black and the Gold/Brown.
I'm wearing the Gold/Brown Set right now, And let me tell ya.. I am in deep love with 'em :)
If you want to see the nails live, click the following link. It's my new Christmas Makeup Tutorial.
Today I'm going to do a mini picture tutorial on the Silver/Black set. Just so you can enjoy the magic of crack nail polish!
STEP 1:
Apply the Silver Polish that's in the set.
Just apply one coat, and let it dry for atleast 5 minutes.
STEP 2:
After waiting 5 minutes for the Silver to drie,
Take the Black Crack Polish, and apply it quickly over the silver.
Make sure you apply this crack polish as quick as possible.
One layer is enough, If you apply 2 it won't crack.
STEP 3:
Drool over the fact that it's actually cracking.
STEP 4:
Apply your favorite top coat, (mine is: China Glaze Fast Forward) and wait for your nails to dry.
And taaadaaaaa. Perfect, Original Looking Cracked Nails :)
Cool, huh?!
These sets cost €11,95 per set. And in The Netherlands you can get them at 'DA'.
For international viewers, I'm sad to tell that I have NO IDEA where you can get these..
Try Ebay, or Google.. Maybe anyone else knows where we can get these? Please leave a comment below!
SMOOCHES, Nikkie