Today I'll show you my NOTD (NailsOfTheDay)!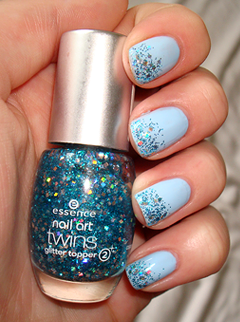 Last week I went shopping with my sissie in law, and we immediately stopped walking when we saw the KOH Nail polishes, We went into the store and bought some great colors!
Today I'm here to show you KOH's Baby Blue.
For more photo's, and my thoughts on this nail polish, Click More!


Before I start rambling about this NOTD, I want to apologize for the short nails, they all broke off at work :'(
SO, Today's NOTD is KOH'S Baby Blue with Essence Nail Art Twins Glitter – Clyde on the tips of the nails.
is an amazing pastel blue color, that still isn't too boring. It's surprisingly bright for being a pastel.
Application was a little tricky. The polish is kinda thick, but not enough covering for just one coat.
With the second coat, It made the polish look really glumpy and just too much. But weirdly enough, when this dries it's beautiful!
Then I decided to make this NOTD a lil' bit more interesting and took some glitter out!
I chose Essence Nail Art Twins Glitter – Clyde. An amazing Teal Glitter with square 3D Flakes in it.
I really reccomend getting that glitter polish to anyone who likes to play up their manicure a bit!
KOH 'Baby Blue' Nail Polish
– – –
Application – a bit too thick, but workable.
Packaging – Nice, and elegant. I like it!
Value/Price – €14,95
Where to buy – http://www.kohcosmetics.com/
Would I buy again? – OH YES DEFINITELY, Not the same color though :')
– – –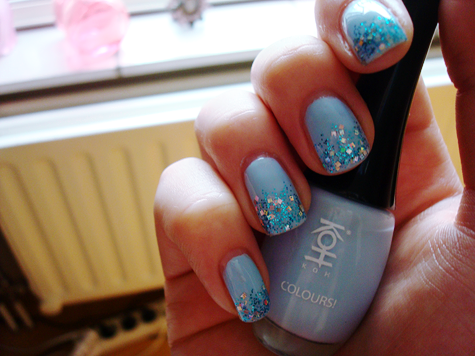 (a lil' indoors picture for ya ^^)
GREETTINGGSSS, Nikkiex