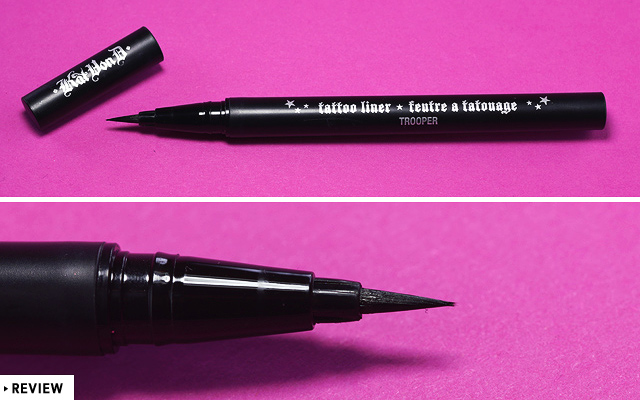 A couple of months ago, I asked my Twitter followers what the number one must have product by Kat von D was. It quickly became very clear that the Tattoo Liner in Trooper had a hardcore cult following. I purchased it from Sephora, and put it to the test…
Kat von D's Tattoo Liner in Trooper ($18.00 U.S. for .02 oz.) comes in a sleek, black marker-like design. It's built of very sturdy material and fits nicely in my hands. The lid is nice and snug, and definitely prevents the liquid from drying out—make sure you hear the lid make a clicking sound, this way you know it's on/closed properly.
Before trying the liner, I thought Trooper was the same as Stila's Stay All Day Waterproof Liquid Eyeliner (felt tip). However, the tip on Trooper is actually a brush. A bunch of thin, synthetic hairs packed together that come to a nice point and allow for the most precise eyeliner application. And that's just one of the things that makes this liner a total dream.
Its tip and the precision that it gives is nothing like I've ever tried before. It's more precise, opaque and easier to work with than eyeliner pens. And compared to gel eyeliners, the tattoo liner is a lot quicker and leaves you with way sharper lines.
The formula is out of this world. It's a very opaque intense black with a soft glisten. When first trying the eyeliner I felt like I needed at least two layers for it to become opaque. But a little trick is to wipe the tip across the back of your hand once or twice. This will get the product flowing and make the process that much more easy.
The eyeliner is not only easy to use and super opaque but it also has an amazing staying power. It's one of the most hardcore liners I have ever come across. I can wear the liner up to twelve hours with minimal fading on inner and outer corners of my eyes. I also like how it barely needs any time to dry and set.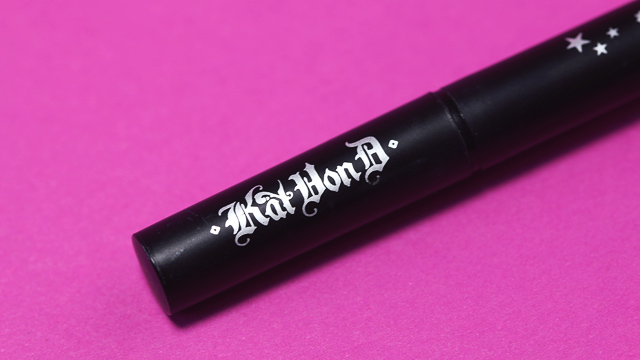 THE VERDICT
Ladies and gentlemen, I think I have found my holy grail eyeliner. For years I used gel eyeliners and wished there would be something that was just as easy, but a whole lot sharper and precise. I stepped away from gel eyeliners to see if liquid eyeliners like the NYC one would do the job for me. And although the NYC liner was quickly becoming a favorite, Kat von D's Trooper grabbed the NYC one by the balls and showed who's boss. I'm not even kidding. The Tattoo liner in Trooper is opaque, easy to use, quick, precise and will stay on like nothing I've ever tried before. I'm in love.
Pros
---

⋆ Very easy to use

---

⋆ Amazing staying power

---

⋆ Precise, bristle brush tip

---
Cons
---

⋆ Only available at Sephora

---

⋆ Only comes in one color, which is black

---

Kat von D Tattoo Liner is available at Sephora.com

What is your favorite eyeliner? Do you wear eyeliner on a daily basis? Tell me down in the comments!
❥ Nikkie
@nikkietutorials