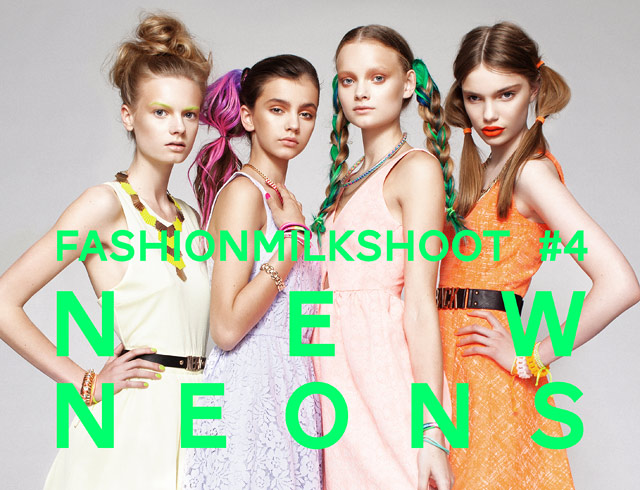 One of my yearly highlights in my makeup career are the always wonderful Fashionmilk.com photoshoots. With an amazing team we always try to create the most fun shoots for starting models, who are ready to take over the fashion world.
After the great response to "The Class of 2012" last Fall, we thought it was time for another theme. This Spring we transformed our models into New Neons..

Our idea for this shoot was to give each girl her own (neon) color. It's sort of as if they were our four personal Power Rangers, but neon.. and fashionable.
"New Neons" was photographed by Bianca Toeps. Styling by Suze Kuit. Makeup by Nikkie de Jager and Hair by Louise Vlaar @ Colourfool Agency.
First up we have Merel @ Fourteen Models as Neon Pink: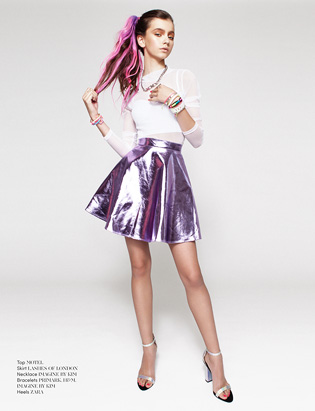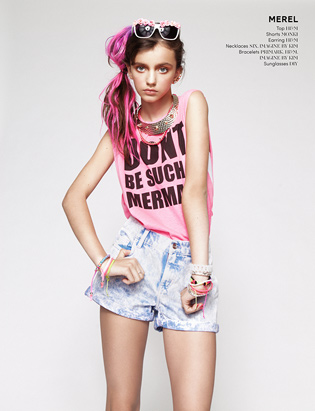 ↑ Model: Merel @ Fourteen Models
Since we didn't want this shoot to end up looking like a neon circus, hair stylist Louise Vlaar and I decided to give two of the girls a dash of neon hair and two girls a pop of neon in their makeup.
For Merel we decided to bring more attention to her neon pink locks, instead of starting a neon pink eyeshadow fest. I kept Merel's eyes very warm and bronzy, using my Viseart Eyeshadow palette in #1. I gave her a healthy, glowing skin and neon pink nails using Julie G's "Oh Em Gee!" nail polish.
Our Neon Orange that day was Marlies @ Mikas Stockholm: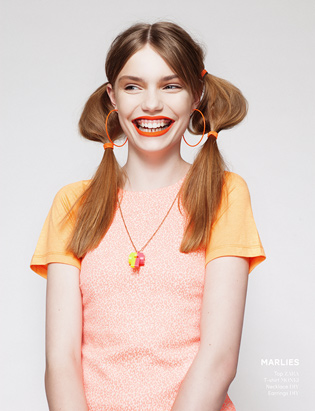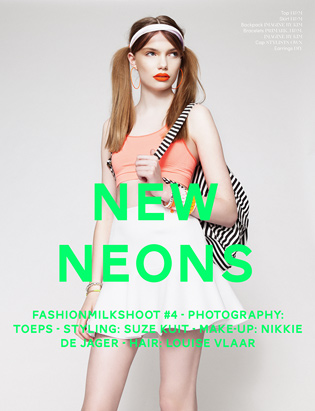 ↑ Model: Marlies @ Mikas Stockholm
Marlies had such an unique, beautiful face, I just needed to do some bright makeup on her. I decided to bust out my favorite M.A.C Lipmix in "Orange" and started painting Marlies' pout. To give the lip a neon finish I patted a little bit of Kryolan UV-Dayglow Aqua Color in "UV-Orange" on top, this really made the lip pow.
I finished Marlies' look by adding some M.A.C "Nude on Board" PRO Longwear Bronzer to her crease and cheekbones.
Rocking some Neon Yellow, gorgeous Romy @ iD Model Management: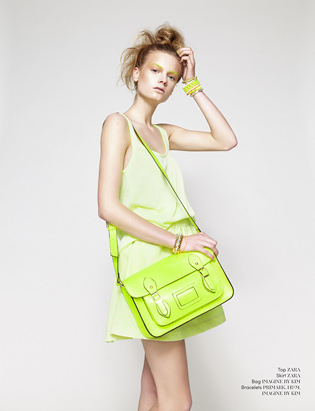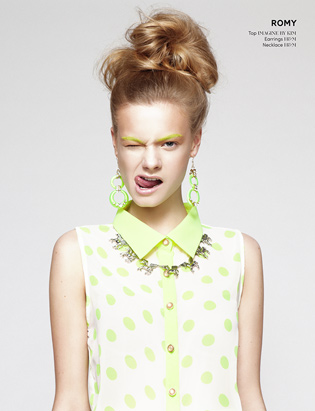 ↑ Model: Romy @ iD Model Management
I have no words that can express my love for this. When I walked into the studio that morning, all I could think of was: "I need to do some colored brows today." I proposed this rather wild idea to the team and while some weren't all that excited, I just had to do it. Oh my, do I love the end result! Just look at Romy rocking that brow!
After warming Romy's face up with M.A.C "Nude on Board" PRO Longwear Bronzer and highlighting with M.A.C Pigment in "Vanilla" it was time for the yellow brows to happen.
I took my Kryolan UV Dayglow Supra Color in "UV-Yellow". It was the star of that day.
As a mixture of Neon Green and a dash of Blue, Valou @ Fresh Model Management: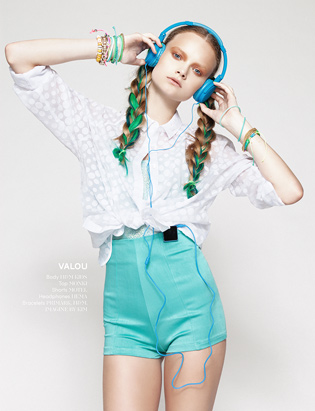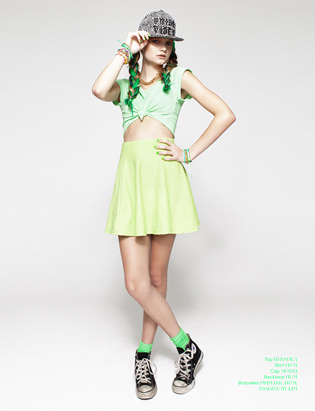 ↑ Model: Valou @ Fresh Model Management
Valou's face (gorgeous name, isn't it?) was literally a makeup artist's dream. She had the most perfect crease and lips. I just wanted to slather makeup all over her, haha. However we did decide to play up her hair, instead of her makeup.
I made Valou's eye very bronzy and sparkly using my INGLOT Body Pigment Powder in "232". I applied some warmer eyeshadows all around her eyes, sort of like little bronze clouds using my favorite Viseart Eyeshadow palette in #1 again.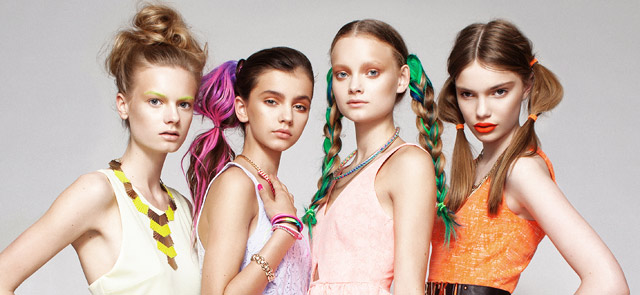 Don't forget to check out the backstage video where you can see the team at work:

FASHIONMILK 4.0 SHOOT: "NEW NEONS"
Production: Yasmine Rymenants
Photography: Bianca Toeps / Toeps.nl
Makeup: Nikkie de Jager @ Colourfool Agency → Portfolio
Hair: Louise Vlaar @ Colourfool Agency
Styling: Suze Kuit / Fashion Treasures
Backstage Video: Djana Djordjevic / Days in June
Assistance: Nynke de Boer