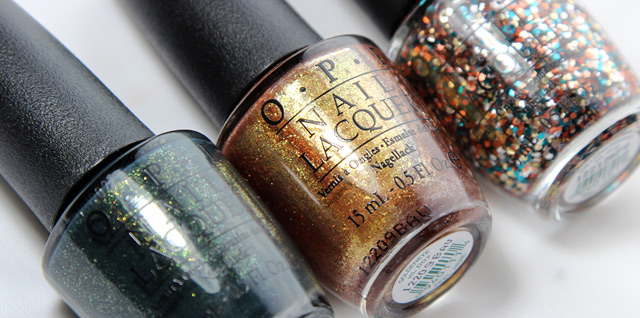 Let me start off by saying: "I'm probably mega 007 late with this one."
I want to apologize for that. But I can explain! For some odd reason my nails and cuticles decided to bail on me and now I'm left with horrible short sausages and dry as an abandoned island cuticles.
However! I just couldn't keep these away from you: Three jaw-droppingly stunning OPI "Skyfall" polishes and I'm loving every single one of them. A truly gorgeous collection and here's my opinion on the three I bought..

I've personally never been a 007/Mr. Bond fan. Something about the unchanging story line never really got to me. (Though, I must say Mr. Craig is giving me a really hard time not to watch) But then there was my brother. And OPI's "Skyfall" Collection. Oh, and me. Together in a store. (Can you feel what's coming?)
As we walk by the OPI stand I emotionless say: "Oh look… a Bond collection.."
Quickly my brother tells me how amazing Mr. Bond is and how "Skyfall" absolutely rocked. And wait for it: He insisted that I bought at least one polish!
…..Wait, what?!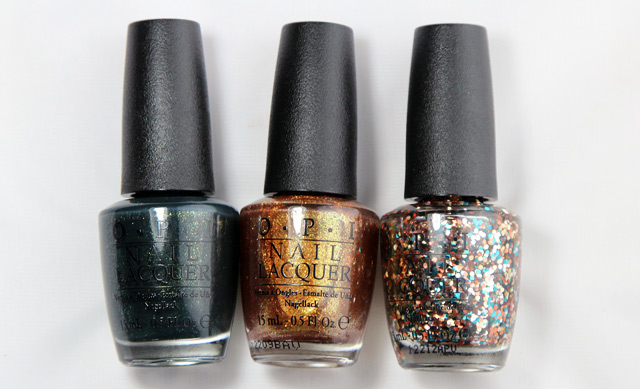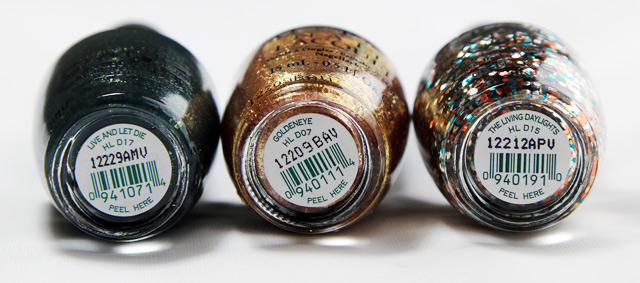 Okay, Okay I might have exaggerated a little bit when I said he "insisted". But he definitely liked that a nail polish brand came out with a Bond collection. So I bought three, hah!
OPI's "Skyfall" collection is a fantastic collection filled with crazy glittery shades and seriously dangerous cremes.
The colors I got are: "Live and let Die", "Goldeneye" and "The Living Daylights"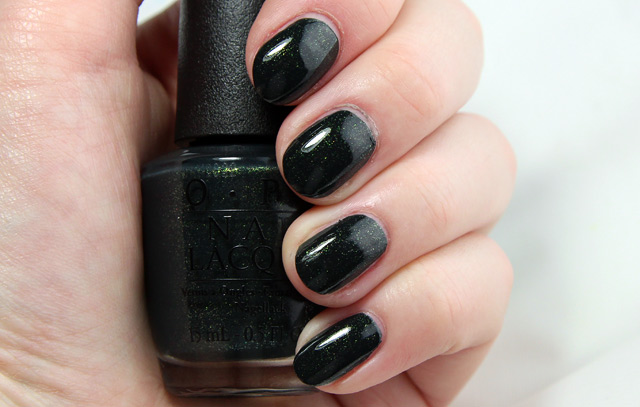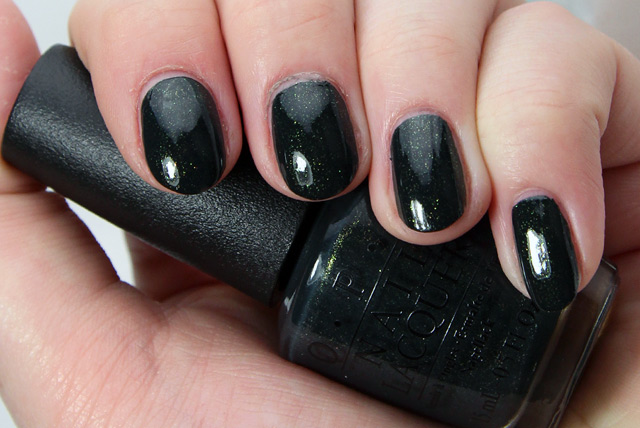 "Live and let Die" –
A pine-teal green color with gold-green and chartreuse flecks. Ugh, Truly gorgeous.
This is so original and different. I love everything about it. It's so good for Fall too!
I only needed 2 light coats for it to be fully opaque.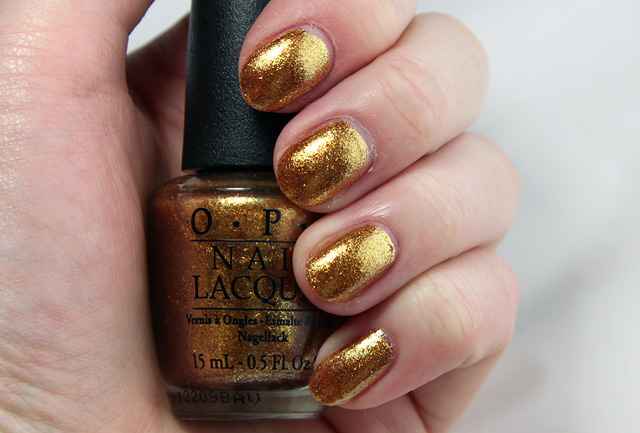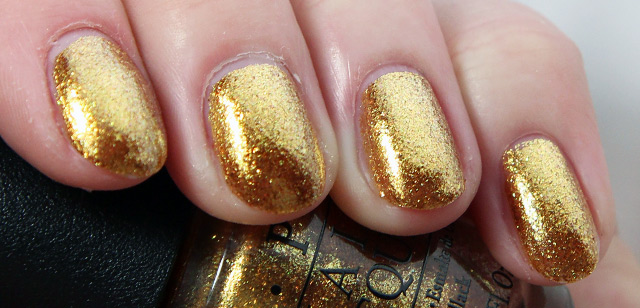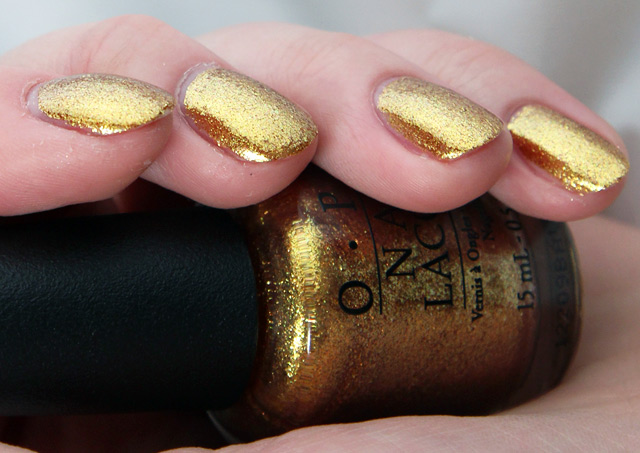 "Goldeneye" –
This is what I'd describe as a gold-yellow glitter foil galore. This is nothing like I've ever seen before. It's glitter with a foil finish. In some lights a very bright yellow and in others a glittering gold. This is a winner! I did need 3 thicker coats for it to be fully opaque, though.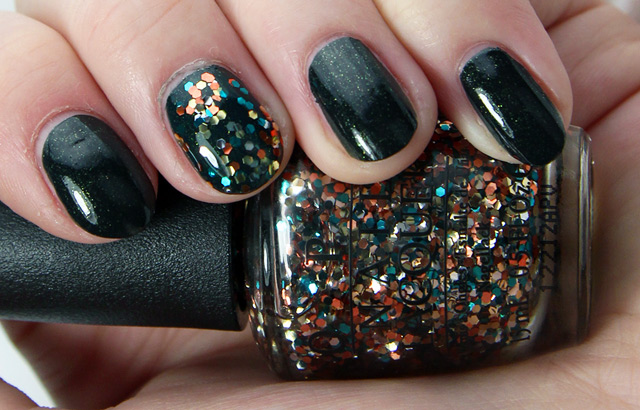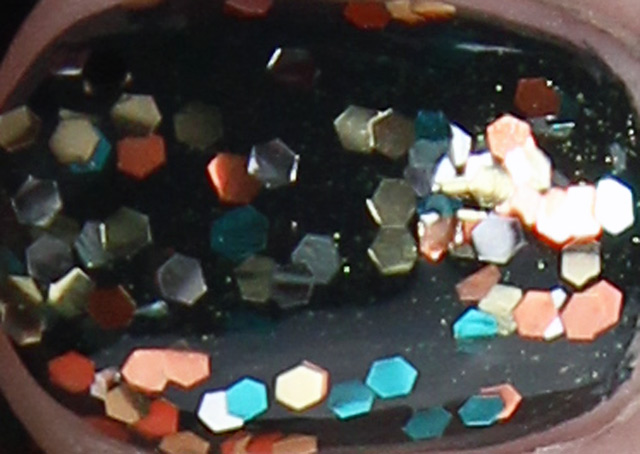 "The Living Daylights" –
Ah, Hexagonal glitter chunks! This is beautiful. But it is just that: Silver, Blue, Gold and Rusty bronze hexagonal glitters in a clear base. Which look beautiful over any dark base. This will be perfect for Christmas and New Year's Eve! It applies quite opaque as well, I used 2 coats on my swatch-pictures.
I love these shades. I only bought these three because I already have similar colors/dupes for all the other shades in this collection.
And now I can finally stop listening to Adele's "Skyfall" – This song has been on repeat ever since I started working on this blogpost, LOL!
OPI Polishes retail for €13,95 each and are available at Sephora and selected Dutch drugstores (www.opi.nl)