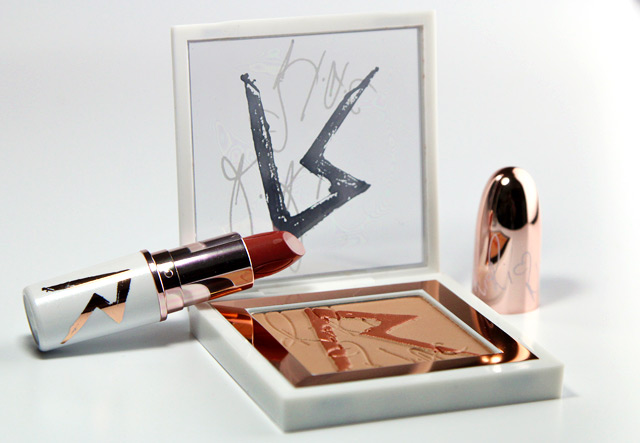 Rihanna here, Rihanna there… Rihanna everywhere. When it comes to repeating a celebrity collab over and over, MAC knows exactly what they're doing. After numerous mini launches collaborated with the pop star, MAC decided we needed another "RiRi Hearts MAC" collection. This time they teamed up to come up with the perfect Holiday collection. After not loving "RiRi Woo" that much, how will these 2 products do?…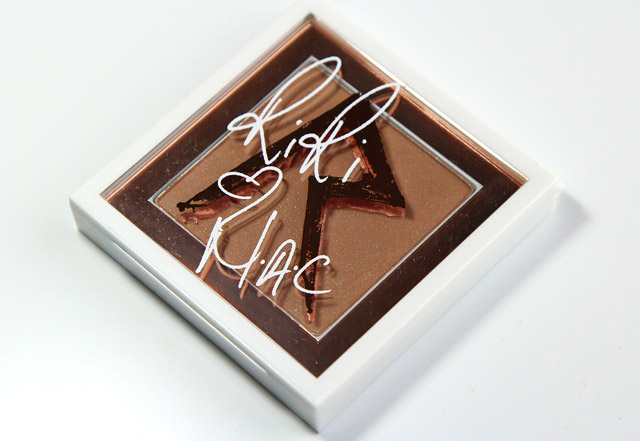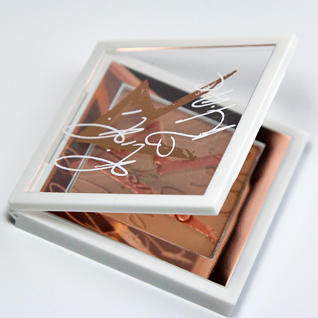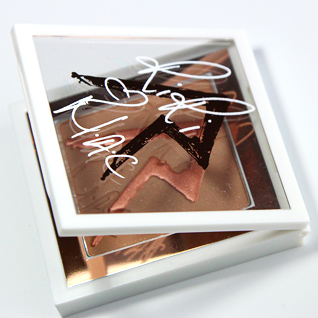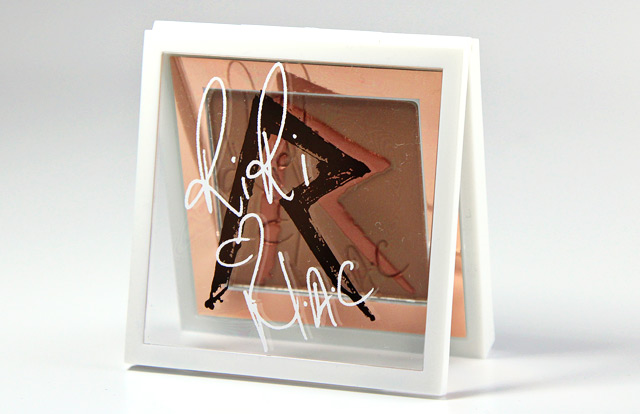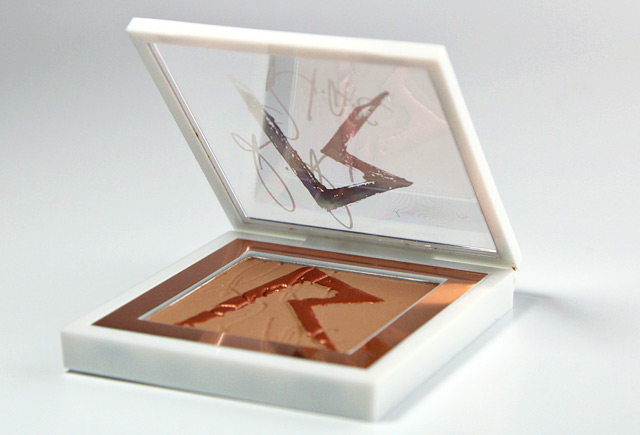 MAC "RiRi Hearts MAC" Bronzing Powder: "Love, Rihanna" – (€27,50/$30.00) –
Let's start off with the bronzer: Love, Rihanna comes in a shiny White plastic case, that's the same size as the 4x Eyeshadow Palettes at MAC. The bronzing powder compact is surrounded by a luscious bar of high-shine Rose Gold. This is something I do love about all the RiRi Hearts MAC launches. The Rose Gold is so pretty, elegant yet still edgy.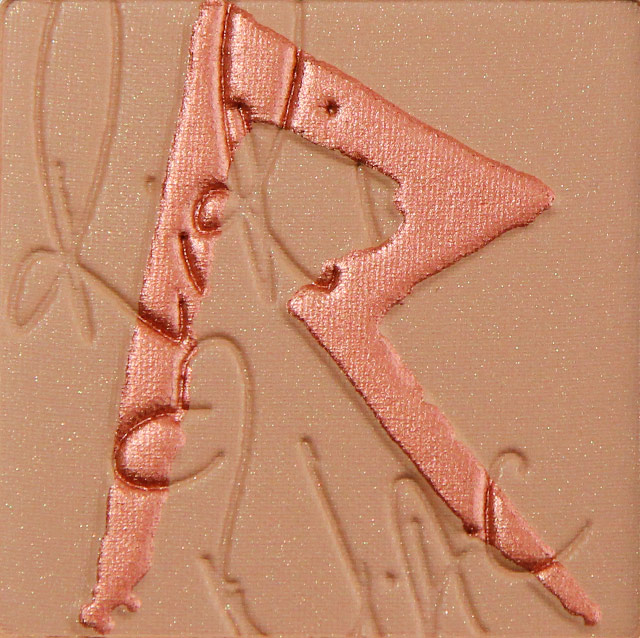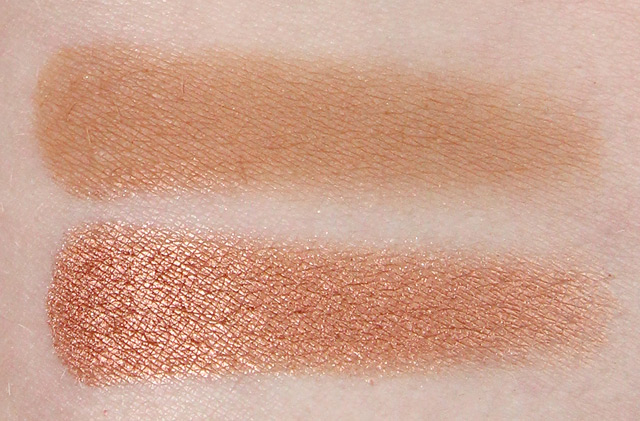 I'd describe Love, Rihanna as a Soft Brown with Yellow-Orange undertones and a barely-there shimmer. In the middle of the compact you'll find a raised "R" that has a vivid, Copper frost over-spray (meaning the Copper will fade away after a couple of uses). I think this has a perfect shade of bronze. It's not too Yellow or too Orange. The raised "R" can be used as a stunning eyeshadow, but sadly will fade away after a while. I'm not too sure if I like the bronzer mixed with the Copper "R" as it turns the entire product in a shimmery haze. Pretty for on the eyes, not as a bronzing powder.
Love, Rihannais pigmented, easy to work with and very blendable. It'll look perfect on Fair-Medium skin tones. I really like this bronzing powder but I could never use this as a bronzer while the Copper "R" is still active. For now I'm using the Copper "R" as an eyeshadow, but I'd definitely wipe away the entire over-spray once I want to use this as a bronzer.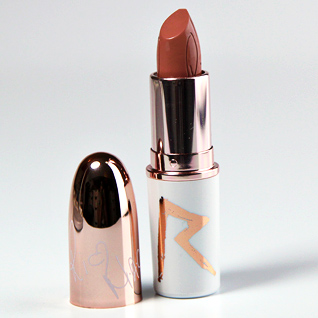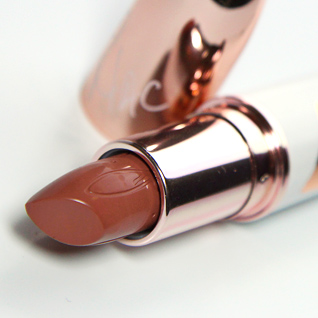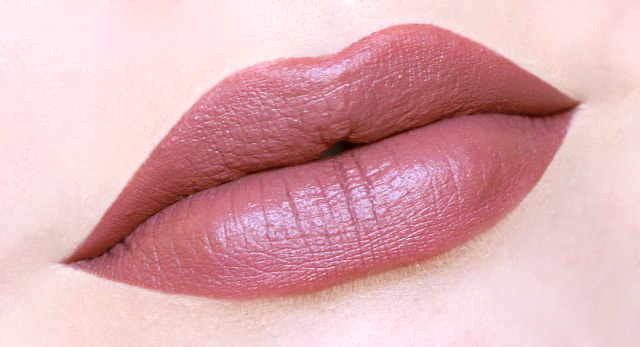 MAC "RiRi Hearts MAC" Lipstick: "Bad Girl RiRi" – (€19,50/$16.50) –
Bad Girl RiRi is a strange one. At first sight I'd call it a darker, warm Nude Matte with Rose-Brown undertones. I mean just look at the lipstick-bullet pictures, it's so warm and almost poopy looking! But once applied, Bad Girl RiRi transforms in a warm Taupey Nude with Rose-Brown undertones. For my skin tone I find this an absolute no. I think it's way too dark and almost Brown looking, adding at least 5 years to my age. But for darker skin tones this is one hell of a pretty nude! The lipstick is pigmented, easy to apply, it stays on well and doesn't dry the lips out like a desert *ahem, ahem… RiRi Woo!*.
So, What's the verdict?
Although I've had it officially with all the RiRi launches, these products are fun. They're absolutely not a must to have, but definitely fun. I think the bronzer is a great way to naturally warm up your face without ending up looking like Snooki. But you sure do have to forget the pain of wiping that Copper "R" over-spray away. Yes, it hurts. The formula on the lipstick is great. It's not too drying, applies well and stays on too! I just don't like the color on myself. I'd love to use it as a Nude on some of my darker models though. Hmm, I'm not amazed, but sure am amused. Give it go, while you still can. The RiRi collections sell like hot Pumpkin Spice Latte's on a cold Autumn day.

M.A.C RiRi Hearts MAC Holiday 2013 is currently available at all M.A.C Counters, Stores, maccosmetics.nl & maccosmetics.com