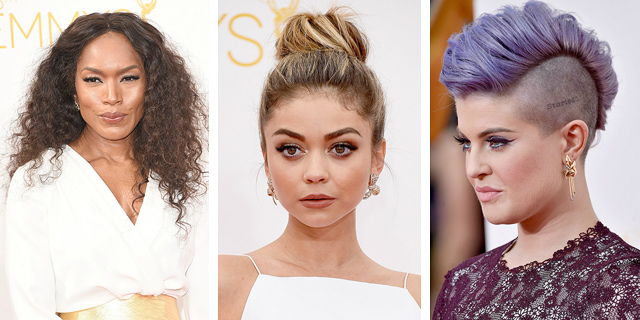 You must have seen the fascinating mix of stunning gowns and failed prom dresses at the 2014 Emmy Awards, by now. But have you taken the time to get a better look at the hair and makeup? No? Don't worry, I've rounded up all the best beauty looks right here. Let's zoom in on our favorite TV stars, shall we?
Sarah Hyland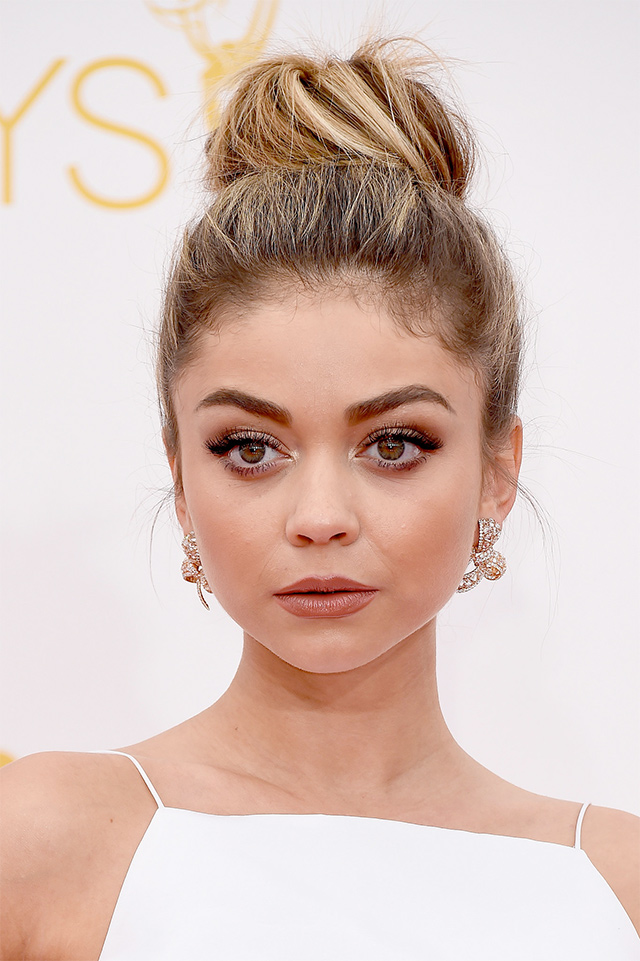 Source: Getty / Frazer Harrison
Let's just start off with my favorite of the evening, Sarah Hyland—'cause she looked like perfection realized. I love everything about Sarah's look here. From the soft glam, flirty eyes, to that deep, brown-nude lip and sky-high bun with fuzzy texture around the hairline.
Her makeup artist, Allan Avendano, used MAC Pigment in Naked from the inner corner toward the center of the eyes. At the outer corners, Allan applied MAC Eyeshadows in Swiss Chocolate, Smut and Bronze, and used MAC Mineralize Skinfinish in Soft & Gentle under the brow bone. The blush is MAC Powder Blush in Style.
Kelly Osbourne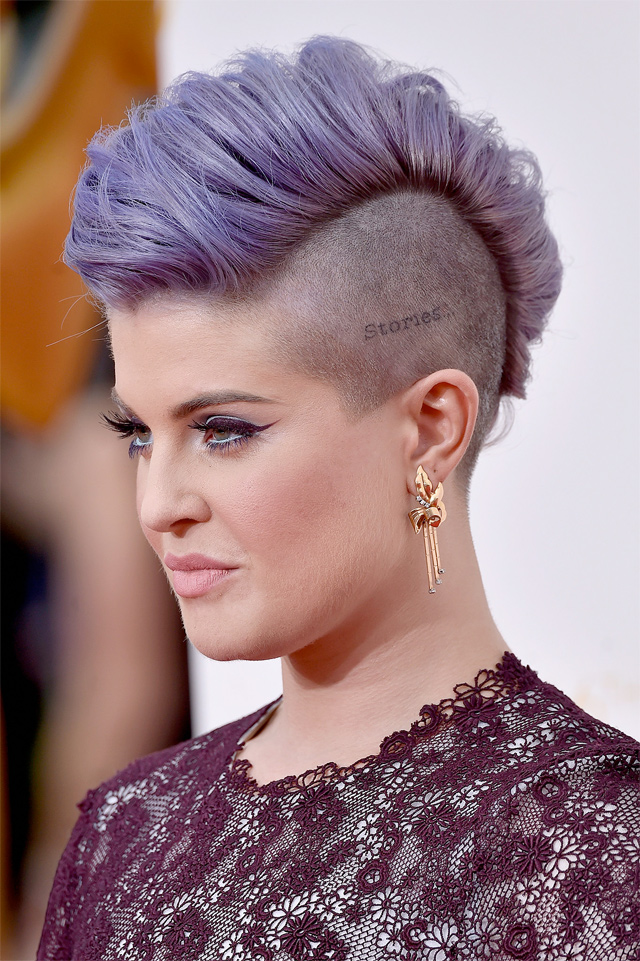 Source: Getty / Frazer Harrison
I'm still pissed at Kelly Osbourne for doing what she has done to her hair. But, her makeup at the 2014 Emmy Awards was one of the best looks of the evening. The vampy, burgundy-purple winged liner paired with that soft, pastel-blue shadow on the lids is just beautiful! I love how it's Hollywood glam, but with a twist.
Kerry Washington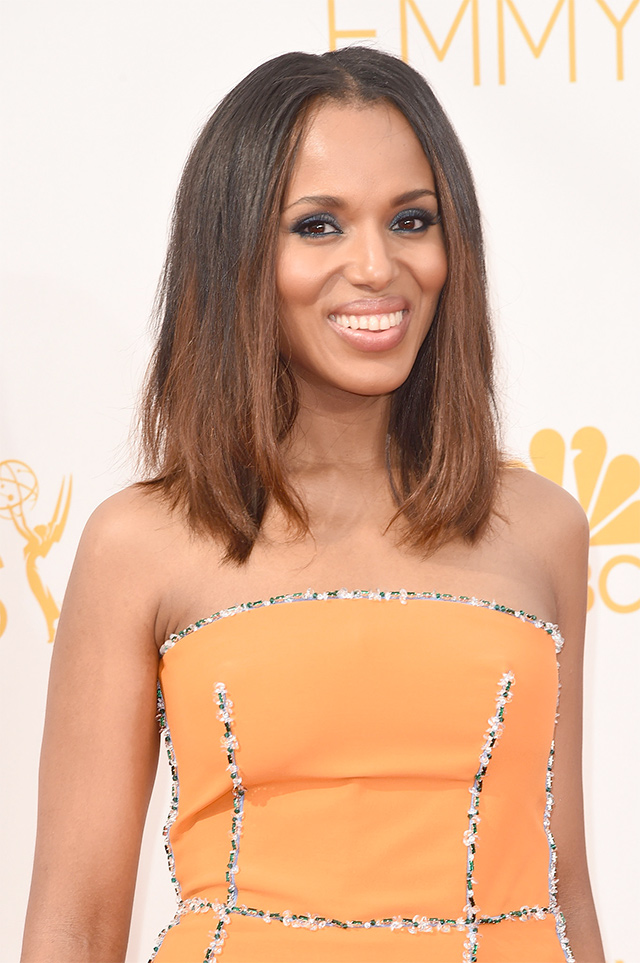 Source: Getty / Jason Merritt
Isn't Kerry Washington on every Best Beauty Looks List, every award show—every year? This woman is a beauty legend. Her dress, hair and overall look just deserve an award alone, but, another area of interest are Kerry's eyelids. A fierce shade of navy!
Her makeup artist, Carola Gonzalez, used Dior Diorshow Fusion Mono Long-Wear Professional Mirror-Shine Eyeshadow in Cosmos from lash line to crease and along the lower lash line, with Neutrogena Crease Proof Eye Shadow in Forever Platinum layered over top. Carola lined the waterlines with Neutrogena Nourishing Eye Liner in Twilight Blue and finished off with Neutrogena Healthy Volume Mascara.
Taylor Schilling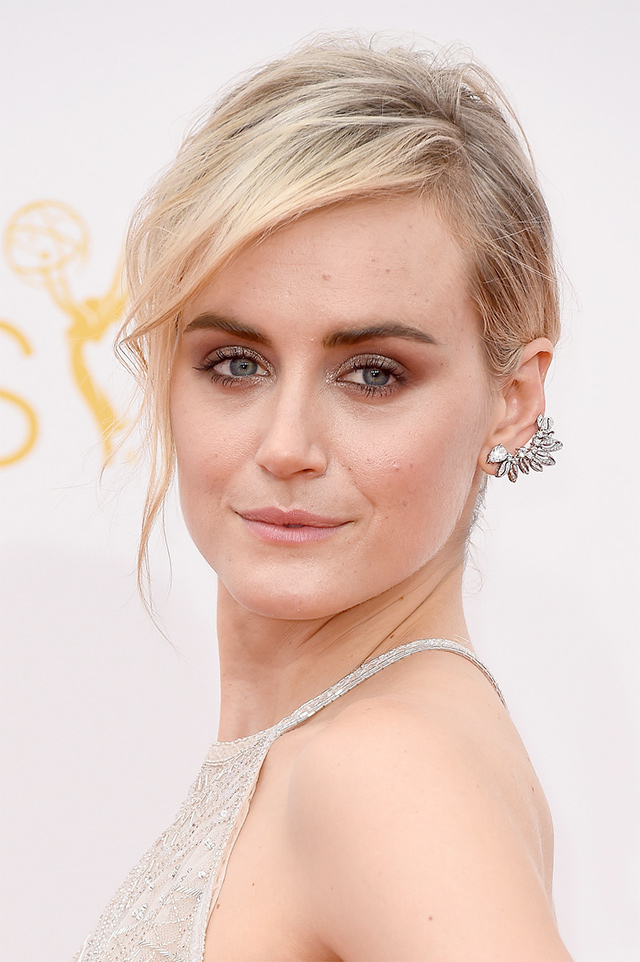 Source: Getty / Frazer Harrison
Another top favorite of the evening, definitely, had to be Taylor Schilling. The soft, rusty shades in the crease, paired with sparkling silver-taupe across the lids, and dewy skin have me begging for more. It's such a staple NikkieTutorials look, how can I not be all over this?
Taylor's makeup artist, Tina Turnbow, placed Laura Mercier Caviar Stick Eye Color in Cocoa all over the eyelids, with Laura Mercier Sateen Eye Color in Cognac layered over top for more color. Laura Mercier Caviar Stick Eye Colour in Moonlight was added to get more sparkle. Tina also lined Taylor's eyes with Laura Mercier Kohl Eye Pencil in Brown Copper and coated the lashes with Laura Mercier Faux Lash Mascara in Black.
Christina Hendricks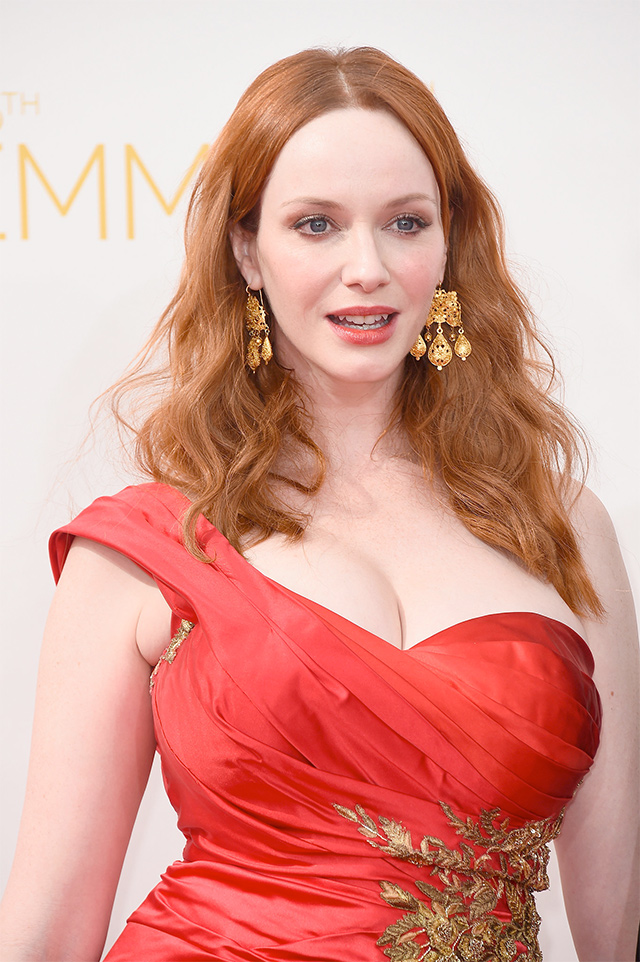 Source: Getty / Frazer Harrison
Classic beauty, Christina Hendricks, always knows how to make heads turn with her magnificent figure, softly defined eyes, and stained soft-red lips.
Christina's makeup artist, Vanessa Scali, used the bronze shade in the Pür Minerals Perfect Fit Eyeshadow Trio in Jetsetter all over the lids and underneath the bottom lashes. She then defined the top lash line with Pür Minerals Mineral Eye Defining Pencil in Deep Graphite, the bottom with the same pencil in Polished Stone.
For lips, Vanessa applied Pür Minerals Chateau De Vine Lipstick in Starlet with her fingers to the center of Christina's lips, and layered Pür Minerals Lip Gloss Stick in Dare Devil over top. Delicious!
Angela Bassett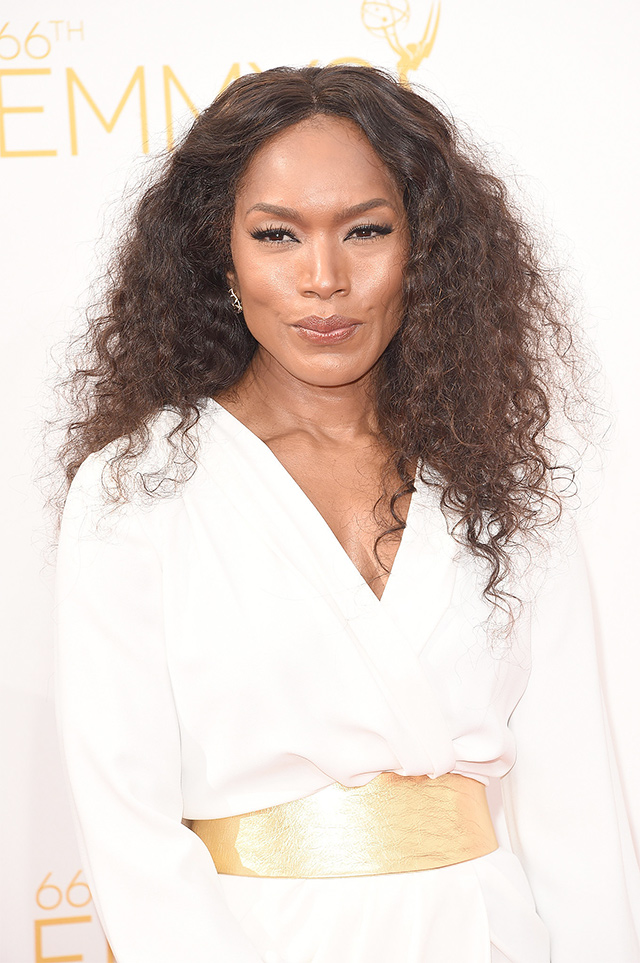 Source: Getty / Jason Marritt
Voodoo queen, Angela Bassett, looks drop dead gorgeous. From the outfit, to her big, 70's curls, and classic makeup, Angela looks stunning. I love how it's all so clean, yet still makes impact. Definitely a favorite of the evening.
Natalie Dormer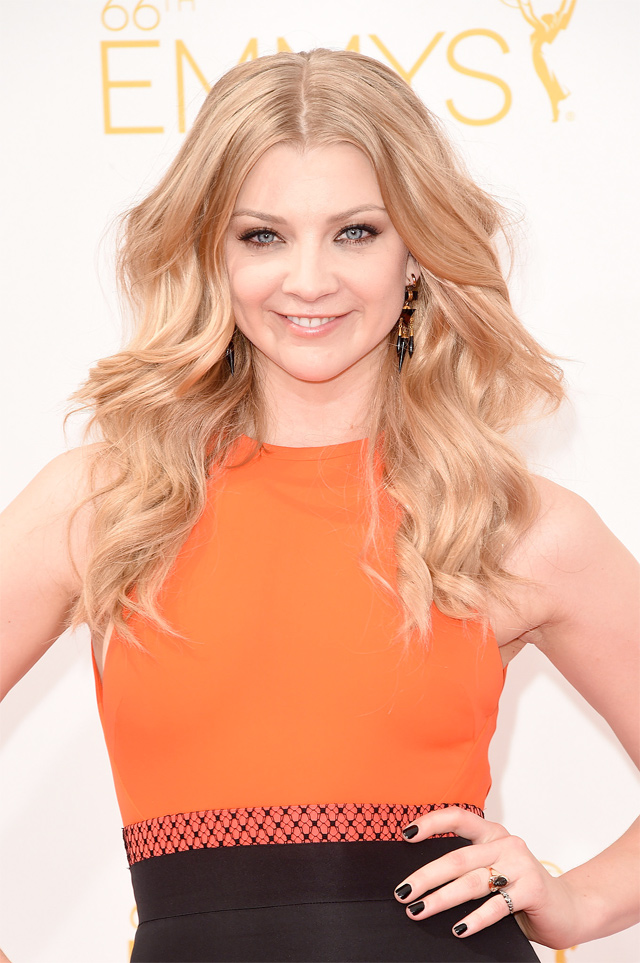 Source: Getty / Jason Marritt
Margaery Tyrell, ehh… Natalie Dormer let's her natural beauty shine through by accentuating her piercing blue eyes with soft, copper-bronzy smokey eyes.
For the eyes, makeup artist Jake Bailey lined the top lash line with Urban Decay 24/7 Glide-On Eye Pencil in Perversion, and the bottom with the same liner in Smog. Next, he brushed Lancôme Color Design Sensational Effects Eye Shadow in Pose over the lids, and added Velour Are Those Real? false lashes.
On Natalie's lips, Urban Decay 24/7 Glide-On Lip Pencil in Naked with a dash of L'Oréal Paris Colour Riche Caresse Wet Shine Stain in Pink Perseverance layered on top.
Allison Williams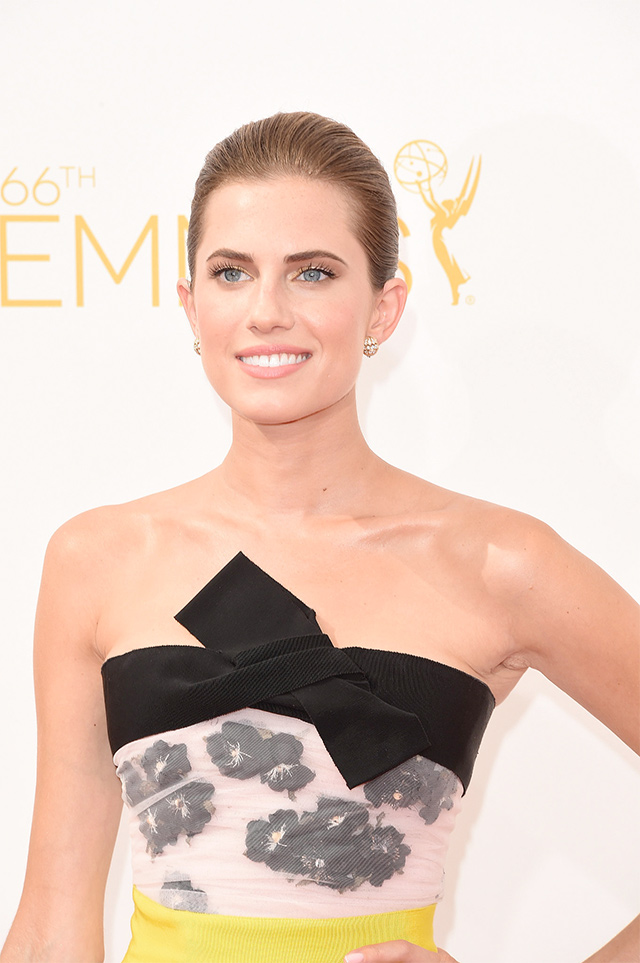 Source: Getty / Jason Marritt
Though Allison Williams is set to play the male role of Peter Pan, there's not the slightest bit of masculinity to be found in Allison's look. Allison looks fresh, glowy, and beautiful.
Makeup artist, Pati Dubroff, dusted Ochre from the Pati Dubroff Dream Palette, from lid all the way up to the brow bone. She added Tarte SmolderEYES Amazonian Clay Waterproof Liner in Golden Beige at the center of the lid, and Chanel Illusion d'Ombre Long Wear Luminous Eyeshadow in Abstraction on top. For the gold at the inner corners, she used NARS Soft Touch Shadow Pencil in Corcovado.
On Allison's lips, Tarte LipSurgence Matte Lip Tint in Lucky, with Tarte Amazonian Butter Lipstick in Golden Pink in the center.
WORST: Lena Dunham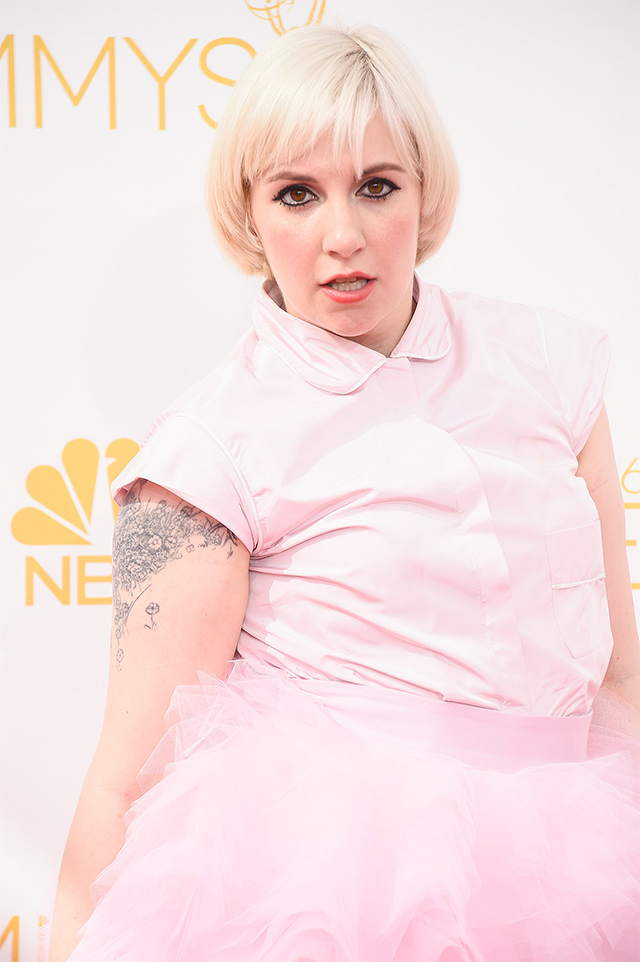 Source: Getty / Frazer Harrison
Wait—what? What is exactly going on here? Who let Lena Dunham step outside the car like this? The hair is doing absolutely nothing for her face. The eyeliner looks droopy and sad and don't even get me started on her outfit. Lena, you're better than this. Hire a new glamsquad, pronto.
Who made it onto your list of the Best Beauty Looks at the 2014 Emmy Awards? Who did you think totally missed the mark? Share in the comments below!
❥ Nikkie
@nikkietutorials
Related posts: