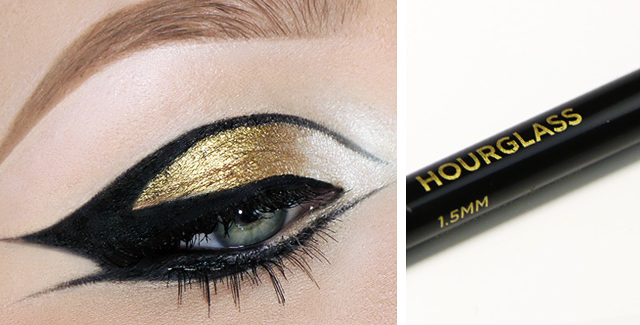 Check out the tutorial for this look here.

I have a confession to make. I've been doing makeup for six years now. In those six years, many a time I've been asked to do intense smokey eyes, dramatic winged liners, and sultry, lived-in kohl looks. These type of looks all have one thing in common: They require a good bit of tight-lining. And you know what? I hate tight-lining. The entire process and feel of it just makes me cringe. Until Hourglass came out with the 1.5MM Mechanical Gel Eyeliner… A liner that promises to make tight-lining easy, quick and—dare I say it—fun…
The Hourglass 1.5MM Mechanical Gel Eyeliner ($16.00/€12,65 for 0.002 oz.) has a sleek and elegant black packaging with gold detailing. By twisting the top portion of the eyeliner up, a little bit of the liner comes out. Don't get too enthusiastic with twisting though, because once it's twisted up and out, it won't go back down.
Essence Long-Lasting Eye Pencil (top) – Hourglass 1.5MM Mechanical Gel Eyeliner (bottom)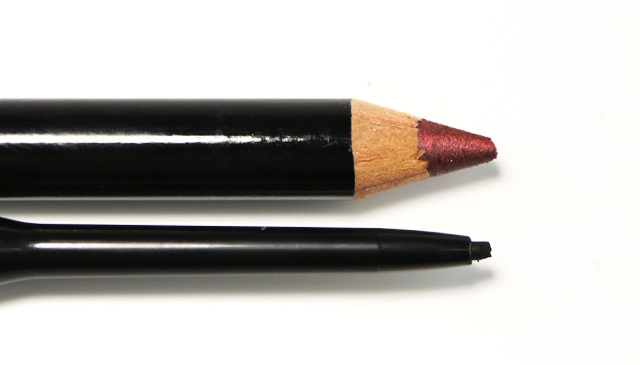 MAC Eye Kohl (top) – Hourglass 1.5MM Mechanical Gel Eyeliner (bottom)

Wow! When we compare Hourglass' 1.5MM to Essence's Long-Lasting Eye Pencils we can see that the Essence pencils are actually a lot thicker and rounder at top. And all this time I thought the Essence pencils were small! Once we compare Hourglass' 1.5MM to a MAC Eye Kohl, the MAC Eye Kohl just looks like Godzilla. Damn!
It might be insanely small, but how about the liner itself? The formula is supposed to be waterproof, long-wearing, transfer-free, and pigmented. I think the consistency is creamy like butter. It also doesn't tug on the lash line or skin, which is very good. Pigmentation is semi-opaque in a single swipe, but definitely buildable to a fully opaque color once you apply some more. The liner wore well for about 5-7 hours on me. After that it just started gliding and smudging. Unfortunately, it did also travel to my tear duct area after a while. But nothing horrible!
THE VERDICT
I think this liner is pretty damn awesome. It's intense, glides on like butter, and is easy to work with. But most of all… it has done something I've never expected it to do. It actually made tightlining fun and exciting. With every look I do now, I'm like: "Hmm, can I add a little bit of tightlining to this? Please?". It might not be the longest wearing liner I've ever tried, but I'm willing to look through that, because of how easy this is to use. I will definitely pick some more up once I run out.

Hourglass 1.5MM Mechanical Gel Eye Liner: Available at Sephora and sephora.com
What do you think of this Hourglass liner? Do you tight-line? What is your favorite eyeliner to tight-line with? Share in the comments below!
❥ Nikkie
@nikkietutorials