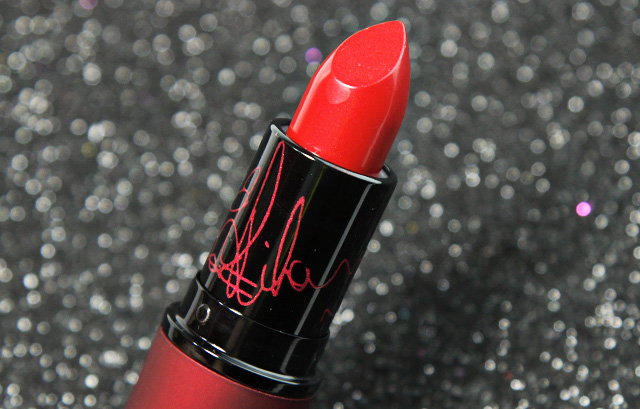 After Lady Gaga and Nicki Minaj, next up in line to be on the Viva Glam Wall of Fame is Rihanna. After collaborating on several collections for the makeup brand, they ultimately decided to also make her the face for Viva Glam 2014. For 2014 MAC and Rihanna came out with a frosty Red, ready to take the world by storm…
The lipstick comes in a beautiful, almost velvet-y looking muted Red bullet. I love how unique and different that makes the entire lipstick feel. Once you take the lid off, you'll find Rihanna's signature on the twist-part of the bullet. A Viva Glam standard.
I think MAC's Viva Glam Rihanna would be best described as a bright, slightly muted, Neutral-Red with a frost finish. It's bright, but still a wearable type of bright. I think the frost finish of this lipstick is what will make lots of people swoon over it, as it gives the lips a luscious sheen. Normally frosty lipsticks are a huge no-go, but with this I feel like it enhances the lips, instead of making them look like frosted nightmare.
Viva Glam Rihanna is richly pigmented and a little bit goes a long way. I also liked application with this a lot, as it glided in on like a dream and was very easy to work with. However for staying-power this has a lot to be desired. The creamy and frosty texture makes this lipstick easier to glide and wipe off. I got around 3 hours of wear out of this before needing a much needed touch-up.

THE VERDICT
I'm not as blown away by this lipstick as I expected to. It's a pretty, wearable Red that'll suit a lot of complexions. It's pretty, but safe. And if there's one thing I've learned from RuPaul's Drag Race it is that safe is not always that good. I also wish it would have had a little bit more staying-power as it won't last you longer than an hour or 3. Other than that: It's a fun, safe color and a nice addition to your collection. But I'm not gobsmacked amazed by it.

MAC Viva Glam Rihanna retails for $16.00/€18,50 (3g /0.1 oz) and is available at MAC stores and counters near you. To find out where, click here.