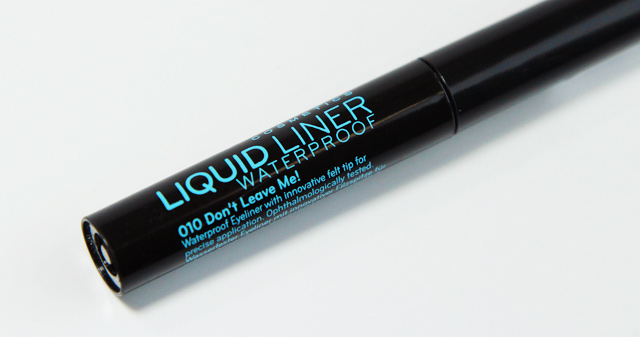 A midnight-Black flick along the eyes is a women's desire all around the world. Some like it thin and feminine, others go for thick and bold. No matter what your style is, to achieve the perfect flick a good eyeliner is a necessity. Throughout the years I've tried several products from gel liners to eyeliner pens and liquid liners to simple pencils.
For years I could not go a day without my beloved MAC Fluidline in Blacktrack. But once I got a bit tired of the entire gel liner-shtick, I decided to go back to an old love. An eyeliner that actually never let me down, and still has me wondering why I left it in the first place? Of course I'm talking about Catrice's Liquid liner Waterproof in Don't Leave Me!
The Catrice Liquid Liner Waterproof comes in a sleek Black case and Cyan-Blue detailing. There's nothing you can hate on really. It's sleek and simple, just how it should be. The tip of the liner is what will make people fall in love with it. It's a super precise and thin felt tip that works amazingly with the curves of your eyes, and creates the prettiest flick in just seconds. The tip is stiff, but still flimsy enough to work with, it's just perfect really.
The formula of the liner itself is a hit or miss I've experienced throughout the time of me using it on myself as on models and clients. It truly is midnight-Black and a little bit goes a long way. It dries quickly and is super easy to work with.
But I'm afraid it'll be a miss to some because of its claim to be waterproof. Does it last all day? Yes, mostly. Will it stay on if you have a hardcore crying session? No. Nope. Nein. Nee. And that brings me to its longevity on a whole: the liner lasts for hours without even thinking about doing a touch-up. But if your eyes are on the oily side, I'm afraid a touch-up is necessary. Especially the inner corners tend to have faded by the end of the day, at least for me.
But what makes this liner oh-so-fantastic is how easy it's to work with and above all, its retail price. This liner sells for only €3,89. I don't know about you, but for me that makes all the flaws this liner may have fade away. For €3,89 I'm totally fine with a little bit of fading on the inner corners and a not-so-waterproof-as-promised formula.
Below I used the liner to create some fun flicks:
THE VERDICT
I think this Catrice liner is absolutely amazing. The formulation may not be as waterproof as promised, and it might fade away on the inner corners at the end of the day, but for a retail price of €3,89, such ease of using it, and the amazingly precise felt tip, it's definitely worth a shot if you ask me. I really like it, and I think you may as well. And let's be honest for €3,89 you really have no excuse for not trying it, haha. Oh and I'd like to thank Sharon from Looksbysharon for reminding me how amazing this was.

Catrice Cosmetics is available at Dutch drugstores.