The life of a professional makeup artist often gets looked upon very easily: "Oh, you do people's makeup? That's… nice". Only after I tell them I often do jobs for TV and the real fashion industry, they immediately respond with: "OMG, you do famous people's makeup?". The life of a makeup artist: It's always about proving yourself, your work and everything you do, basically.
When I went through my agenda for October a couple of days ago, I had some sweat dripping down my neck..

One of my yearly assignments is Miljoenenjacht. A Dutch, expensive version of Deal or No Deal. In this show there are 24 gorgeous girls, all with a suitcase filled with money. Those gorgeous girls need makeup, pretty makeup. And hair, very pretty hair. I'm one of the people to give the girls pretty makeup. It always is so much fun giving the girls a dash of glamour and having a laugh while doing so.
This October we're shooting six episodes for Miljoenenjacht's Fall season. I'm booked for all six episodes. With call-times starting at 8 o'clock in Amsterdam I have to leave the house at 6:30 AM, yikes! But no pressure here, I've done this before, I can handle it all!
At least I thought I could handle it all until I got a call last week. On the phone was my Booker/Agency: "Nik, we got something out of this world for you. It's a TV production, and they want you for hair and makeup! Are you up for it?". – And there it was, in the blink of an eye my agent just offered me something I've always wanted to do. Be the Makeup & Hair person for a TV show… was this all really happening?
After negotiating back and forth the deal was closed. I was booked for the next day, which would also be my try-out. If the team and host liked me, I'd get booked to do the entire production.
I wake up the next morning and it's time for action. I apply my makeup in the best way possible, tease my hair a little more.. got to look perfect for camera! I take a deep breath and drive off to Huizen where our first shooting day will be. After a hour and half drive, I arrive at location. A beautiful set located at Huizen's harbor. I meet the Dutch crew and already feel the pure love these people have for their job. Then the American crew walks in, we do a little bit of talking: "You're not from here are you? When did they fly you over?" SCORE! My American accent was convincing enough for the actual American crew!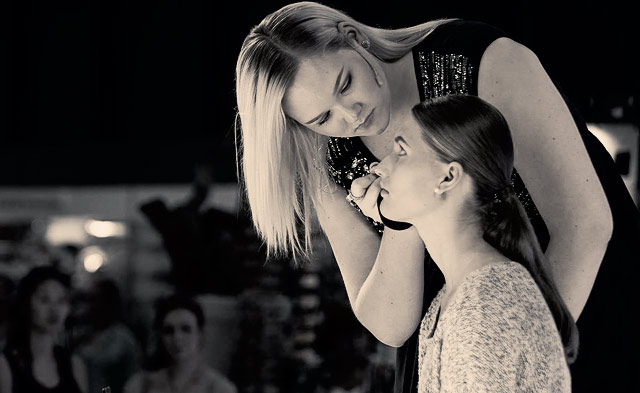 After giving five beautiful models two looks, it was a wrap and both Dutch and American crew were ecstatic about the looks my assistant Lina and I made that day. I went home feeling proud and happy. I just did a production all by myself with an assistant, so surreal!
The next day I meet one of my best friends Joyce to do some shopping in always lovely Antwerp. After making my wallet anorexic at MAC, Bumble and Bumble and River Island we head back home. My phone rings, it's my booker again: "Nik, Congratulations! The entire crew is in love with you. You're doing the entire production… plus, you're now their official makeup spokesperson for the show!". WHAT JUST HAPPENED?
I can't tell you too much about the show yet, but what I can tell you is that it'll air on Dutch TV in March on RTL5. So Dutchies, keep an eye out for that.
Making a long story short: October is going to be insane. I got Miljoenenjacht, this new TV show, photoshoots, teaching at B Academy, learning hair at WE R and YouTube to take care of this month. Therefore, I hereby want to apologize for the lack of updates and videos on my channel and blog this month. I'm really trying to squeeze a video in here and there, but I promised myself to also give myself some time to recharge and actually enjoy the experience.
For now, thank you so much for reading all of this, and thank you for everything. Without all of you, I wouldn't be where I am right now. Thank you.