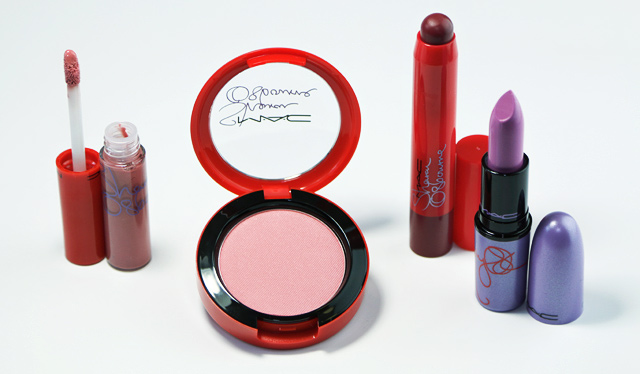 After already doing an inspired tutorial on Kelly Osbourne's look for the promo images of her limited edition collection with MAC Cosmetics, I was filled with joy when these beauties came in the mail. A whole lot of Sharon, and a little bit of Kelly. I'm ready to get my Osbourne on!
The Osbourne collection has two sides. The Kelly Osbourne side has a beautiful (signature) Kelly lavender packaging. And the Sharon Osbourne side has an intense red. I love how contrasting, yet still very complimentary these two colors are. I also love how they exchanged the colors of the signatures, as that totally ties the whole collection together. Let's give MAC a round of applause for coming out with fun, limited edition packaging again!
MAC x Sharon Osbourne Lipglass ∙ Bijou
Bijou ($16.50/€18,50) frightened me a little at first. In the tube it looks quite flat and dark, not really peaking my interest. But once applied to the lips, it transforms into a luscious soft nude/rose with cream finish. It's that perfect mix of nude and definition without washing your complexion out. The consistency is quite thick and tacky, but we should expect that from MAC Lipglasses by now. This gloss provides about 3-4 hours of wear on me and is neither hydrating nor drying.
MAC x Sharon Osbourne Patentpolish Lip Pencil ∙ Ruby
This is my first time trying the Patentpolish Lip Pencil by MAC. This is called Ruby ($21.50/€18,00); a soft berry with a glossy shine. The patentpolish lip pencil is supposed to have the color and shine of a gloss, but the precision of a lip pencil. I'm going to have to disagree with that as I definitely needed a lip brush to perfect application. The consistency is sheer and balmy, but still provides a nice layer of color and pigmentation. This patentpolish provides about 2-3 hours of wear on me and gave a touch of hydration.
MAC x Kelly Osbourne Lipstick ∙ Dodgy Girl
One of this collection's show stoppers definitely is Dodgy Girl ($17.50/€19,50); an intense, light-medium lavender/cool-toned pink with satin finish. Now baby, this screams Kelly Osbourne and I love it! Dodgy Girl has a very opaque coverage and a little bit goes a long way. The consistency is nice and creamy. This lipstick provides about 5 hours of wear on me and is neither hydrating nor drying. It did settle into fine lines a bit after a while.
MAC x Sharon Osbourne Blush ∙ Peaches & Cream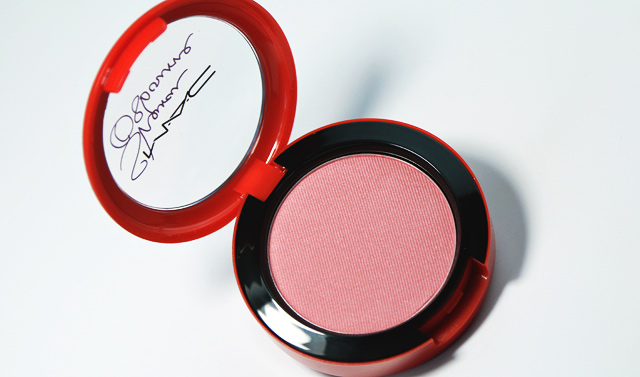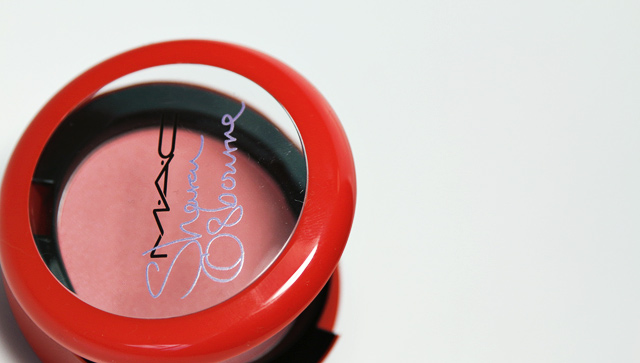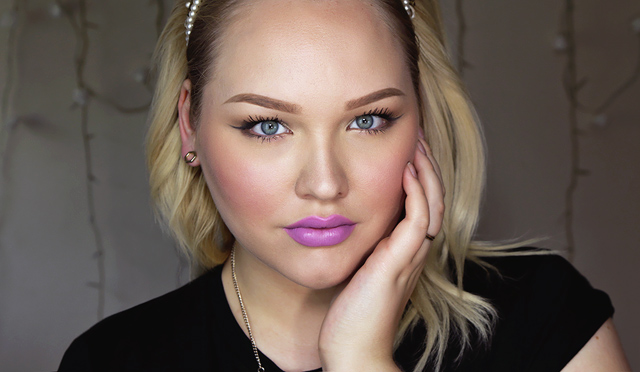 On my face: – MAC Peaches and Cream Blush & MAC Dodgy Girl Lipstick
On my cheeks here I'm wearing Peaches and Cream ($22.00/€22,50) blush; a medium rosy/pink with soft, silvery sheen. It's nicely pigmented and very easy to work with. It applies evenly and fuses beautifully with the skin. The powder feels buttery and soft. The blush wore well and lasted for about 6-7 hours before it starting to fade. I'm really liking this one!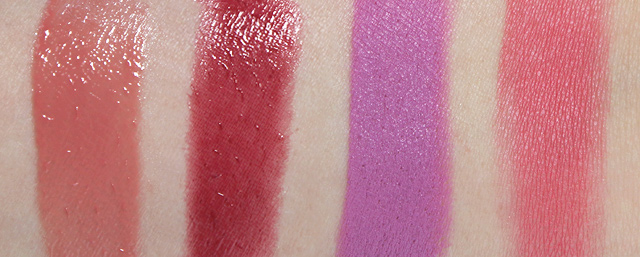 MAC x Osbourne Collection – L-R: Bijou, Ruby, Dodgy Girl & Peaches and Cream
THE VERDICT
I'm pleasantly surprised by the MAC x Osbourne Collection items I received. Of course the packaging promised for a fun ride. But often with MAC collections, when it looks like a lot of fun, the product quality can end up being a disappointment. These items were all but that. Now of course I don't own every item of this launch yet, but these four definitely peaked my interest for more. I can't wait to get my hands on the palettes and more of the Kelly lipsticks!

MAC x Osbourne Collection: Available (Netherlands) August 16th 2014 at MAC stores and counters near you. To find out where, click here.
What do you think of the MAC x Osbourne Collection? Would you be brave enough to wear Dodgy Girl outside the house? What are you lemming for this collection? Share in the comments below!
❥ Nikkie
@nikkietutorials