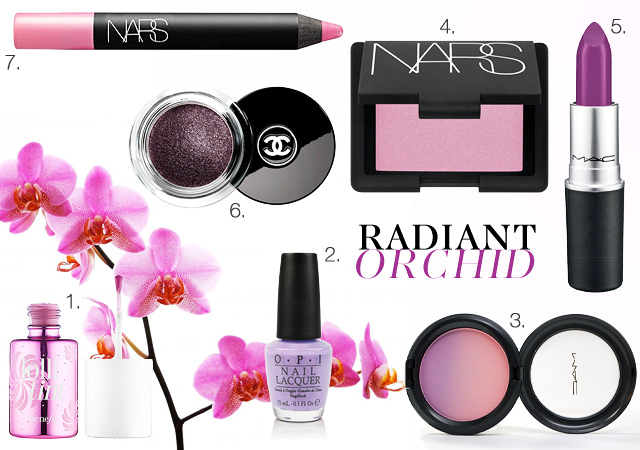 After Honeysuckle, Tangerine Tango and Emerald, the Pantone 2014 Color Of The Year is Radiant Orchid: a Purple/Fuchsia with Purple and Pink undertones that Pantone describes as —"An enchanting harmony of fuchsia, purple and pink undertones, Radiant Orchid inspires confidence and emanates great joy, love and health. It is a captivating purple, one that draws you in with its beguiling charm."—
After receiving Benefit's Lollitint while in San Francisco for their launch of a new product, I got inspired by this enchanting color and came up with fun ways of wearing it…
Tips & Tricks on making "Radiant Orchid" a success
▶︎ Using this luscious shade of Purple for a night out will sure make people's heads turn (in a good way). Apply a bright Orchid eyeshadow to the lids and blend softly into the crease. Pair it with smokey, shimmering Bronzes and Golds on the lower lashline and party the night away!
▶︎ When wanting to make an Orchid color work for daytime, apply the shadow very lightly across the eyelids and blur out the edges softly. Open up the eyes with a light Nude pencil on the waterline and add some defining coats of your favorite mascara onto your lashes!
▶︎ Pink/Purple is a hard color to pull off. It can make eyes look swollen and painful. To make it work, focus on darkening your upper-lash line to really ground the look. Think of a thick, winged eyeliner or smudged, smokey shadow. Stay away from shadows with too much red undertones!
▶︎ Purples work great for blush also! Apply a soft Lavender shade to the apples of the cheeks to really perk up your complexion. Perfect for Spring!
▶︎ Radiant Orchid themed lips are a must for Spring too. Apply a bright, Purple lipstick to your lips and keep it as as sharp as possible. Keep it simple on the eyes and highlight the skin using MAC's Pigment in "Vanilla". A killer Spring look in just a couple of minutes!
▶︎ Lavender hair has been going strong for a while now, but if you're a colored hair fanatic, definitely mix some Pink in there next time for a beautiful mix of Lavender, Pink-Orchid.
Product Recommendations
1. ‣ Benefit Cosmetics "Lollitint" Lip & Cheek Stain
2. ‣ OPI Nail Polish "A Grape Fit"
3. ‣ MAC Blush Ombre "Azalea Blossom"
4. ‣ NARS Blush "Angelika"
5. ‣ MAC Lipstick "Heroine"
6. ‣ Chanel Illusion d'Ombre Diapason (92)
7. ‣ NARS Velvet Matte Lip Pencil "Roman Holiday"
How are you going to include a Radiant Orchid shade to your look this Spring?