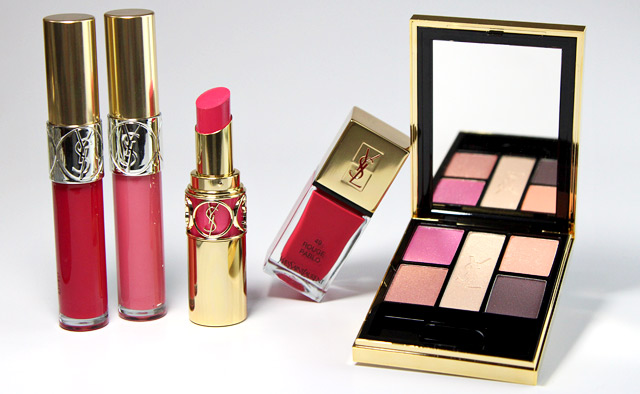 Another day, another Spring collection for 2014 release. Today we'll be taking a closer look at Yves Saint Laurent's 2014 Spring Look. A super fun collection filled with adorable Pinks, cute Corals and smokey Purples…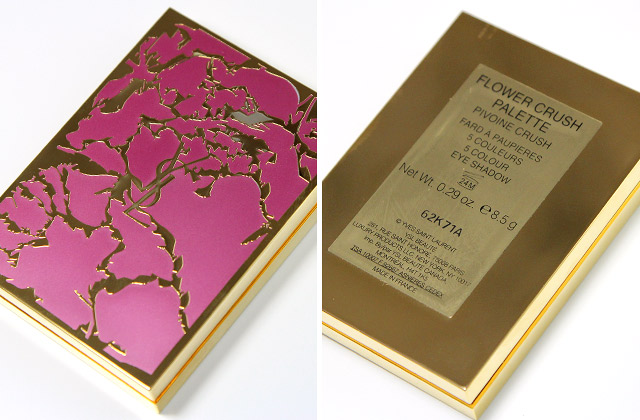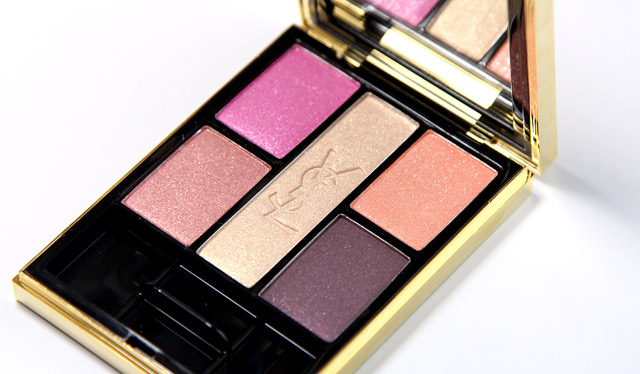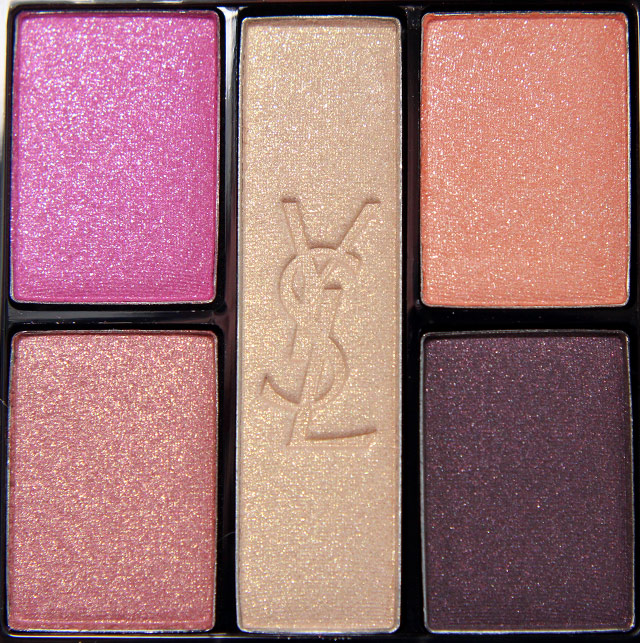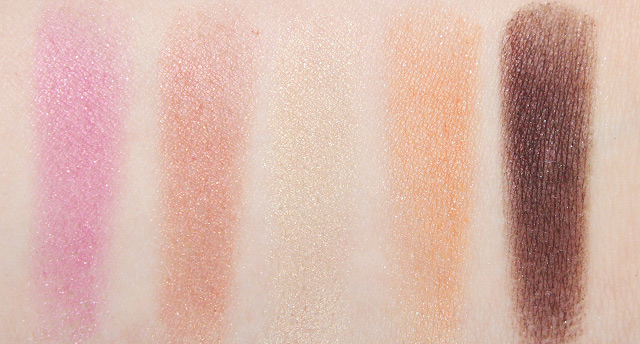 Y.S.L Flower Crush Palette: "Pivoine Crush"  – (€62,00/$58.00) –
First up is this piece of cuteness: Pivoine Crush. It comes in a very pretty chrome Gold palette and Pink, sort of, crackle-effect on top. It's stunning! Definitely one of those pieces you'd want to buy, just for packaging alone. Inside we find 5 eyeshadows all mixed with a heavy dose of shimmer and sparkle: A cool-toned Fuchsia, muted Neutral/Old Pink, warm-toned Light Champagne, vivid Pastel Peach and a smokey Eggplant color.
I have to say I was a little disappointed in Pivoine Crush. I expected pigmented, sparkly heavy-duty eyeshadows. But got left with sheer, crumbly washes of color. This of course doesn't have to be a bad thing. I think these would be great as eyeshadow toppers meaning, you can layer these over color-matching eyeshadows, to enjoy the sparkle from the Y.S.L palette, but the color intensity from the other shadow. However, $58.00 for eyeshadow toppers is a little insane. A little crazy. A little really not worth your money.
Below I created a soft, yet playful Spring look, using Pivoine Crush. I had to use a good sticky base to make the colors pop and really pay attention to patting the shadows on, instead of wiping…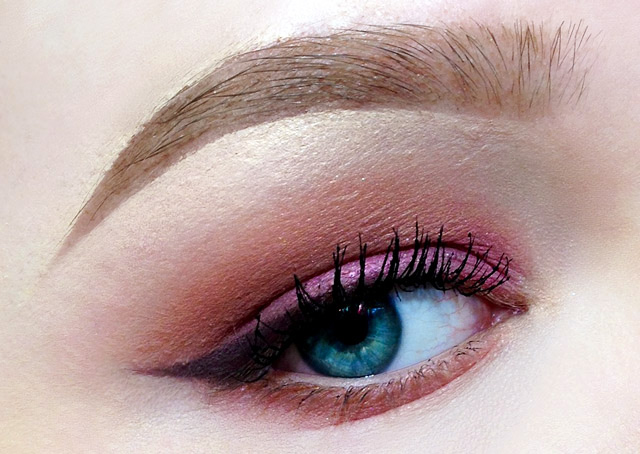 It's time to take a look at the lip products in this release!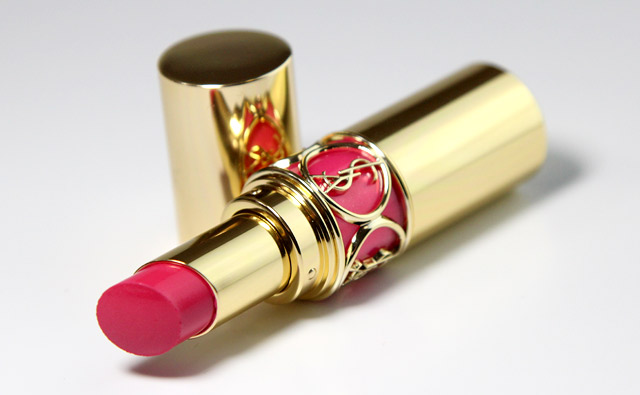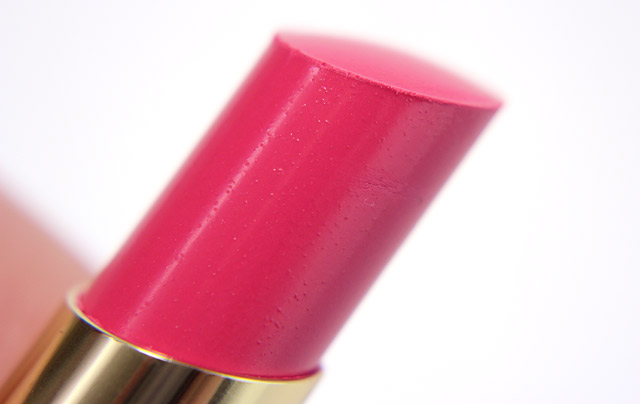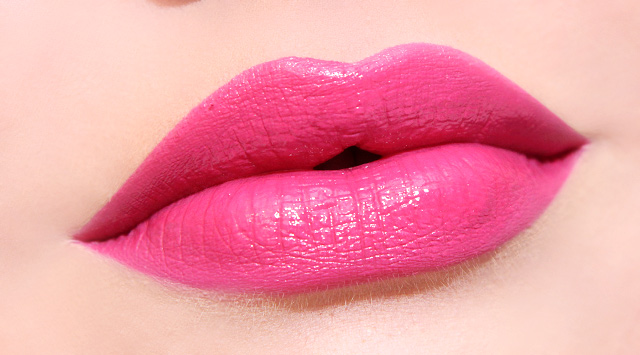 Y.S.L Rouge Volupté Lipstick: N°31 "Fuchsia Tourbillon" – (€33,50/$35.00) –
This right here is Fuchsia Tourbillon. A truly gorgeous Yellow-based, vivid Pink. It's intense, has a beautiful shine and smells like a Spring garden. I do find it to look a little brighter on camera than in real life though. Which is perfect for if you want to go bright for Spring, but just aren't ready for in-your-face-neons yet. This color will suit a lot of skin tones!
Application was a true pleasure with Fuchsia Tourbillon. It's pigmented, applies like butter and is easy to work with. I do want to remind you that it is a Rouge Volupté, meaning it has a very glossy/shiny finish. Meaning it won't stay on for a super long period of time. I got around 2-3 hours of wear with this before I needed a touch-up.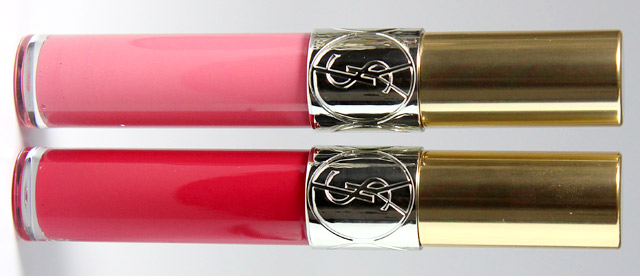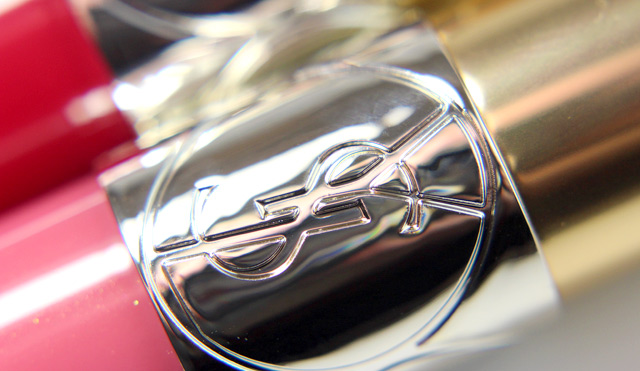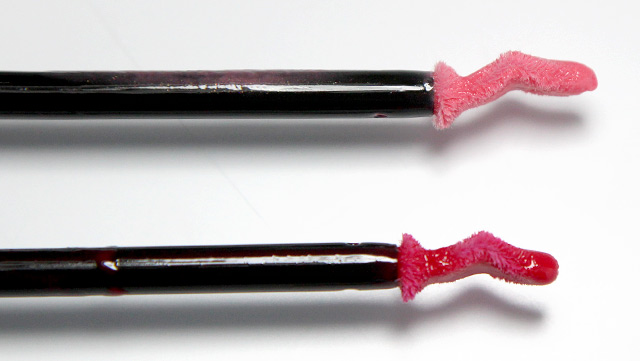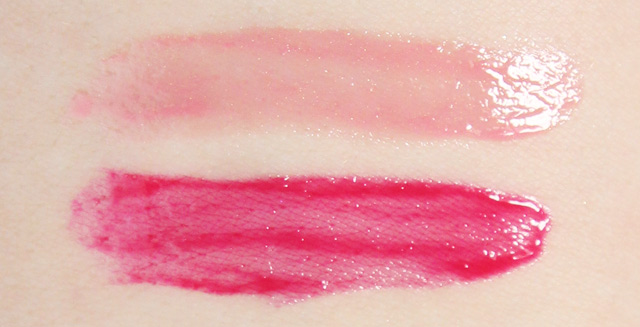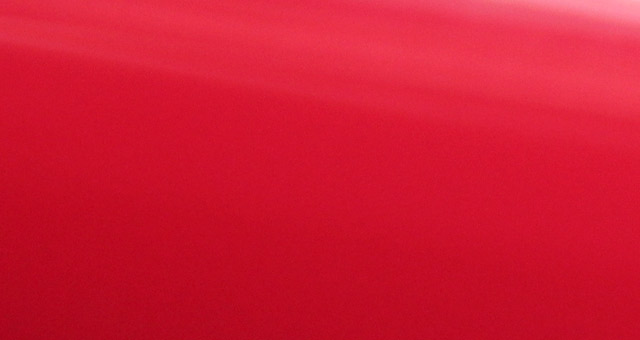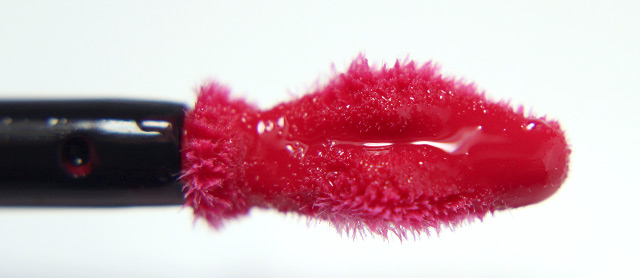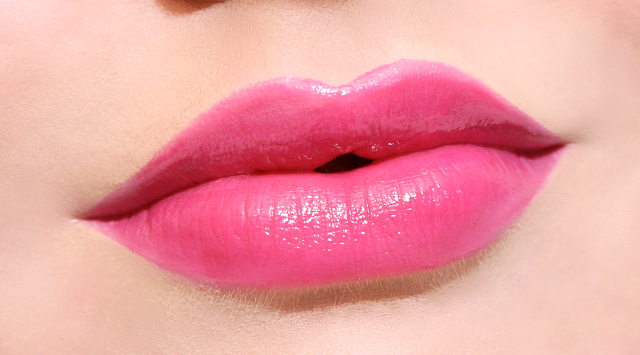 Y.S.L Gloss Volupté Lipgloss: N°206 "Fuchsia Oran" – (€30,50/$33.00) –
I'm really not even sure if these are a part of the Spring collection, but hey, they look like they could be! This here is Fuchsia Oran a sheer, intense Berry-Red with bright Pink undertones.
First of all: Holy hell, what's up with the applicators? When I first opened these I thought mine were faulty, as there was no chance on earth applicators could be that crooked. But after some Googlin', yep, that's how they're supposed to look like. Actually, if you squint your eyes really hard, you can see a lip-shape in the applicators! The lip-shaped applicators come with a hollow well in the center, to pick up just the right amount of product.
This brings me to the application bit. Precise application with these lip-shaped applicators is no fun. No fun at all. Because I have bigger lips, I found the curve of the applicator to be too deep, making application a hassle. I do really like the color though. It's bright and intense, but still has that wearable sheer factor to it. I got around 2 hours of wear out of this.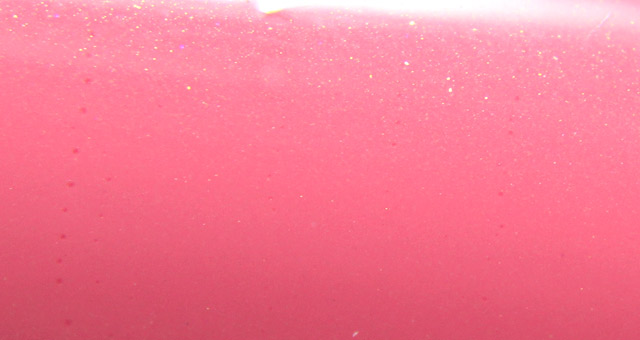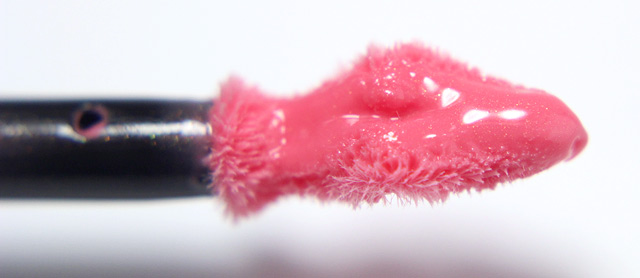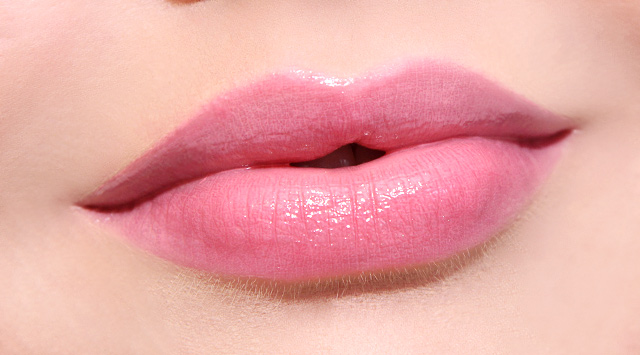 Y.S.L Gloss Volupté Lipgloss: N°202 "Rose Jersey" – (€30,50/$33.00) –
Another Gloss Volupté! This is Rose Jersey a soft Baby Pink with ultra-micro Gold sparkles. I really like the color, but I wish it was more pigmented. It's funny, 'cause I love the sheerness of Fuchsia Oran, but with Rose Jersey I just wanted more. After swatching, all that's left is a Pink-y/Nude color that doesn't really do much.
I also got around 2 hours of wear out of this, but you couldn't really tell, because the color was so sheer.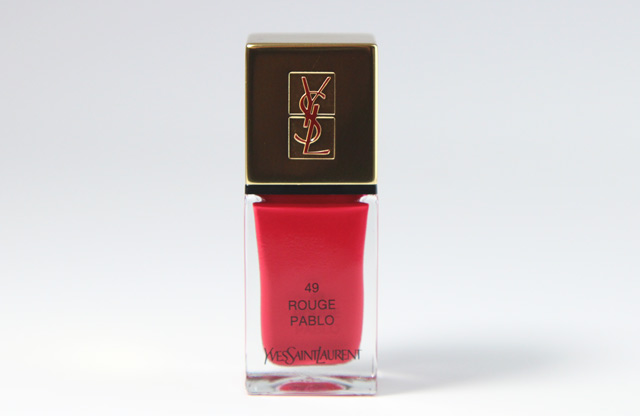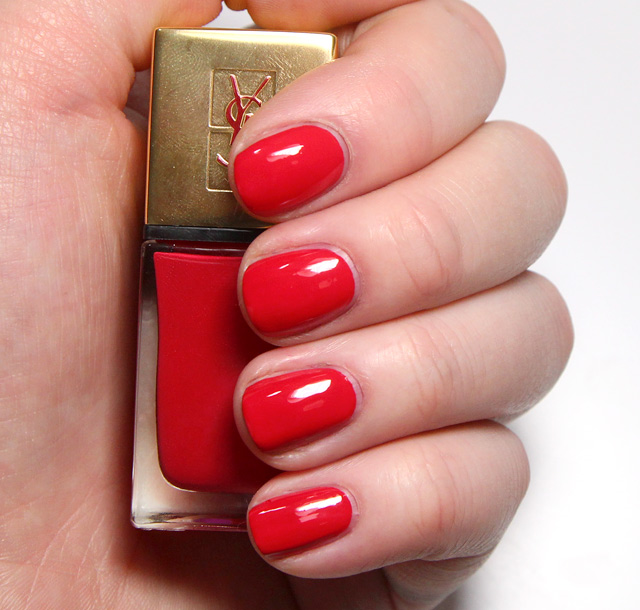 Y.S.L La Laque Couture Nail Polish: N°49 "Rouge Pablo" – (€25,50/$27.00) –
Last up is this nail polish in Rouge Pablo a muted Cherry Red. It looks very similar to Fuchsia Oran Gloss Volupté when it's in the tube. I like this color! It's nothing new or revolutionary but definitely cute and fun for Spring. The formula on this was absolutely fine, no trouble or whatsoever. I used 2 easy coats for my swatch.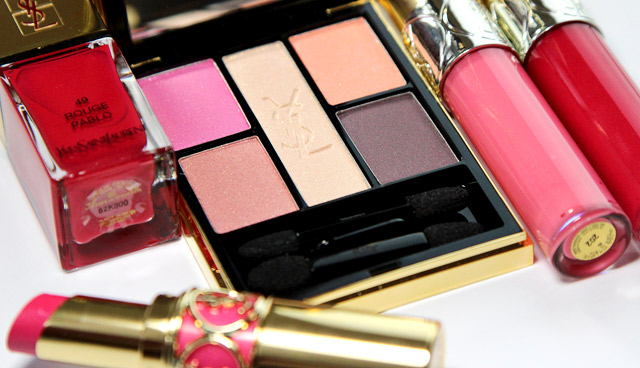 So, What's the verdict?
I don't know you guys.. When I saw the promo images of this collection I got super excited. You had Cara leaning over a man, with all these cute Spring-y colors. It got me so stoked! And don't get me wrong, these products are definitely a true joy to look at, but actually wearing and using them… hmm, I don't know. I loved Fuchsia Tourbillon lipstick and the glosses were okay too. But other than that, I'm not super impressed. I'm still sad that the eyeshadow palette was so sheer and crumbly, how I would've loved for it to be intense and crazy. Oh well…

Yves Saint Laurent's 2014 Spring Collection will launch February 21st 2014.