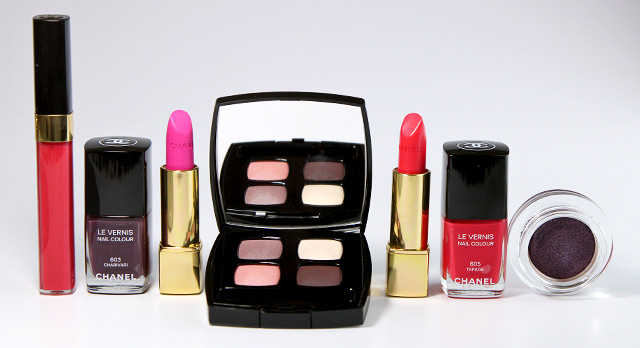 January is coming to an end, and that means all the big brands are launching their Spring collections for 2014. This year Chanel decided to bring us bright Corals, dusty Taupes and shocking Pinks. With the release of their much talked about "La Diva" lipstick, this collection promises to be a fun ride for Chanel lovers…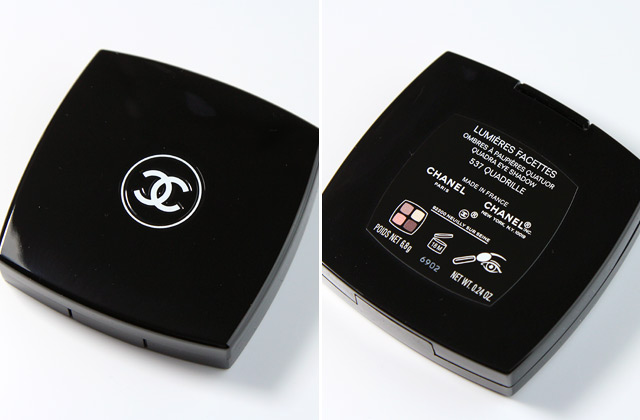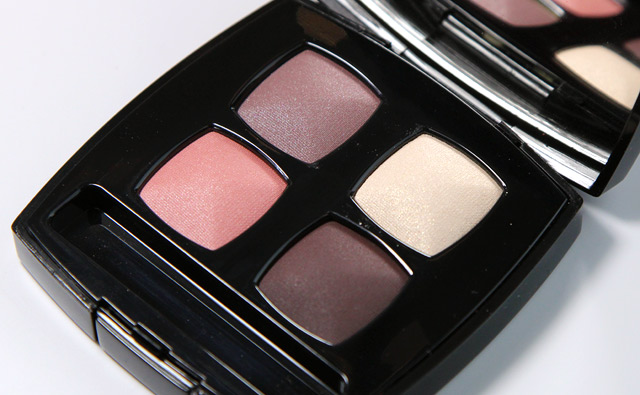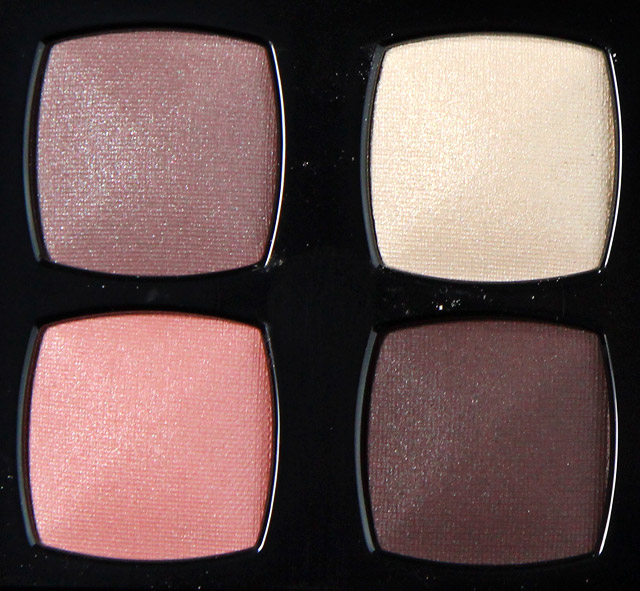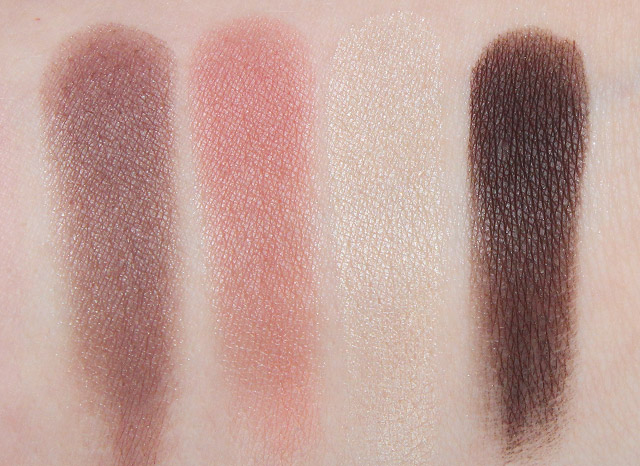 Chanel Lumières Facettes Eyeshadow Quad: "537 Quadrille"  – (€50,00/$59.00) –
Let's start off with this natural-tastic eyeshadow quad called "Quadrille". A quad that is filled with 4 stunning natural shades: A dusty Taupe, soft Peach/Coral, frosty Light Champagne and deep Taupe/Brown. I love how soft and feminine these colors are. It's definitely right on trend with all the other nude palettes that have been a huge hit lately.
The eyeshadows are very pigmented and super easy to work with and because of the soft-satin finish, blending couldn't be easier. One thing I definitely don't like is that the shadows crumble quite fast. You dip your brush in a couple of times, and you'll find excess powder all over the palette. This is something a $59.00 palette, definitely should not be doing. In the long run, this means you're waisting tons of product. This is a big factor to take in consideration when buying Chanel quads, as I've found that most of the quads suffer from the crumble-nightmare.
Below I created a dark and edgy look using the quad. I loved how deep and intense the darkest shade was, so decided to build my look around that…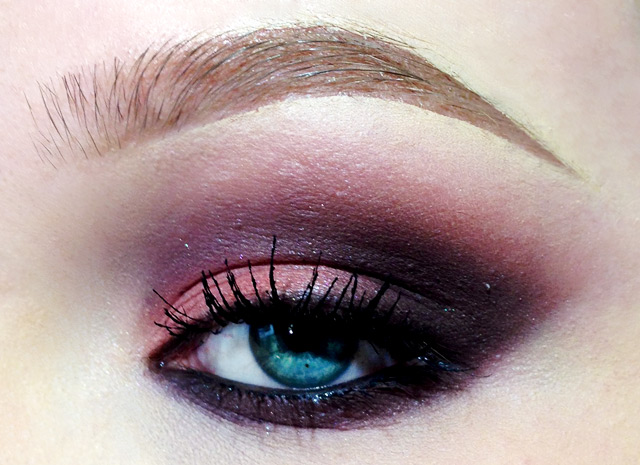 Let's move on to the part I think most of you are waiting for, the lipsticks!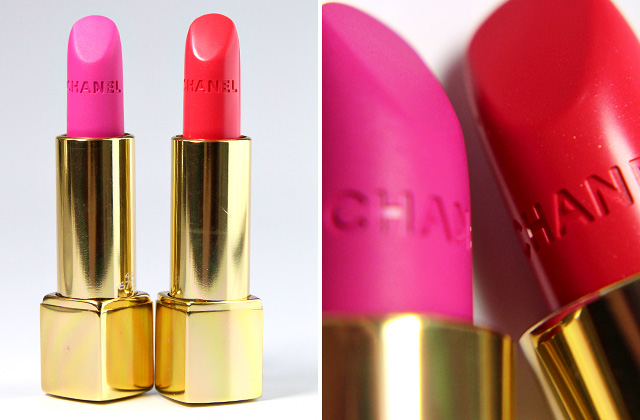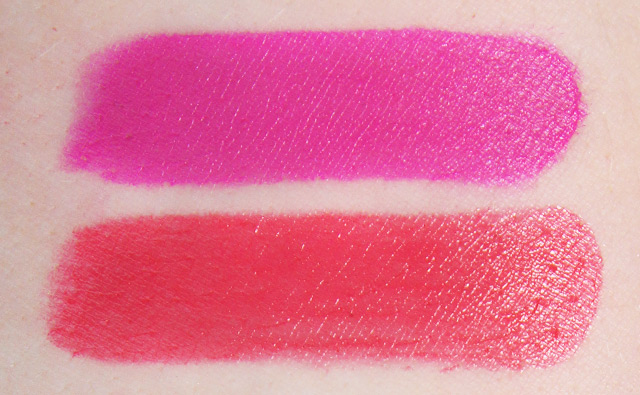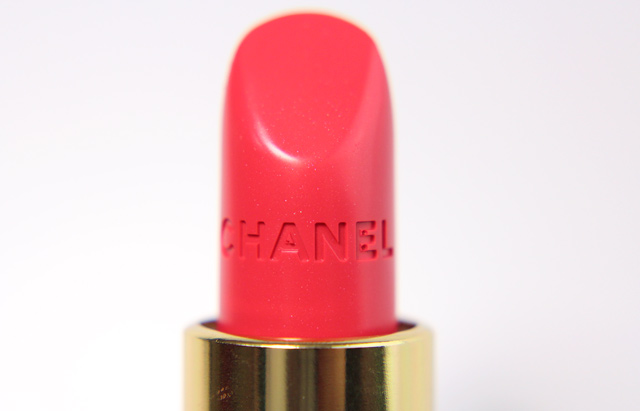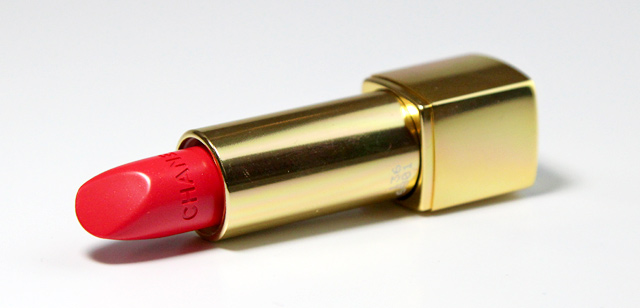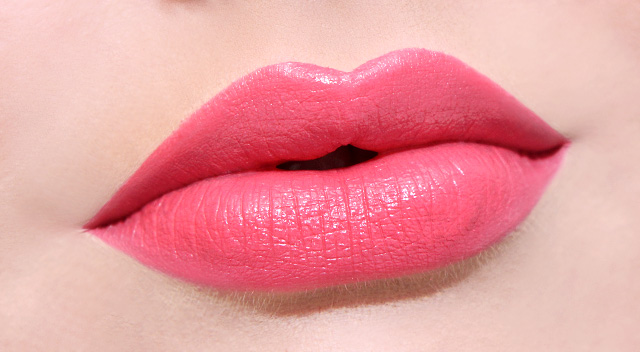 Chanel Le Rouge Allure: "Mélodieuse"  – (€33,00/$34.00) –
This right here is "Mélodieuse". A cute bright Pink-y Coral color. Mélodieuse is a Rouge Allure meaning it has a healthy dose of shine mixed into its formula. I really like this color. It's bright without being in your face, and quite possibly the ultimate Spring shade, that'll never go out of style.
Application was fine, although I did find it to go on a little more sheer than expected. One thing to keep in mind with the Rouge Allures is that they don't stay on for a really long period of time. I think max, I can get 2-4 hours of wear out of this, depending on how much I talk that day. After that I definitely need a touch-up. Other than that, it's a great color, perfect for Spring, and I think a lot of people will like this one.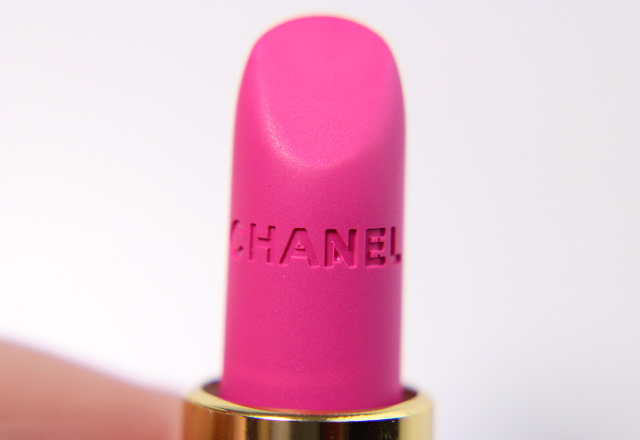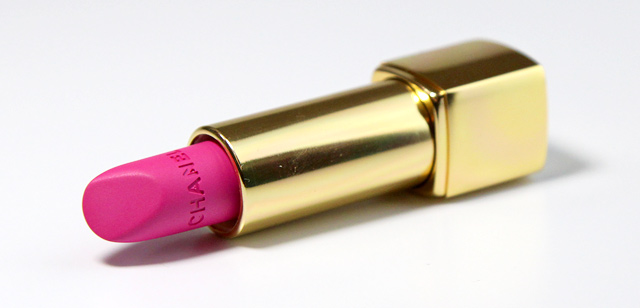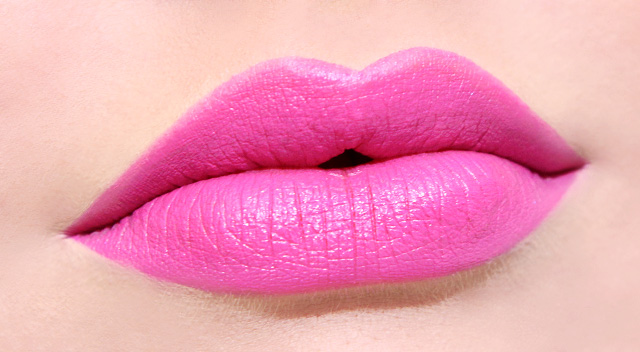 Chanel Le Rouge Allure Velvet: "La Diva"  – (€33,00/$34.00) –
There you have it, the one you've been waiting for: "La Diva" a super bright, cool-toned Fuchsia/Magenta. The lipstick everyone's been talking about, because this is probably the first time Chanel brings out something so daring and new to their color-scheme. And I absolutely love it! I love how bright, fun and playful it is. I think, a big trend we're gonna see this Spring/Summer color wise.
Application was an absolute joy! La Diva applies like a pigmented dream, and stays on like a rock. Although it has a semi-matte finish, it's not drying the lips out and feels nice and comfortable. Chanel did a great job on La Diva and I totally get why it's selling out everywhere.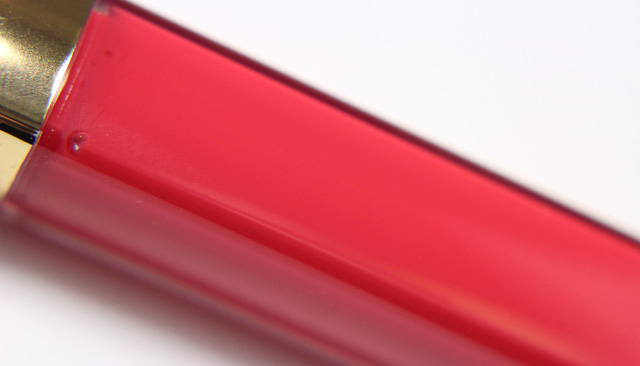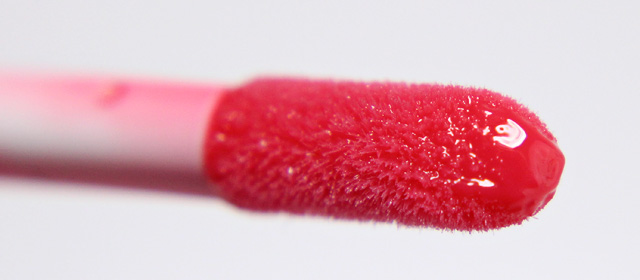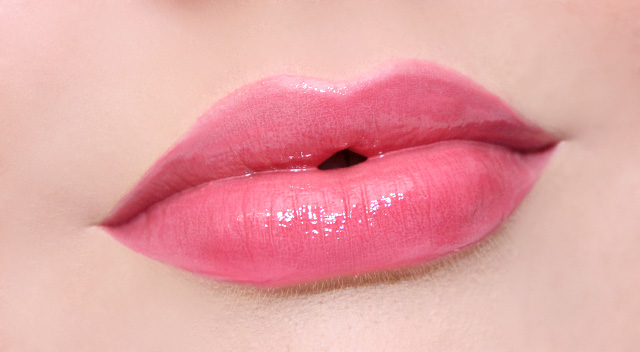 Chanel Lèvres Scintillantes Lipgloss: (178) "Sonate"  – (€27,50/$29.50) –
Next up is "Sonate". A sheer, muted Coral-Red. If I could have a lipgloss almost the exact same color as my natural lips, this would be it. And I really don't like that. I'm totally not a fan of my own lip color, so when I applied Sonate to my lips and it just added a little bit more vibrancy, I knew this would not be for me.
The Chanel lipglosses are quite sticky, so if you're one of those sticky-haters, this is not for you. A plus on it being quite sticky, is that it stays on longer. So, I kinda leave this one up to you. Again, totally not my cup of gloss, hehe.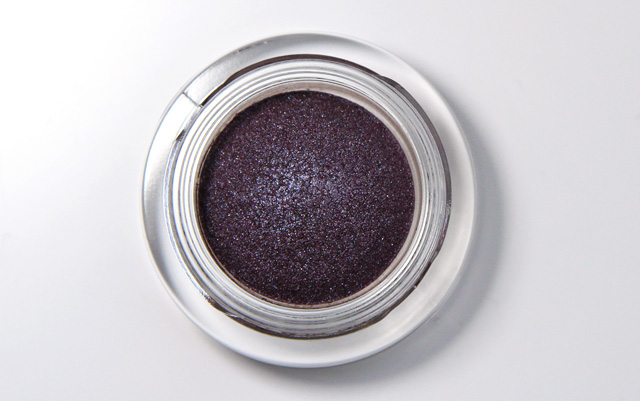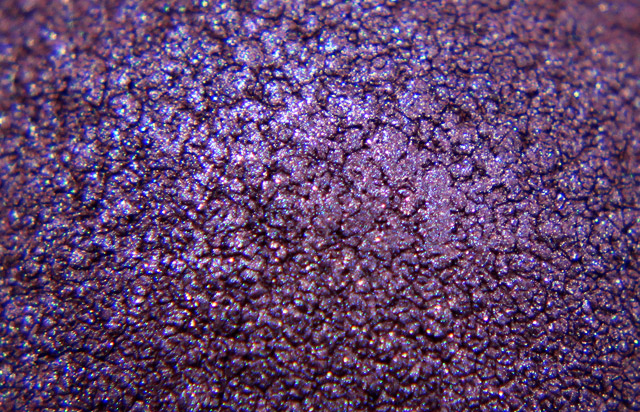 Chanel Illusion d'Ombre: "Diapason"  – (€30,50/$29.50) –
I'd describe "Diapason" as a Deep, warm Purple with a Burgundy/Brown base and high-shine Blue/Purple shimmer. This literally is magic in a pot. When I first opened this I was like: "Mehh." I then swatched it, and my jaw fell to the ground. The combination of the warm Brown base and Purple shine, is out of this world amazing. This is one of those products you can apply all over your eyes, blend it in the crease a bit, and you'll have a stunning smokey eye in just minutes. LOVE!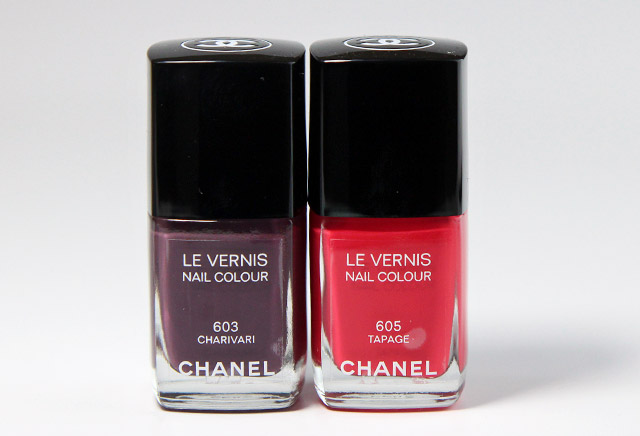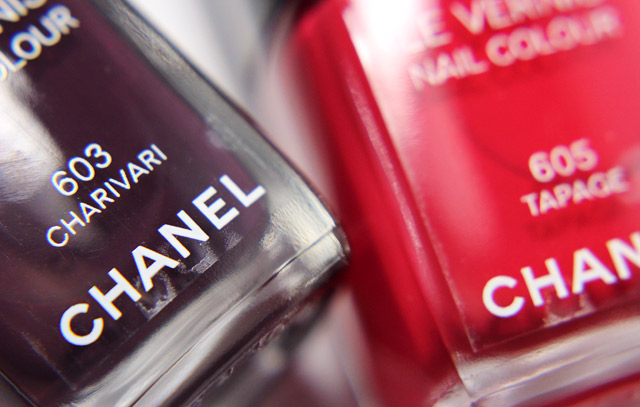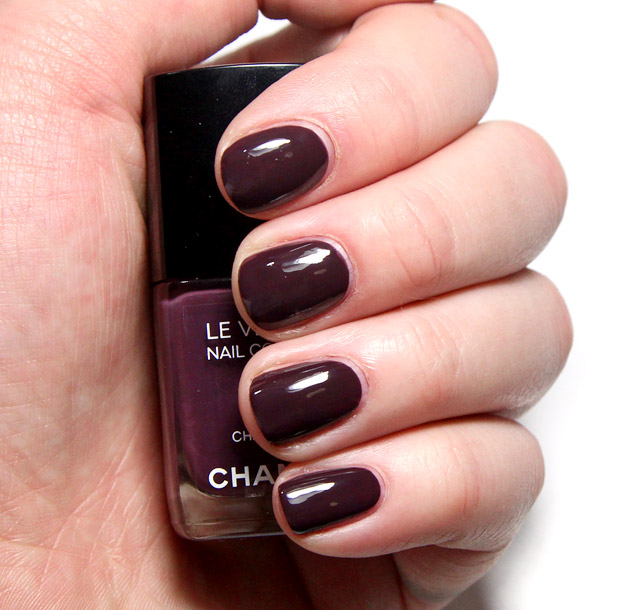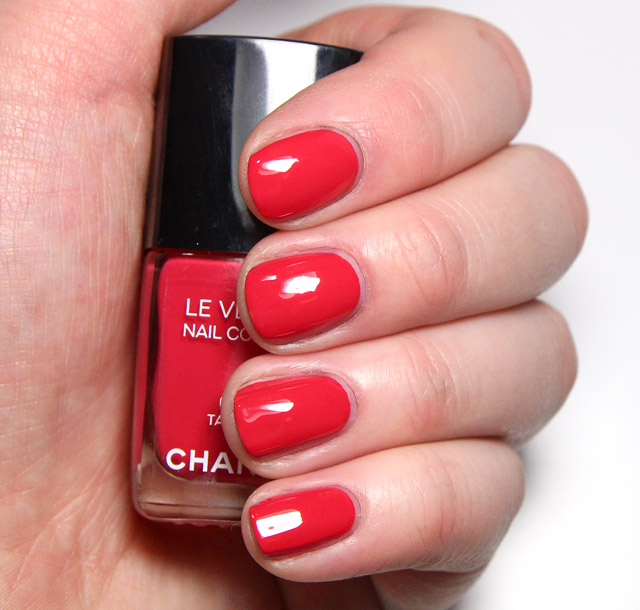 Chanel Le Vernis Nail Color: (603) "Charivari" & (605) "Tapage" – (€23,00/$27.00) –
I was a little disappointed in the nail polish releases this collection. Chanel is known for starting nail polish trends, and I feel like these were tad bit to easy for Chanel. Anyway!

"Charivari" is what I'd call a Deep, Plum-Purple. It's fun, but not super new or anything.
It was fairly easy to apply -a little thick now and then- and used 2 easy coats for my swatch.
"Tapage" is a vibrant Coral/Red. It's really similar to that Sonate lipgloss. I may not like this color on my lips, I definitely like it on my nails. It's cute and playful, but again, not very renewing. I used 2 super easy coats for my swatch.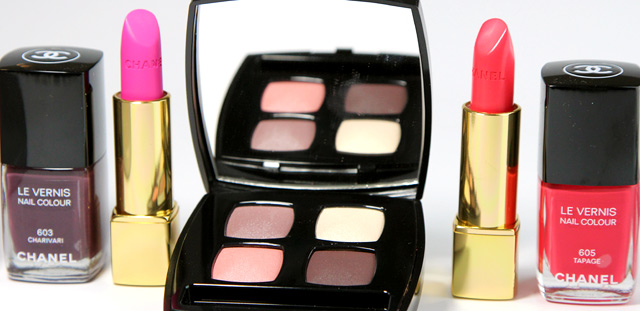 So, What's the verdict?
I don't have all the products of this collection, but the products I do have are quite a lot of fun! I'm super impressed by the Mélodieuse and La Diva lipsticks. Also Diapason Illusion d'Ombre is a product I'll be loving for a long, long time. I do think the nail polishes could've been a lot more interesting. Other than that this is a very fun collection, with nice feminine and playful colors.

Chanel is available at Dutch Department Stores, Chanel.com & Sephora.com