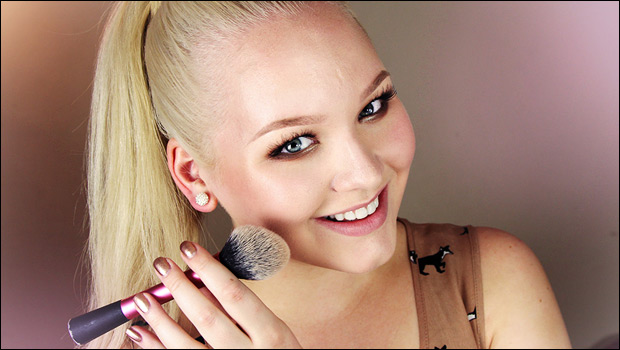 Nikkie's passion and love for makeup came out of an unexpected corner back in 2008.
Feeling sick and not too well, Nikkie spent the weekend in bed watching a "The Hills" weekend break on MTV. Completely inspired by the gorgeous looks of Lauren, Heidi and Audrina she began to search for "The Hills Makeup" on YouTube.
A woman named Sandy Gold popped up. Sandy showed people how you could "Wake up and Make up!". Instantly drawn to her screen Nikkie started searching for more -so called- makeup tutorials. A whole new world of fabulous women showing how to do makeup popped up and Nikkie was obsessed ever since.
After about three months Nikkie felt it was time for something new in her life.
She took her mother's digital camera, put it on a box and started filming her very first own makeup tutorial. After only getting eight views and three comments, Nikkie fell in love with YouTube and continued to put up a new video every week.
Her channel "NikkieTutorials" started growing bigger and bigger, ending up being The Netherlands' number 1 most subscribed and most watched beauty channel.
When things started getting really big for Nikkie, she got contacted by Makeup Artist Pascale Tesser: A makeup and hair artist who had done many great shows and photoshoots and now had her own makeup school called B Academy.
In Fall 2010 Nikkie decided to follow the Makeup Course by Pascale Tesser at B Academy.
A tough course, where she learned everything about professional makeup for photoshoots and shows. Ending up having a great friendship Pascale Tesser, Nikkie decided to stay close to Pascale and assist her for shows and photoshoots.
Later that year Nikkie also followed the Hair on the Set: Level 1 Course at B Academy.
This to be a a perfect all-round artist who could get booked for any job.
In 2011 she joined Pascale Tesser's agency called Colourfool Agency. With Colourfool Agency, Nikkie has worked on some great projects like Hollands & Benelux's Next Top Model, Miljoenenjacht & The Face. She worked on magazines like Marie Claire, Linda, Stylevision and Fashionista.
Working hard and trying to fulfill her dreams, Nikkie started working on building a strong portfolio. Later in 2012 she signed for a monthly beauty-column in Teen Magazine Fashionista.
While still building a strong portfolio, and doing amazing makeup and hair jobs, Nikkie currently is a teacher at the Makeup Course at B Academy alongside Pascale Tesser.
Nikkie's dreams are to be world known in the industry for her feminine but edgy style. An example is: Backstage at the shows, often a key artist tells his/her team: "Today we're doing a Pat McGrath look!". Nikkie's dream is that her name will be well known for a certain makeup style. Doing covers for big magazines is her ultimate goal.