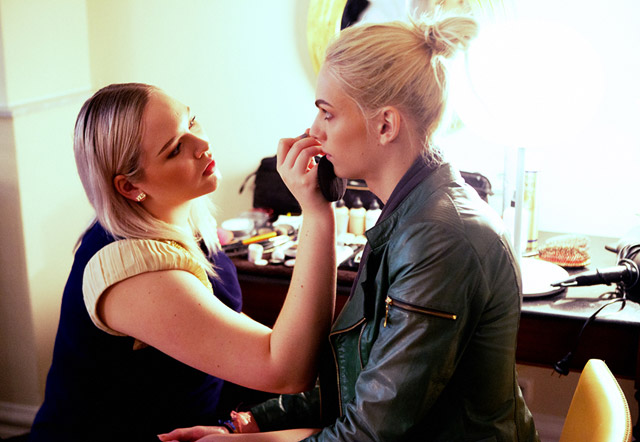 For the last few days I've been feeling like that little dude in the car, on his way home from the dentist. Utterly and totally confused he asks: "Is this the real life?". Man, I'm not sure what real life is anymore. It all started in the very beginning of October, as I told you guys about before. But never, ever did I see this one coming..
My booker over at Colourfool Agency gave me a call: "Nik, you're working with Andrej Pejic this Sunday"…

Did she really just say Andrej Pejic? Nah, she must be kidding. This must all be one big, twisted, cruel, fudged up lie, I thought. "Wait, what?" I mumbled. "Yeah, you're doing it! Hair and makeup. This Sunday in Amsterdam. You're gonna do amazing!" she calmly spoke through the phone. And while my booker was waiting for a burst of excitement. A squeal. A something.. I had never been this speechless in my life before. I was going to shoot with Andrej fudging Pejic.
With a week full of Miljoenenjacht and a test shoot with Bianca Toeps on Saturday, I didn't really have time to think about it too much. Of course, every time the thought of me actually touching Andrej's face popped up, I had some nerves invading my body though. But that wouldn't stop me. I was going to do this!
Sunday October 13th, time to make myself look decent. I apply my usual soft smokey eyes with a dash of shimmer on the lid. I straighten my hair, put my Royal Blue dress on and make sure I look decent for the star that is Andrej Pejic. – Good to go! Time to drive to Amsterdam!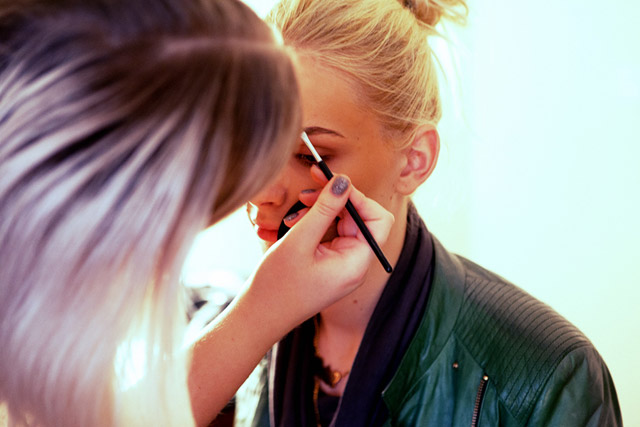 Once I arrive in Amsterdam, Mother Nature decides to take a piss on me and let's it pour like no other. I arrive at destination and it's ready to rumble! – I get sent to Andrej's hotel room, unpack my stuff, and in he walks: "Hi girls! Hi, I'm Andrej". Bianca and myself warmly greet him back and it's time for action.
The whole point of me doing Andrej's hair and makeup is, of course, for the new TV production I'm working for. I was there to make Andrej look even better than he already did. So, Andrej was my queen for the day. His wishes were my commands. After chatting a bit he calmly tells me: "Yeah, can I have what you're wearing on my face?". Done. Deal. YES!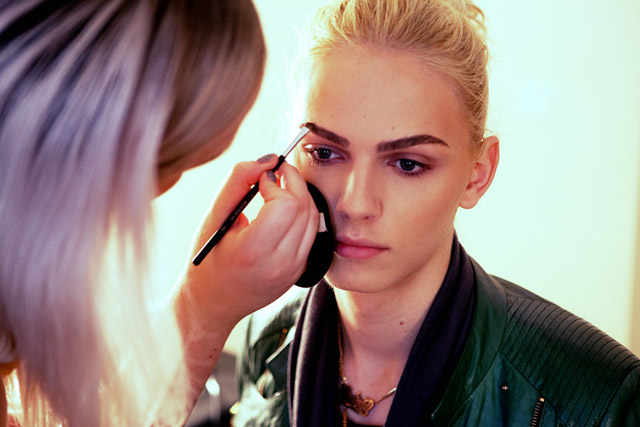 I start by moisturizing Andrej's face with my M.A.C Strobe Cream. Perfect for a nice dewy, glowy base. Andrej then gives me his own foundation, since he has a sensitive skin. I apply some of his Paula's Choice foundation to his face and blend it in with my beauty blender. For concealer I used a combo of my favorite Estée Lauder Double Wear Maximum Covers and my Illamasqua Rich Liquid Foundations to get the perfect conceal color. I powder a little and follow by lightly filling his brows in with some M.A.C "Coquette" eyeshadow. His brows are pure porn.
On to eyes, I start giving Andrej's crease some warmth and depth using some warm Brown colors from my Viseart Eyeshadow palette in #1. I continue defining the rest of his eyes with this palette. On the lid I apply a little bit of M.A.C eyeshadow in "All That Glitters". I finish with a Deep Brown shade close along the upper lashline and just a teeny bit of mascara.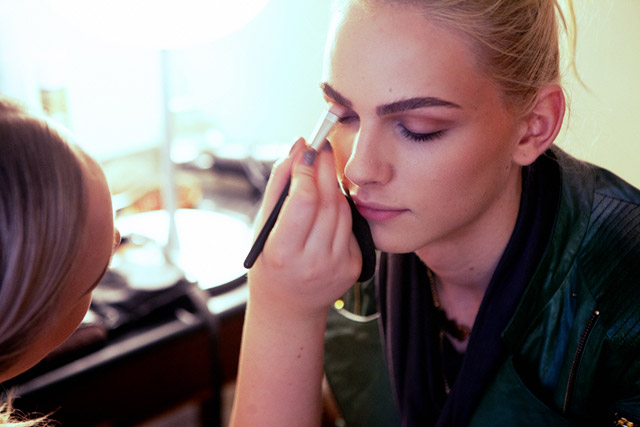 I perfected Andrej's look with some bronzer. I chose my M.A.C Bronzing Powder in "Refined Golden" and later added a dash of Bobbi Brown "Pink Coral" blush to his cheeks. I finished by highlighting with my favorite M.A.C Pigments in "Vanilla" and "Blonde's Gold".
For lips all I used was a bit of Elizabeth Arden Eight Hour Cream to pamper his lips a bit. No lipstick, lipgloss or whatsoever was applied.
After finishing Andrej's makeup it was time for hair. I gave it some quick, edgy and raw curls. And teased a little for some extra body. I personally love Andrej's hair raw and edgy the best, it gives his face so much strength, so that is exactly what I did. – Et voilà he was all done! Bianca and I asked him to do some quick posing for us, and this quickly escalated into a full-on photoshoot, and the end results are something I'm very happy with..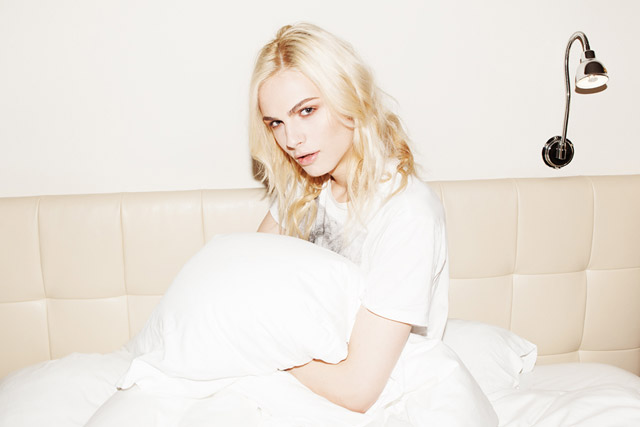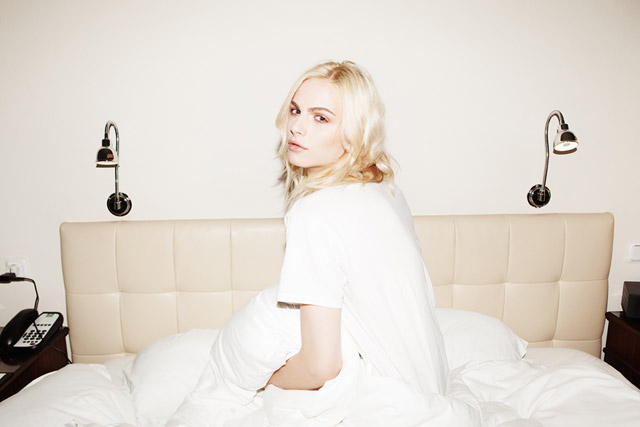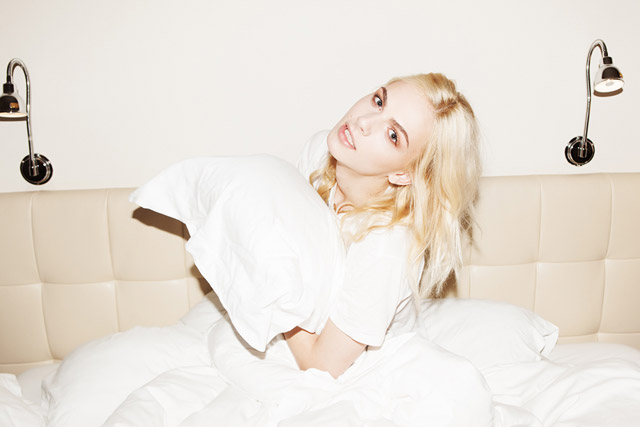 → Photography: Bianca Toeps – Hair & Makeup: Nikkie de Jager – Special thanks to Colourfool Agency & Toeps for all the backstage pictures ♡
Can someone pinch me? I must be still dreaming right? Or better yet, No. Don't. This is way too much fun, I'd like to sleep a little longer.